A few days ago, a video of Aspire College students visiting Murree did various rounds on social media. The students visiting Murree during this chilly, cold weather couldn't contain their excitement around the local TV news anchor when he inquired about their experience on the trip so far.
Amidst all the excitement and energy filled in the atmosphere while the anchor was taking their interview, one of the college girls (who was certainly very nervous) said, "Bohat maza aa raha hai. We are proud of you." when the anchor asked her experience in Murree so far. While the sentence made no sense whatsoever, the video of the interview instantly went viral on social media where people trolled and made fun of the young girl who said this sentence "We are proud of you".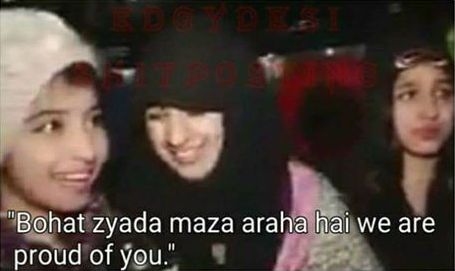 The local news reporter who initially uploaded this video on his Facebook page (which is now removed from his page) created emphasis on the "We are proud of you" statement by adding extra effects to it, making sure we do not ignore the girl's sentence.
While some people took the opportunity to make fun of the girl in the video who said, "Hum Aspire sae hai tou inspire tou kare gay hi" by generalizing Lahori accent, others took the opportunity to troll the girl who said, "We are proud of you". Some people just joked around and enjoyed what she had said, while others mocked the girl on her English speaking skill.
Earlier today, this image was shared on various social media handles where users (including myself) tried an attempt to apologize to the student:
We, as the users of this digital age have forgotten what our actions can lead to. When we have the power of making a Chai Wala reach heights of success through our social media accounts, we also have the potential of ruining someone's life by mocking them. Regardless of what our intentions were, we just shattered a girl's confidence – a girl who is no older than 20 years of age.
To address this matter in a very neutral and sensible manner, Sunny Khan Durrani, a rapper and a singer released a video:
In his video, Sunny explains everything Pakistanis should've thought about while commenting on the nervousness of the girl who was on a live show, in front of camera and excited about going on the TV screens for the first time. As an active social media user, I understand that most of us shared this video "just for fun". However, we need to put ourselves in the shoes of another person who is currently trolled and mocked nationwide.
At the end, we would like to apologize to the young girl for the actions we took in these past few days. We are really sorry.