Unloading a few rounds into the air is a well-established custom to celebrate weddings, religious ceremonies, and sporting victories in Pakistan. But giving a rifle as a wedding gift? Well, that is certainly a new one!
A video has surfaced on social media, in which a mother-in-law can be seeing gifting the AK-47 assault rifle to the groom during the wedding ceremony. The woman congratulated the newly-wed couple sitting on the stage and later she presented the assault rifle to the groom.
The woman literally gave an AK-47 assault rifle to the groom as a 'wedding gift' on his marriage day. Talk about unique gifts! A Twitter user shared the video clip on the social networking website, and within no time the clip went viral.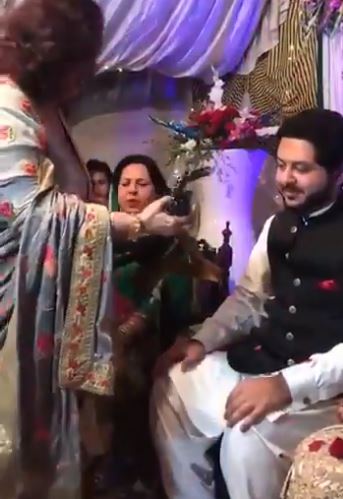 As of now, the identity of the woman and the groom and their location is not known. What encouraged the mother-in-law to give her son-in-law a rifle as a wedding gift is a tough nut to crack. Is giving an expensive watch, or any other valuable or even a sentimental gift out of fashion now?
But that is not even the most shocking part of the video. While we speak of the most surprising part, the groom did not even react to it. He gave zero reaction as if it was something expected. Astonishingly, he obediently stood from his seat and received the Kalashnikov gift from his mother-in-law.
Oh, in fact, wait… even the wedding guests did not sound surprised. In the video, they can be clearly heard cheering, and wooting. The amount of questions this single video is raising is a wow factor.
Watch the video below
What is with our people and their obsession with guns? Weapons are so all over the place that they are almost seen as jewelry. Pakistan's deeply rooted gun culture is deeply disturbing.
While there is no official number for the deaths caused by stray bullets, authorities say hundreds have likely been killed over the years.
Here's how the netizens reacted
We second!
"May God save humanity from being killed by this Kalashnikov. I have seen the bride and groom leaving with love and prayers, but for the first time, I see them leaving with arms. By the way, marriage is the name of happiness, Kalashnikovs does not give happiness, but makes them kill and destroy peace and love."
Show off, of course
People really need to stop playing with the lives of other people under the guise of 'celebrating' events.
Earlier, a bride's video made several rounds on social media, in which the bride could be seen flexing her skills of aerial firing on her wedding day. It did not take long for the controversial video to go viral just like this recent one.
What do you think of this story? Let us know in the comments section below.