With killer looks and a charming persona, Pakistan's leading actor Saba Qamar is back in the headlines with a possible wedding on the cards. However, soon after her husband-to-be's identity revealed, a woman made shocking allegations about him. Azeem Khan now responds to the accusations.
With curiosity among fans, the 36-year-old star confirmed the news of tying the knot with blogger Khan, which took the Internet by storm. However, soon after her confirmation, one of the fans of Qamar took to her Instagram stories and shared her traumatic experiences at the hands of Khan.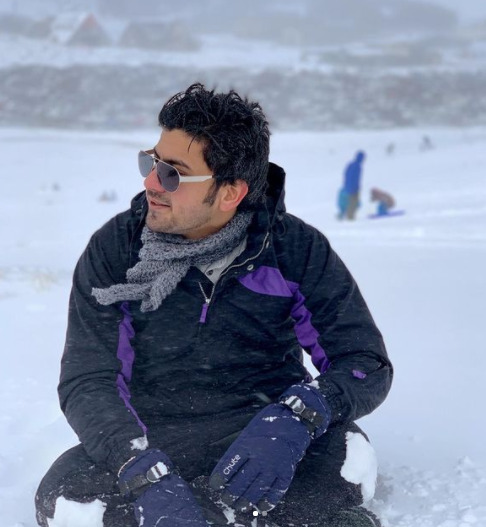 According to details, Khan has been accused of leaking private information from a private 'women's only' group by disguising himself as a woman in the group.
A lot of posts that were meant to be private were leaked by Qamar's husband-to-be. Ujala claimed that Khan had stolen her content related to female sexuality from a closed group and later shared it on social media.
In addition to this, she also revealed that the exposure of her private information resulted in the girl getting rape and death threats, all because of him. She made the accusations on Instagram.
Allegations made by Ujala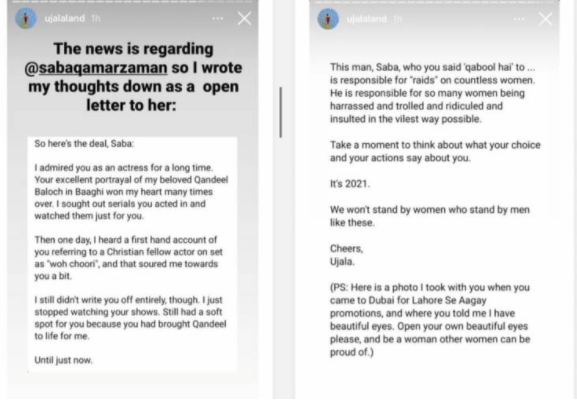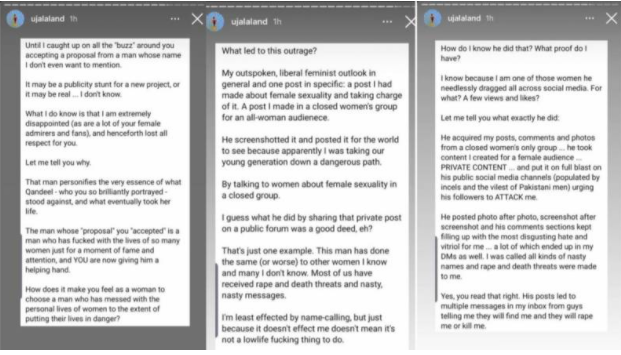 A day later, the blogger aka Khan took to his Instagram and shared a video wherein he defends himself. "I really want to thank all of you for showing immense love and support for the last two days. There were some people who said strange things and I really wanted to reply to them through a video message," he said.
"I don't understand why people make false accusations without knowing the reality. You are ruining someone's life just for fame. Our intentions are to purely settle down. Such people should be ashamed of what they are doing", Khan added.
Khan continued that "I don't care about Saba's past, she doesn't care about mine. What matters to us is our future. Trust me we don't care what people are saying. You are putting in so much effort and all for nothing. I hope that people will understand what I said and they will not waste their time now in spreading false news".
Here is the video
Responding to the video, the Hindi Medium star wrote, "I trust you!"

Earlier, the Cheekh actor revealed that Khan is a successful Australian-Pakistani entrepreneur. He hails from Karachi but is currently based in Sydney.
Without delving more into the details of their marital union, Qamar and Khan have preferred to remain mum about the wedding dates and any further details.
What do you think of this story? Let us know in the comments section below.