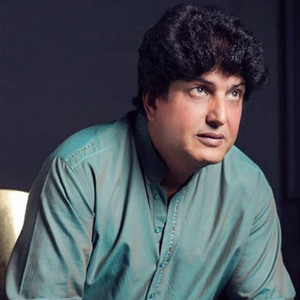 Khalil ur Rehman Qamar is a globally acclaimed television and film writer, director, and producer from Pakistan. He frequently manages to steal the spotlight because of his often controversial remarks. Khalil is regarded as one of the most straightforward and blunt Pakistani artists who is often found to be criticizing some of the leading actresses of Pakistan on various occasions. However, the writer has received massive popularity for writing the iconic Pakistani dramas including "Pyara e Afzal" and the recently ended "Mere Pass Tum Ho".
Khalil ur Rehman's Family Background!
Khalil ur Rehman Qamar was born in 1962 in Lahore, Pakistan. He did not have a media-related family background but eventually made his mark in the industry. Talking of marital status, Khalil is also the step-father of Hanish Qureshi, actor Faysal Qureshi's elder daughter. A news circulated in 2019 on social media regarding the marriage of Khalil with Pakistani model and actress Eshal Fayyaz. However, this news was rejected by both the involved parties.
Stepping Into The Showbusiness!
Khalil started his career in the showbiz industry as a writer. Over the years, he has written several Pakistani movies and dramas for which he has been consistently receiving appreciation. Similarly, for writing the script of the highly acclaimed drama "Pyar-e-Afzal", Khalil also got the award for best writer in 2013. In 2014, he penned down his personal life story in the emotional drama "Sadqay Tumhare".
Later, in 2019, Khalil ur Rehman's drama serial "Mere Pass Tum Ho" broke all the previous TRP records. It went on to become one of the most successful dramas in the history of Pakistan television. The drama starred actors' Humayun Saeed, Ayeza Khan and Adnan Siddiqui in lead roles. However, Khalil received massive backlash for depicting women as opportunistic and greedy. While many were all in praises, a few even called him a misogynistic writer who often targets women due to his negative experiences with females.
As A Writer!
Khalil is also famous for writing the script of a few hit Pakistani movies as well. One of them was the highly successful "Punjab Nahi Jaungi" (2017) starring Humayun Saeed, Urwa Hocane and Mehwish Hayat as leads. Another famous one was "Kaaf Kangana" (2019) starring Sami Khan, Eshal Fayyaz and Ayesha Omar but it couldn't top the charts.
As A Director!
Initially, Khalil's debut drama serial director "Boota from Toba Tek Singh" got massive popularity among the masses. Moving on, he then directed other Pakistani serials including "Landa Bazar" and "Dilli Kai Bankay". Fast forward, in 2019, he wrote and even directed the feature film "Kaaf Kangana" which miserably failed to grab the audience's interest and couldn't be hit.
As An Actor!
At the start of his career, Khalil also worked as an actor. His debut serial as an actor was "Dastak Aur Darwaza". The drama went amazing and praises poured in on Khalil ur Rehma's performance. Likewise, he also appeared as an actor in another highly popular TV dramas' "Landa Bazar" and "Boota from Toba Tek Singh".
List Of Khalil ur Rehman's Drama Serials!
Written:
Dastak Aur Darwaza.
Pyar e Afzal.
Sadqay Tumharay.
Mera Naam Yousaf Hai.
Unsuni.
Zara Yaad Kar.
Mohabbat Tum Se Nafrat Hai.
Tau Dil Ka Kia Hua.
Laal Ishq.
Mere Pass Tum Ho.
Directed:
Boota From Toba Tek Singh.
Chand Pur Ka Chandoo.
Landa Bazar.
Dil Hai Ke Diya Hai.
Dilli Ke Bankay.
Acted:
Dastak aur Darwaza.
Boota From Toba Tek Singh.
Chand Pur Ka Chandoo.
Landa Bazar.
Dil Hai Ke Diya Hai.
Dilli Ke Bankay.
List Of Khalil ur Rehman's Films!
Written:
Qarz.
Koi Tujh Sa Kahan.
Punjab Nahi Jaungi.
Kaaf Kangana.
Directed:
Kaaf Kangana.
Caught In The Controversies!
Khalil ur Rehman has often raised controversy on several occasions. At one point he said he does not consider all women to be women. When asked if he respects them, Qamar responded, "I often say that a good man cannot run society but a good woman can".
On March 3, 2020, Khalil-ur-Rehman Qamar appeared on a talk show in Pakistan on Neo News. In that talk show, he called Pakistani human rights activist Marvi Sirmid's feminist slogan 'Mera Jism Meri Marzi' as derogatory. He also made offensive comments about Ms. Sirmid's physique when she started chanting the slogan to prove a point.
Following Qamar's indecent remarks on Marvi Sirmid, Geo Entertainment suspended the deal with the highly acclaimed writer. Khalil Ur Rehman has since then responded to Geo's statement, refusing to apologize.
Note down people And @HarPalGeoTv pic.twitter.com/oiHYJ0ci6h

— Khalil Ur Rehman Qamar (@KrqOfficial) March 5, 2020
Khalil-ur-Rehman Qamar was also highly critical of Aurat March 2020. In a statement on local television in March 2020, Qamar announced that Pakistan should celebrate Haya March Against Aurat March.
Personal View!
The recognition, Khalil ur Rehman's dramas receive in other parts of the world, such as India, have also numbered up with the passage of time. The writer successfully implements cultural exchange. He is also of the view that having a creative pool of talented individuals from both countries must be brought together. This will also bring an end to the valiant thoughts of conflicts and political clashes.
Earlier, when some of his curious fans asked him where does he get such inspiration for his characters from? Responsively, he stated that he gets it from Allah. Khalil also admitted that he is not at all well versed when it comes to Urdu and he gives all the credit of his success to Allah. He also holds different views regarding the depiction of love in his projects.