It is quite rare in Pakistan for a wife to catch her husband red-handed in an extra-marital affair. In Pakistani society, such an act is not acceptable after marriage.
An incident of extra-marital recently happened in Pakistan where a wife caught her husband red-handed with another woman. In a video going viral and report by 24 News Channel, the wife was seen publicly humiliating her husband.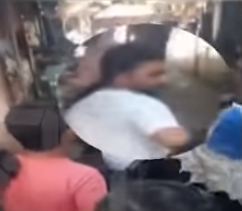 She can be seen complaining about how this man cheated on her. The wife also added how the husband has the audacity to secretly get involved in an affair. It is evident what this woman did is totally justifiable. The cheating man certainly deserved it.
A few years back, a wife caught her husband red-handed with his girlfriend on a date at McDonald's, Tariq Road in Karachi. Apart from extramarital affairs, incidents of polygamy have also been common in Pakistan.
One such incident of a wife publicly beating husband occurred this year in July in Okara. A wife in Okara was able to catch his husband to get married a fourth time. According to the details, the husband had tied knots with a 13-year-old girl, without the consent of his wife.
The nuisance of extra-marital affairs
Islam does not allow a male and a female to have extra-marital relationship. It not only discourages such an act but all such intentions and activities than can lead one towards illegal physical relationships.
It is truly a matter of concern for married couples as they still look up to extramarital affairs. If things are not working out between the two, they should communicate. Either they should compromise or part ways rather than they get involve in an illicit relationship which is just wrong.
What do you think of this story? Let us know in the comments section below!