Disclaimer*: The articles shared under 'Your Voice' section are sent to us by contributors and we neither confirm nor deny the authenticity of any facts stated below. Parhlo will not be liable for any false, inaccurate, inappropriate or incomplete information presented on the website. Read our disclaimer.
Okay, so it was my best friend's birthday bash and I was having a gala time. "Hey, isn't this the same dress you wore at Alina's birthday party?" asked one of my best friends with a look of disdain as if I was walking down a ramp for a pageant crown and had just committed a howler. Had it been Kate Middleton in place of mine, she would have been showered with praises and appreciation. Whenever there's been a headline regarding her repeating her former fashion statement, she's been lauded as in, despite being married in royalty she does not shy away from repeating her wardrobe. Why a commoner is emotionally bashed if he/she repeats her favorite clothing or particular style yet the affluent ones are bestowed with words of praises? Why the double standards?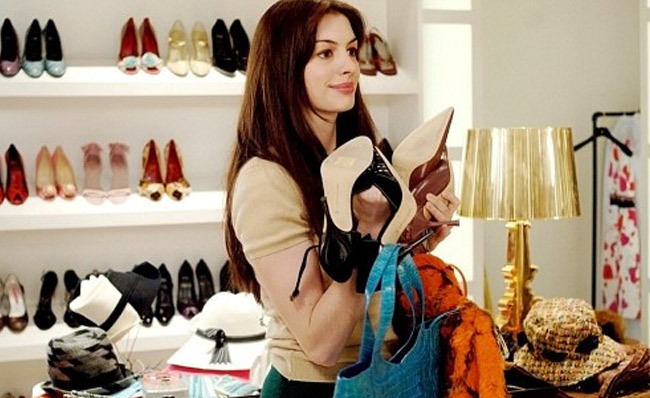 I completely agree with Matilda Kahl when she took herself out of the dilemma of choosing outfit every morning to work, revolutionizing her routine by investing in 15 silk white blouses and a few pairs of black pants and has chosen to wear that as her work uniform for about past three years. It indeed cost her a fortune but later helped her discover the hidden treasure, i.e., it saved her time, money and above all saved her from the every now and then scrutiny. I think this was the wisest idea ever by a woman! This way, people will respect for who you are but not for something that merely represents your body.
Life already having being a rollercoaster ride, keeping up with this fashion parade thing only adds up to the fiasco. The avidity of setting a fashion statement everyday has drawn people away from the real purposes and goals of their life. I believe, dressing aptly and dressing for becoming a centre of attention is different. Your job is to look presentable but not of making a fashion statement every time you put your foot out the door. I have seen people going out of their way and what for; just to please a few people around. My dear friends never leave your comfort zone and show that the world does not but you are the one who own the world. People apparently have belief over "What you see is what you get", so never ever try to hide the real-self of you and do not set any false image.
"If you look back in history of the women who are most memorable and most stylish, they were never the followers of fashion. They were the ones who were unique in their style, breakers of the rules. They were authentic, genuine, and original. They were not following the trends."- Nina Garcia
The bottom line is, repeating something you feel was your best appearance is no shame but in fact an icing on the cake when worn with confidence and head held high. After all, ostentation is for the nouveau riches. Be proud of who you are and never ever compromise on your identity. One should never dress to "fit in". People come and go but truest ones will be by your side no matter what you wear or what brand you carry. Believe in yourself for it is you who sets a trend and not a fashion magazine as Adriana Lima quotes, "Be sure what you want and be sure about yourself. Fashion is not just beauty, it's about good attitude. You have to believe in yourself and be strong".  Had success been a matter of clothes, then Steve Jobs with those turtle neck shirts and jeans every time would definitely have lost it.
Live, Laugh, Love and Dress as you please!