Junaid Jamshed lost his life in the PK-661 plane crash which occurred on 7th December in Havelian. The PIA aircraft flew from Chitral and was bound to Islamabad, but reportedly after suffering an engine failure went down.
Junaid Jamshed died including the rest of the 46 people on board imminently due to the plane crash. Investigation of the incident is still being held while bodies of the deceased have been identified by DNA samples from family members.
Junaid Jamshed's body has been identified and brought to Karachi for a proper funeral.
Forsenic exports took charge and identified his body via dental history and also X-ray of his face on Monday. Results came out successful after 6 days of the tragic disaster. His body was brought in a coffin by Pakistan Airforce, wrapped in Pakistani flag.
A guard of honor was given to Junaid Jamshed's coffin as it was brought at Noor Khan Airbase before bringing it to Karachi. It's a symbolic moment that certainly instigates his importance in Pakistan. This gesture is certainly commendable.
Official funeral prayers were held today at 2 pm at Moin Khan Academy, Karachi.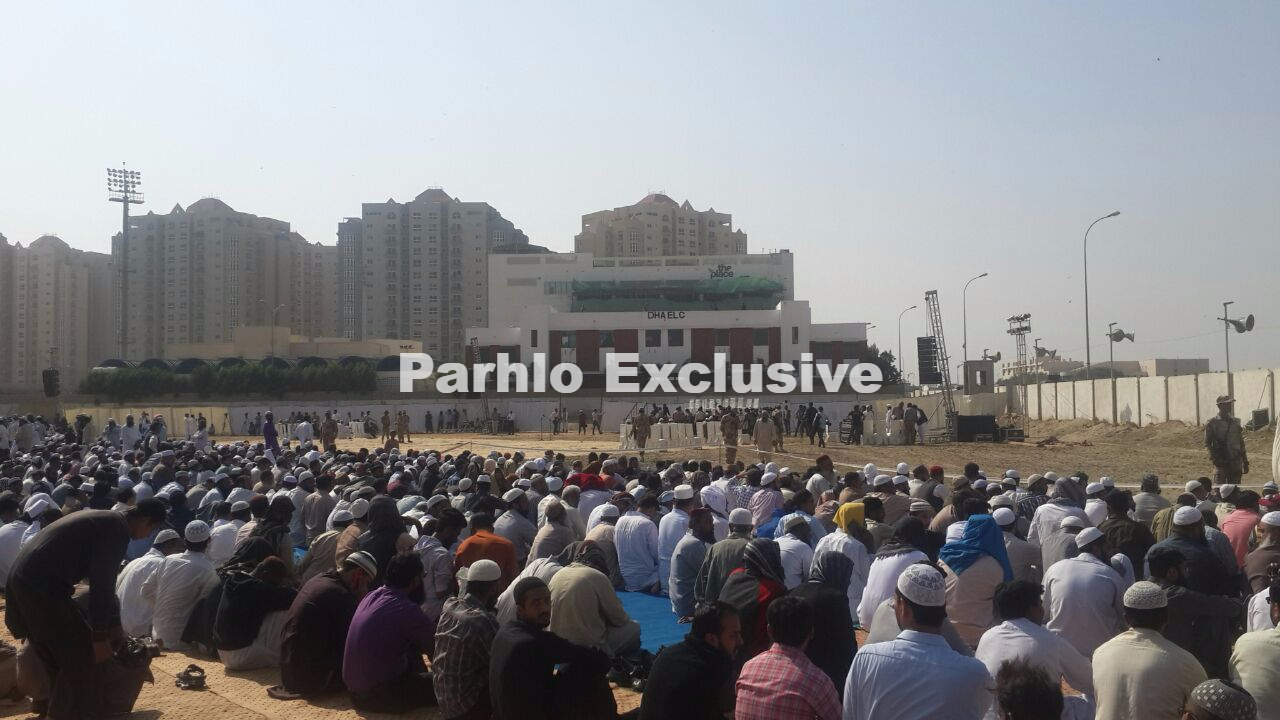 Renowned Islamic scholar Maulana Tariq Jamil offered the funeral prayer of Junaid Jamshed. He also conducted a brief sermon at the venue.
It is reported that Junaid will be laid to rest at Jamia Darul Uloom located in Korangi Industrial Area, Karachi. It is also reported that earlier, Humayun Jamshed (brother of the televangelist) and Maulana Tariq Jameel were revealed to the body of the deceased officially by Pakistan Institute of Medical Sciences (PIMS), Islamabad.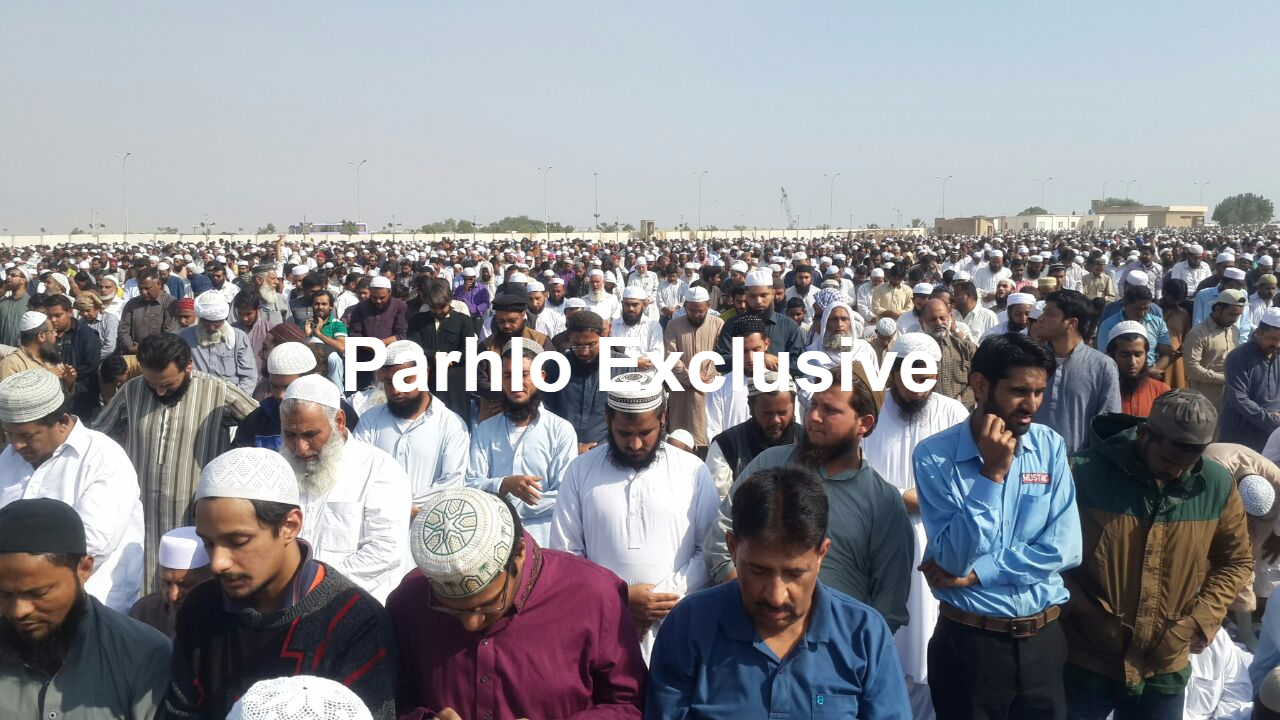 Pakistan's former batsman Saeed Anwer and MQM leader Dr. Farooq Sattar were present along with thousands of followers and well-wishers of Junaid. Every individual was present to pay respect, while his late wife Naiha's funeral prayers were held in Lahore.
We received a number of reports from eye witnesses present to attend the funeral prayers. They reported that there were several ambulances present around the area to take people at Moin Khan Academy. It had been a vastly crowded place and such measures were taken for those who did not have a personal conveyance to travel.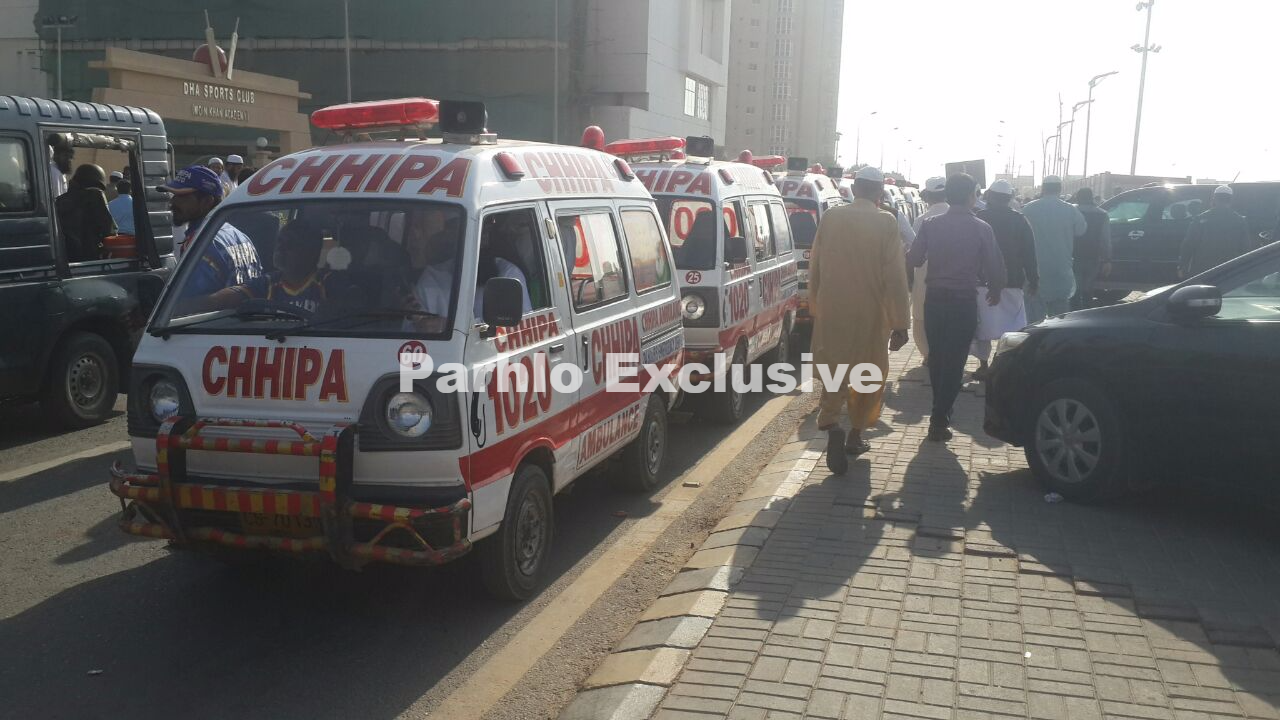 A glimpse of ongoing funeral prayers. A large number of people are gathered to pay their respects.
Junaid Jamshed's wife's body was identified and handed over to CMH in Lahore. On 12th December, her mother was given custody of her remains, officially. It was reported by her brother in law Dr. Faisal that Naiha's funeral prayers will take place nearby her residence in Askari 10, Lahore.
Naiha will be laid down to rest in Cavalry Ground graveyard. A Rasm-e-Qul will take place in Islamabad reportedly.
Junaid Jamshed's tragic demise will never be forgotten. It will be one of those harsh marks to taint our history. He will forever live in our hearts and his legacy shall continue. It is our duty that we must promote the values he lived for.