Narrow-mindedness is lethal, and it is pretty evident whenever you come across the comment section of celebrities or any individual. They have become susceptible to ugly sarcasm and critiques. And sadly, celebrities consistently become victims of their trolling – just like Zoya Nasir, the actress who got trolled, a follower was advising her to ask her boyfriend to commit suicide on changing his religion.
Nasir is a beautician and has been making waves in the showbiz industry as well where she broke in only last year but has managed to garner ample praises for herself.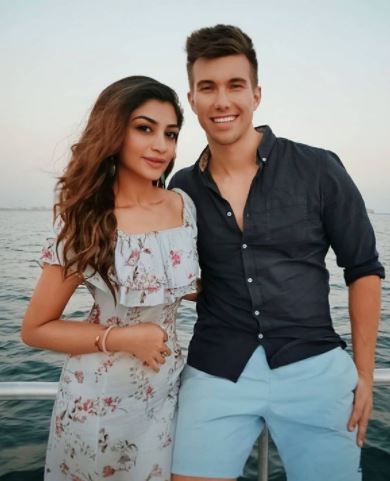 Last week, her boyfriend Christian Betzmann announced that he has accepted Islam and become a Muslim. About Islam, Betzmann said, "Islam is the religion of peace and I felt a deeper connection and something I want to experience and explore deeper for myself."
However, it is truly sad to see how Pakistanis lack the level of moderation, to begin with. Even though the Internet has given all of us the freedom of speech, we are no one to disapprove or shame somebody for their personal choices.
So lately, the Zebaish actor shared a picture on Instagram posing next to her beau. The caption read, "That one time he dressed proper. Welcome to Peace Christian. May Allah give all that you desire and more. Ameen."
And, then enters the brutal troll
Well obviously, somebody was going to have a problem with it. Commenting under the picture, a social media user wrote: "Welcome to peace? Kisi ka deen kharab kar kay [after ruining somebody's religion] you want to live at peace? Shame on you, you poor soul. He should be ashamed of himself and should commit suicide."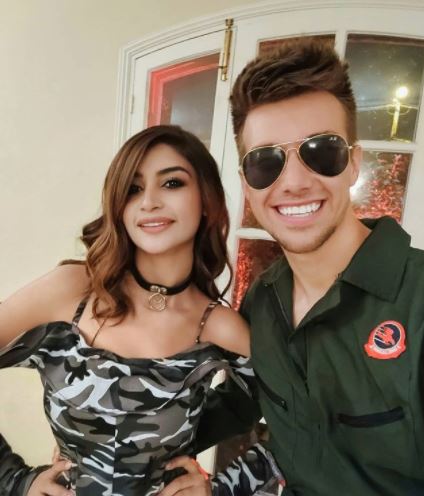 Responding to the comment, Nasir said, "I have three questions for you. What's your objection and what right of objection do you have here when the entire world is happy? Would you say this to our faces, rather than behind your cowardly keyboard's safety?"
"What would you do and how would you feel if (Allah forbid) he decided to listen to you and actually followed your criminal advice?," questioned Nasir. "I hope you realize the kind of responsibility you have here."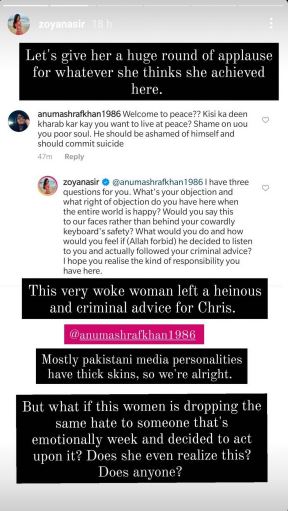 Later, the actor went to take a jab at the troll further in her Instagram story "Let's give her a huge round of applause for what she thinks she achieved here," she wrote. "This very woke woman left criminal and heinous advice for Chris. Mostly Pakistani media personalities have thick skins, so we are alright."
"But what if this woman is dropping the same hate to someone [who is] emotionally weak and decided to act upon it? Does she even realize this? Does anyone?" she concluded.
Last year, Betzmann came to his girlfriend's rescue when people could not stop criticizing her for lifestyle choices.
What do you think of this story? Let us know in the comments section below.