The Tehreek-i-Labbaik Pakistan (TLP) agreed to end the Faizabad protest late on Monday. The protest ended after reaching a peaceful agreement with the government of Pakistan. PTI Govt accepted the demands of TLP which they put forward.
Led by Saad Rizvi, son of TLP leader Allama Khadim Hussain Rizvi, marched from Liaquat Bagh Rawalpindi to Faizabad. They carried out the protest to expel the French ambassador and boycott French products over publication of blasphemous sketches in France.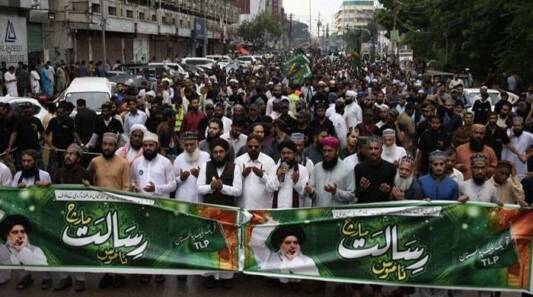 According to Dawn, the spokesperson for the Religious Ministry said the talks were successful. Moreover, the TLP also agreed to call off the Faizabad protest.
The TLP late on Monday night announced that the government had accepted all its four demands. However, it made no announcement about calling off its sit-in.
Imran Siddiqui, Spokesperson For Religious Affairs Ministry, told Dawn that Interior Minister Brigadier Ijaz Shah (retired), Minister for Religious Affairs Noor-ul-Qadri, and Advisor to PM Khan Shahzad Akbar held a discussion with the TLP leaders. They convinced them to end their protests.
According to sources, the government and TLP had a mutual agreement on the following four points:
After discussing with the parliament, the government will expel the French ambassador from Pakistan within the next 3 months.
2. The government will not deploy its ambassador in France.
3. There will be a protest against French products at a national level.
4. Those who were arrested during the protests will be released on an immediate basis.
Netizens are appalled after govt bow down to the demands of TLP
Social media users across Pakistan were appalled after the PTI govt who accepted all the demands of the TLP. Many Pakistanis also questioned the competency of the government.
Earlier in the day, PM Imran Khan had contacted Federal Minister for Religious Affairs Noorul Haq Qadri and other relevant ministers to hold talks with the TLP leadership.
Some of the country's leading political parties including the Pakistan Democratic Movement (PDM) and Jamaat-e-Islami along with the Federal Minister for Railways Sheikh Rasheed also advised the government to end the sit-in through negotiations.
What do you think of this story? Let us know in the comments section below!