A massive number of Tehreek-i-Labbaik Pakistan (TLP) supporters on Sunday marched from Liaquat Bagh Rawalpindi to Faizabad. Liaquat Bagh presented a scene of a battleground as police and stick-wielding activists of TLP clashed throughout yesterday.
According to Dawn, a heavy contingent of police was on duty in different areas around Faizabad to stop the anti-France march. Nearly 3000 protesters of TLP were seen during the protest.
The supporters had gathered on the call of TLP chief Allama Khadim Hussain Rizvi to protest against the publication by Charlie Hebdo magazine and also the remarks about Islam and extremism by French President Emmanuel Macron.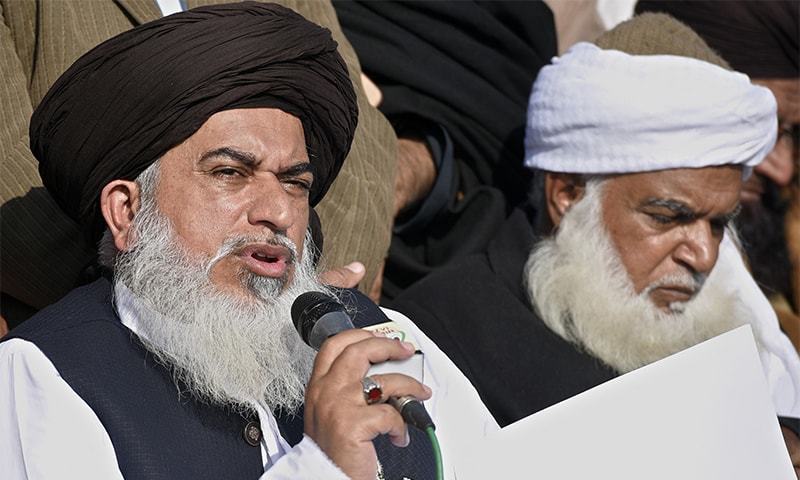 The rally was led by Saad Rizvi, son of Allama Khadim Hussain Rizvi. Other prominent members of TLP included Allama Shafique Amini, Allama Abdul Ghafoor, Qari Shafique.
Addressing the protesters, Saad Rizvi said they were not scared by the arrests. The shelling and the rally will continue. He said the French ambassador should be immediately expelled. He asked the country to boycott all French products. Moreover, all diplomatic, trade and economic ties with France must stop.
Police use teargas to control the protesters in Pindi
Several protesters managed to climb on to the metro bus track and started marching towards Islamabad. On their way, the protestors had a clash with local police and damaged the metro bus stations.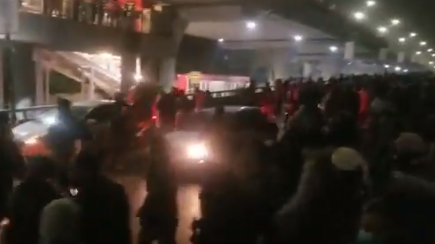 The local police had to use teargas shelling against the stone-pelting protesters. During the clashes, several police personnel and TLP activists got injuries. Meanwhile, journalists covering the protest claimed that the TLP activists harassed them and snatched their mobile phones.
Govt giving freehand to TLP supporters?
Several journalists and politicians expressed their shock on how the government gave liberty to the TLP supporters to conduct their protests.
PML-N Vice president Maryam Nawaz Sharif said that Karma has struck PTI government. They are going through the same phase as PML-N went through in 2018.
Several other Pakistani social media users condemned the aggressive protest by TLP and highlighted the incompetency of the government.
Earlier on Saturday, police were making announcements regarding the Faizabad protest. They were asking traders on Murree Road and the surrounding markets to keep their businesses closed on Sunday.
The police sealed all the entry points of the city with shipping containers. Since late Saturday night, there was no mobile phone service in the entire Rawalpindi division.
During the protests, local citizens were walking to their destinations due to the closure of roads and absence of public transport. Several important business areas of Rawalpindi city and cantonment remained closed except those in residential areas.
What do you think of this story? Let us know in the comments section below!