Disclaimer*: The articles shared under 'Your Voice' section are sent to us by contributors and we neither confirm nor deny the authenticity of any facts stated below. Parhlo will not be liable for any false, inaccurate, inappropriate or incomplete information presented on the website. Read our disclaimer.
I've seen and read countless articles on women empowerment in the world, and obviously, regarding Pakistan. We're one of the places in the world that follow a religion that describes that women are neither inferior nor superior to their male counterparts. However, our negligence to this very fact describes how punctual we are at NOT following the laws that this country was built on and, even worse, it's unanimously accepted.
I have seen efforts by human rights activist through the social media. In fact it is so often that I flip the channels and see talk shows on this very issue day after day. Where are the efforts of the NGOs including the likes of The Sarim Burney Trust, Aurat Foundation, and All Pakistan Women Association going?
Where do the voices of people like well known women's right activists, Shaheen Atiq-ur-Rehman, Hina Jilani, and Asma Jahangir disintegrate?
Why are our women under constant oppression when there are so many people willing to help them?
The women here are not only subject to sexual and physical violence but they are also constantly reminded of the fact that whatever they do, they will never be as important as a man. It is their fault they were born women, and for that they should be punished for the remainder of their lives. Every woman in Pakistan has been victim to discrimination, whether it was just a statement that said, "Yeh tum karo gi? Hat jao yeh larkiyon ka kaam nai" to the fight against education for women. Yes, Against!
The emotion of our voices and the strength of our fists crawl in to the hearts of our affected women and die there. The truth is, they've been caged up for eons and by that time, old age and uselessness have accepted them. They don't believe in a Pakistan for women, all they know is the violence and oppression that has forever surrounded them.
Read Also: Pakistani Celebrities Were Asked What Feminism Means And Their Response Is So Surprising
Women of Pakistan!
Your supporters can only go so far, they can only open so many doors.
They can only provide so many opportunities.
What will happen when they go too?
Women of Pakistan!
Who says that you have nowhere to go?
Who says that your tears will never see the light of day?
All the strength you will ever need is closer than you realize.
Women of Pakistan!
Do you see the people, their faces?
They are hiding the truth
They are hiding from you
Women of Pakistan!
You will never be free
You will never feel relief
If you keep hiding from the people who you think can hurt you
Legislation is not enough
Reservation is not enough
Integration is not enough
Empowerment is not enough
Opening doors is not enough
If you don't try to get out of that hell fire yourself.
Women of Pakistan!
You can achieve anything your mind can perceive.
Women of Pakistan!
All you need to do, is STAND.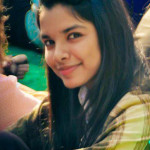 Samra Tariq
Student
PAF Kiet
Karachi, Pakistan