Back in the day, the only "F" word people mostly talked about was the abusive one. Now many people associate the word 'feminism' as the 'F-word' (something which is beyond me). A term as prestigious, as well-augmented as feminism is taken by this society in a way as if it is something that we shouldn't be talking about at all.
Understanding how our society has misinterpreted the term by releasing their own versions or perhaps the versions which do not fit in the mindsets of desis, many believe feminism is something which shouldn't be talked about.
The star-studded night of the LUX Style Awards was filled with a lot of glamour and amazing moments. From Atif Aslam performing an amazing version of our national anthem to Mahira Khan rapping on the stage, the night was full of excitement. Before the beginning of the event, the celebrities were also asked what they have to say regarding feminism.
Starting Off With Shehryar Munawar
Starting off with Sheheryar Munawar, he stated of feminism as a "misinterpreted" word. Something which can be conclusively narrowed down, as a lot of people do not to perceive the word feminism with what its main objective is!
Coming up next, the Afreen-Afreen sensation Momina Mustehsan
Seeing someone as talented and educated as Momina, her response was something… we wouldn't have expected.
"I'd rather not answer that." she said in her witty manner. Given how the singer was against the way Qandeel Baloch promoted herself, it is safe to even assume what Momina would've insinuated here. I might be wrong but the way she answered the question is so not cool.
VJ Anoushay also said something which surely didn't make anyone proud
"This could me get me into trouble." the model and VJ said when answering her question.
The biggest shocker was stated by Sanam Saeed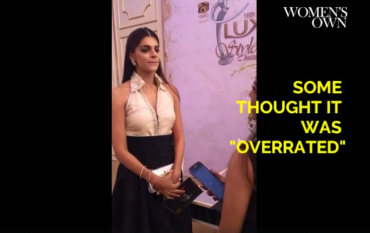 How Sanam Saeed said, "overrated" seems surprising as it just doesn't make any sense. I personally, for one, love her acting skills. But given how she chose to show her stance regarding feminism is just not okay.
This one here "doesn't believe in feminism." I mean, wow…
On the other hand, Mahira Khan made us proud once again
"It means to stand up for the rights of women."
Now Comes Ali Zafar!
When asking another man, Ali Zafar stated that "feminism means to care about what women care." I think I just fell in love…
Designer Kamiar Rokhni Had A PERFECT Answer!
"Humanism" that's all KR had to say to win our hearts.
Qurat-ul-Ain Baloch, the ultimate badass had her say as well!
 "It means to be independent and confident." ABSOLUTELY YES!
Summing it all perfectly, comedian Faiza Saleem had a response which fits the description of feminism perfectly
"In Pakistan, people think feminism means to beat the hell out of men. But it doesn't mean that at all. It means working together, shoulder to shoulder with men. If not better than them but we are equal."
And Pakistani women also had their say under the comments as well: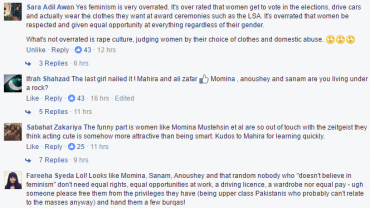 It is important for women to understand what other women go through. Feminism does not revolve around just wearing what you feel like or having the liberty of doing what pleases you – it is beyond that. Public figures need to be aware of what they say regarding a term as sensitive as feminism because they are setting examples for others to follow.