Pakistan is a country full of people with a lot of enthusiasm when it comes to cricket. As a matter of fact, each cricketer is of great importance to us. Of course, things take a turn for the worst when it comes to comparing or discussing Indian cricket and Pakistan cricket players; due to the major historical differences between both countries Pakistan and India.
Former cricketer Shahid Afridi has just dropped the ball when he claimed that he is still friends with both Indian cricketers Yuvraj Singh and Harbhajan Singh.
Both the Indian cricketers had ended their relationship with Lala, after his comments on 'Indian Choozay'.
Although, Lala's new statement about the cricketers wouldn't have been much shocking. Many stars tend to have friends beyond borders, but it was Boom Boom himself who had given the statement of ending it a little while back. What is surprising us more is he claims that he has never ended the relationship with these two stars.
Hello sir how are you 😊 i have a question from you, as you know that Yuvraj Singh and Harbhajan Singh have said that we do not have any kind of friendship with Shahid Afridi anymore. So what would you like to say about them?

Lala reply plzzz 🤗

— Cricket Station Official (@StationCricket) July 29, 2020
During a Q/A session, the former cricketer was asked, about his stance on how he sees the relationship with his friends from beyond the border? Most of which expected the response to this question would be something around the lines of 'I have ended the friendship' etc. However, our jaws truly hit the floor when our favorite Lala replied in his sweet and calm way.
We have old and strong relations and I still have respect for both

— Shahid Afridi (@SAfridiOfficial) July 29, 2020
Lala's reply – Birth of many questions
We wonder what changed. Although, the king of the cricket world states that their relationship is very old and he still has a lot of respect for them. Does this mean that he is still on good terms with them? Is the trio still friends with each other? Or has the feuding on inter-political issues finally come to an end between these stars?
As of now, all we have is a simple statement from Afridi with many questions unanswered. However, we do hope that the rivalry between both countries come to an end real soon. Perhaps, in this way, we can let go of centuries-old held grudges and move forward!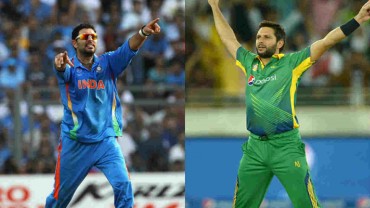 Or perhaps that's just wishful thinking! Either way, we can't wait to hear more about this unusual statement. On the other hand, what if this entire statement was an indication to end past withheld grudges and move forward?
All we can do is come up with theories and ideas; besides isn't that what we Pakistani's are good at? Looking for drama in the slightest of things?
Shahid Afridi has always been vocal about different issues that involve the relationship between Pakistan and India. In fact, he has often fought with them on different political issues and even on the matter of Kashmir. However, Lala has always supported Yuvraj and Harbhajan. Sometimes, friendships don't fade away too easily.
What do you think of the story? Tell us in the comments section below.