We have often heard the phrase 'seeing is believing'. However, an inspirational visually impaired lady by the name of Rehana Gul has challenged this adage. Gul, 27, is the first-ever blind radio presenter in Khyber-Pakhtunkhwa. She lives in Peshawar.
In an interview with Arab News, Gul narrated her struggles and explains what inspired her to be a radio jockey. Blind by birth, Gul positions herself behind the radio console at FM 92.2 to tell stories of people with disabilities, describe their struggles, and share inspirational tales of their successes.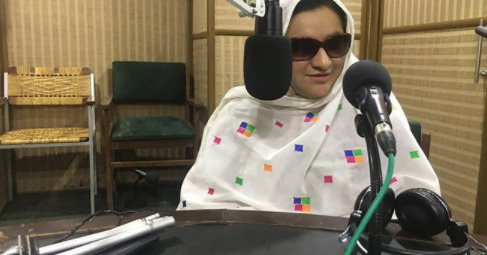 Born in the Shergarh town of Mardan district, Gul first came to Rawalpindi for the treatment of her eyes when she was only six years old. After many checkups, the eye specialists told her elder brother that she would remain visually impaired for life. As a result, Gul got enrollment at a school for blind people in the city's Shamsabad area.
She studied there until the 10th grade. After that, she made a switch to a regular college and got admission in educational psychology degree at the University of Peshawar. Gul took job as a voluntary teacher at a school for people with visual impairments in Peshawar.
Gul's dream of breaking into a career that will help her contribute to her household was the key source of motivation to study. She also wants to support her illiterate elder brother who is her pillar of strength.
Gul was referred to try out for a job at FM 92.2 by a friend. The producer was impressed with her voice. He spoke to station director Ansar Khilji about offering her a slot. After that, Gul pitched the idea for a program called Mashaloona (meaning Light) to highlight the issues of people with disabilities. It was approved.
Blindness is no more a hurdle for me, says Gul
According to Arab News, Gul does not earn enough money from her radio show to be self-sufficient or support her family. However, she is glad to finally have a platform that can help her to highlight the problems faced by Pakistanis who were differently abled.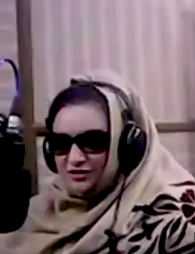 She said, "Blindness is no more a hurdle for me and that's why I want to change the minds of those who listen to me and let them know about the genuine rights of persons with disabilities. There is nothing impossible in this world."
The story of Gul illustrates the fact that blind individuals have the same concerns as anyone else. If encouraged, they can educate themselves, take jobs, and do everything that everyone else can.
More young and brave Pakistanis are making the nation proud every day. Sirine Jahangir is one such blind Pakistani girl who was recently Britain's singing sensation. Meanwhile, Muhammad Malak is another visually impaired Pukhtoon who is reaching new heights with his courage.
What do you think of this story? Let us know in the comments section below!