Disclaimer*: The articles shared under 'Your Voice' section are sent to us by contributors and we neither confirm nor deny the authenticity of any facts stated below. Parhlo will not be liable for any false, inaccurate, inappropriate or incomplete information presented on the website. Read our disclaimer.
This story has been submitted by Muhammad Farhan Fazal.
An undiscovered hero, Muhammad Salman Malak, belongs to Dheri Alladhand Khyber-Pukhtunkhwa (K-P). Muhammad Malak, a bright Pukhtoon is suffering from an untreatable condition called "congenital Leber amarousis". This condition caused the complete loss of his eyesight by the age of 14.
Malak – A hafiz-e-Quran
At 14, Malak was already a hafiz-e-Quran. However, he had to stop his studies and took a break of almost 3 years. His family tried every doctor and 'peer' in Pakistan, but nothing helped his condition.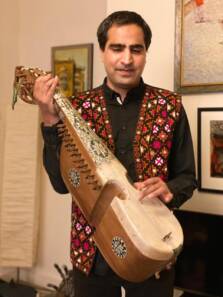 Now that he was totally blind with no sight whatsoever in his eyes he started memorizing the books. Those books were recorded for him in cassettes by his family. For exams, a less qualified writer was allowed to write for him in exams. This way he did his matric and FA.
As times evolved, there came apps that could read screens and guide you through your electronics. Malak then went to Faisalabad for computer courses. He lived in a hostel for the very first time and God knows how hard it was for our family to send Malak away from home.
Malak gets familiar with computers and cellphones
Anyway, he learned to use computers and cellphones through screen reading software such as 'Jaws'.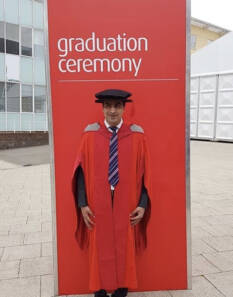 Muhammad Malak, the bright pukhtoon, later took admission in the University of Malakand. At that time, he was able to scan his books and convert images to PDFs, which he would read later.
Malak has done MA in political science
Malak did his MA in political science. He was at the top of his class. For MPhil, he went to Peshawar University and completed it on the same subject. Later, Malak came back to the University of Malakand to be appointed as a lecturer in the department of political science. He taught for 3 years to the students of 5th and the final semester of political science.
During teaching, Malak started his search for Ph.D. opportunities abroad. Whenever I asked him, "Brother why not Pakistan?" He said, "It's all copy-paste degrees here". Letting him go alone to another country was the hardest thing for our family.
By the grace of Almighty, Malak was given a fully-funded scholarship for Ph.D. at London's Middlesex University which he has completed.
Nowadays, Malak is doing his post-Doc from King's College London. His work surrounds around K-P. His research and project topics include "Batkhela Bazaar" the longest bazaar of Pakistan; culture and heritage of Pukhtoons; women entrepreneurship in rural areas; forgotten artists, and Pukhtoon history writers.
People think that such special persons are a burden. Being a doctor, I see many families who have given up on their disabled loved ones. With less severe disabilities, they are just living their lives in the dark with no future and hope. So, if enough people get to know about Malak's achievements, who is visually impaired, then I don't think nobody would ever give up on their loved ones with disabilities.
Read Also: Pakistani Research Scholar Develops Braille Learning System Supporting Urdu Language
What do you think of this story? Let us know in the comments section below.