A hero policeman was gunned down in what appeared to be a targeted killing in Korangi Industrial Area on Friday evening, sources confirmed. Sindh IGP has taken notice of the incident and ordered the Korangi SSP to arrest the culprits.
The police constable identified as Arif Khan, posted with the Madadgar 15 police, was shot and injured by two armed men near Mehran Town, the spokesperson for the Sindh police said.
According to the details, the unidentified assailants targeted the victim when he was returning home after performing his duty. Reportedly, the killers also took his pistol along with them. While being shifted to Jinnah Postgraduate Medical Centre, the police constable succumbed to his wounds on the way.
In addition to this, Khan suffered critical bullet wounds. As per the reports, Executive Director JPMC, Dr. Seemi Jamali confirmed that the doctors pronounced him dead on arrival.
Subsequent to the incident, a heavy contingent of law enforcers reached the crime scene and cordoned off the area. Moreover, the police investigators collected some evidence and recorded the statements of witnesses. Additionally, they also tried to obtain the CCTV footage to probe the incident.
According to the Sindh police, the shooting appeared to be a targeted attack as the constable was not in uniform when he came under attack. Instead, the police identified the victim through his service card.
Pakistanis pay homage to this bravery son!
An investigation into the series of target killing
Inspector General of Police Mushtaq Ahmed Mehar has taken notice of the incident, as well as ordered the Korangi SSP to arrest the killers, according to the Sindh police spokesperson. In addition to this, he also asked to submit a detailed report regarding actions taken in this connection.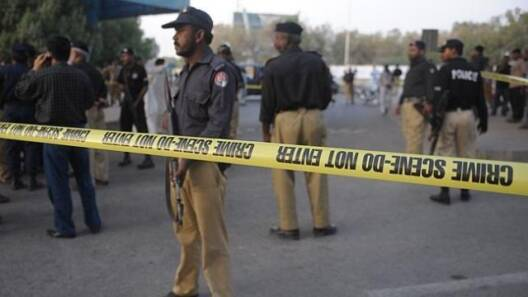 It is to be noted that Khan is the sixth police official shot dead in a series of targeted attacks in the provincial capital in recent months. However, the latest incident has come over a month after the previous murder.
The last incident of police killing occurred on August 14. Some unidentified assailants killed Head Constable Muhammad Ali in Karachi's Karimabad area. Police claimed that his killing was not an act of targeted killing. Also that he was killed over offering resistance to a mugging bid. Moreover, the rest of the police killing cases remain to be resolved.
As per some sources, investigators have collected one spent bullet casing from the crime scene. They sent it to the police forensic science lab to ascertain as to whether the same weapon has been used in past murders. Meanwhile, IGP has taken notice of the killing of the policeman and sought a report from Korangi SSP.
No words suffice to describe and serenade what these courageous men have done for our nation. Their acts of bravery leave us speechless and heartbroken. May their souls rest in peace.
What do you think of this story? Let us know in the comments section below.