It is a harsh reality that the second wave of coronavirus is proving quite fatal for Pakistan, specifically in Khyber-Pakhtunkhwa (K-P). The deadly virus is impacting people of all age groups. At least 14 more people have died of the COVID-19 pandemic in K-P on Wednesday, taking the toll from the infectious disease in the province to 1577.
Among those unfortunate individuals that lost their lives is a first-year student of Khyber Girls' Medical College (KGMC), Dr. Sana Riaz.
The young doctor was admitted to the Northwest General Hospital in Peshawar. She was under treatment at Coro­navirus ICU Ward where she breathed her last.
Dean KGMC Professor Zahid Aman also expressed his shock over the loss of the young medical student. He said Dr. Riaz was a brilliant student of the college.
Dr. Riaz's death saddened all the faculty members, students, and other staff of the medical college, added Professor Aman.
Pakistanis mourn the demise of Dr. Sana Riaz on social media
Social media users across Pakistan were disheartened at the demise of Dr. Riaz. Many Pakistani citizens expressed their grief over the passing away of the young medical student.
Pakistani medical professionals risking their lives for fellow citizens
Dr. Riaz has become the second medical student who has died of coronavirus in the province. Before her, another 3rd-year student of Khyber Medical College (KMC), Adnan Haleem, had died due to COVID-19. He belonged to the Fatehpur area of Swat.
The 21-year-old was shifted to medical ICU on the same very day where he tested positive for COVID-19. The physicians in ICU immediately put him on a ventilator, but he couldn't survive and lost his battle for life.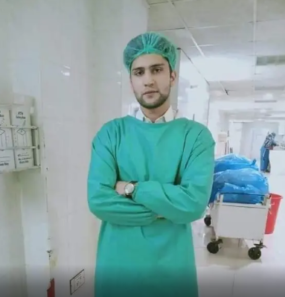 In May 2020, two doctors in Quetta lost their lives due to COVID-19. The names of the doctors were Dr. Fatima Sana and Dr. Salman Tahir. Details reveal that both the doctors had contracted the deadly virus on-duty while treating the arriving patients.
It is evident that the COVID-19 pandemic has created havoc upon the lives of individuals all across the world. In the midst of this crisis, doctors have truly been playing their part and helping society overcome this ferocious battle.
As Pakistanis, we should acknowledge the fact that medical professionals risk their lives to protect their fellow citizens. Even after bearing all the stress and ill-treatment, doctors are often seen cheering their patients and helping them to battle the pandemic.
What do you think of this story? Let us know in the comments section below!