What a season! Manchester City has knocked every team in the league to claim the Premier League title for the second time consecutively.
Yesterday was all about breathtaking moments because two of the most important matches played were Liverpool and Manchester City both of them had to win their matches to be at the top of the premier league.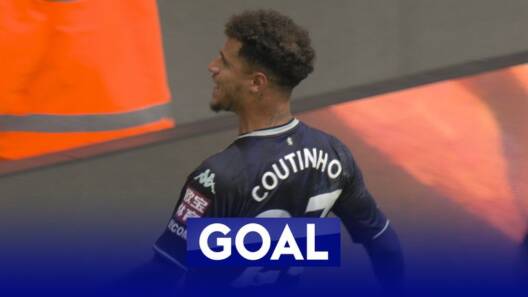 Manchester City was facing Aston Villa and in the first half, everything looked shattering for the city fans. Because Aston was dominating and got the two goals lead which shocked everyone at the Etihad Stadium.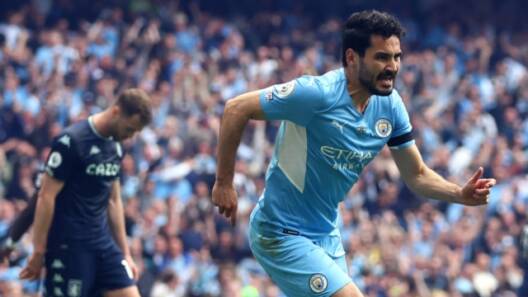 But what a come back by the home side, they rose out of the dead bodies and made their way to the trophy. It was the moment, where everyone imagined Kun Aguero's moment because this time Gundogan was the man behind the crucial Premier League title match wins.
On the other side, Liverpool won the match they were late and couldn't destroy Manchester City's celebration.
Manchester City's Premier League Come Back – Champions
The match began with the visitor's dominancy, in the first half, Matty Cash gave his side an early lead in the 37th minute and started making Etihad a panic room for the home players. Manchester City tried to find the net in the first half, but couldn't.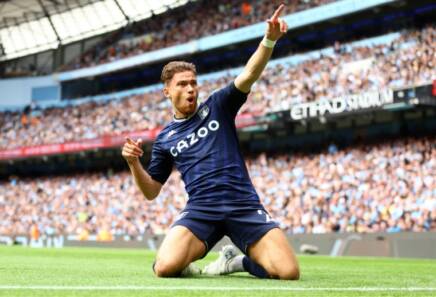 But in the second half, former Liverpool player Philip Coutinho with a brilliant strike in the 69th minute gave his side two goals cushion and made City's life more miserable. Because they had to win the match if they want to retain the Premier League title.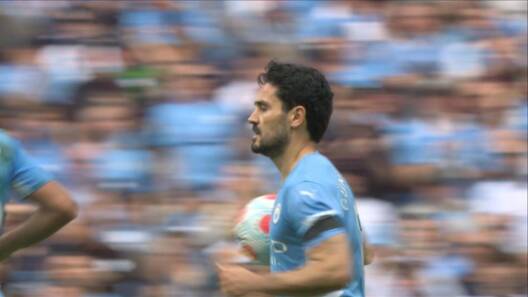 In the 76th minute, Raheem Sterling with a brilliant cross and found Gundagon who put the ball in the net to give his side little hope. Within two minutes, Rodri with his right foot outside the box found the sweet spot to equalize the score and made everyone go crazy.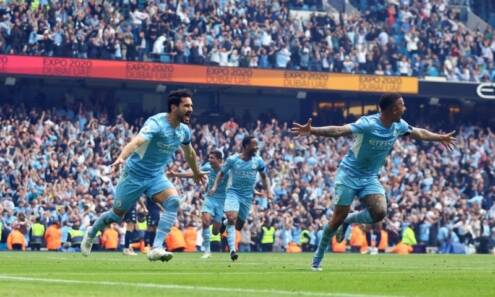 That was the moment when City fans realized things might go in their favor because the home side started putting more pressure and in the 81st minute Gundagon led his side to the Premier League trophy. The moment he scored, there was chaos all over the Etihad Stadium, fans, players and even manager Pep Guardiola went crazy.
The excitement was on another level that no one can imagine. It was a big thing for Manchester City after being knocked out in the Champions League Semi-Finals by Real Madrid.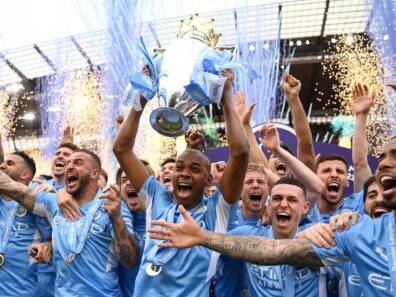 Fun fact, Pep Guardiola (4) has now won more PL titles than Arsene Wenger and Jose Mourinho (3). In the PL era, only Alex Ferguson (13) has won more league titles than Guardiola. Just like last season the way they headed towards the trophy and lifted it up. City has done the same, dominated this season throughout the campaign.
'We feel like legends' – Pep Guardiola
The moment when it all looked like City's Premier League title slipping away, City's sensational comeback undoubtedly live for a lifetime in the memories of the club's supporters.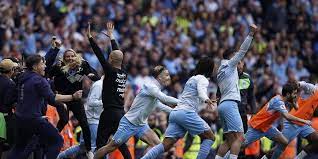 No doubt, Manchester City played a flawless season and continuing its dominance of English football since the arrival of the Catalan coach.
"We are legends, we will be remembered," Guardiola declared in his post-match interview.
"This group of players is eternal in this club.
'I have had few moments' – Jack Grealish
Jack Grealish one of the star signings for the Manchester City in the summer transfer also expressed his happiness. he said he was "nearly crying" when he finally got his hands on the Premier League trophy.
It was the first time in 17 years that City had come from 2-0 down in a league game to win.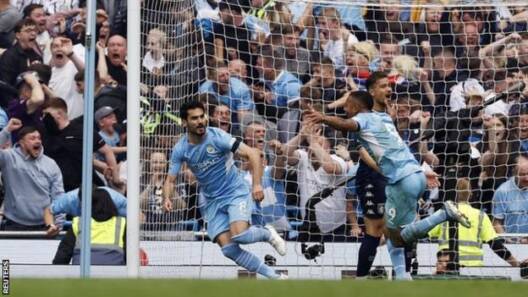 "I've had a few moments in my life and football but this is certainly right up there. I've come here to win trophies and to do it is unbelievable," Grealish told BBC Radio 5 Live.
"Truthfully I didn't think we were going to win, I just didn't. Sometimes you have those bad feelings in your head and I just didn't think we were going to do it."
Forward Raheem Sterling, who spent three years at Liverpool, said Jurgen Klopp's team had "pushed" City to achieve more success.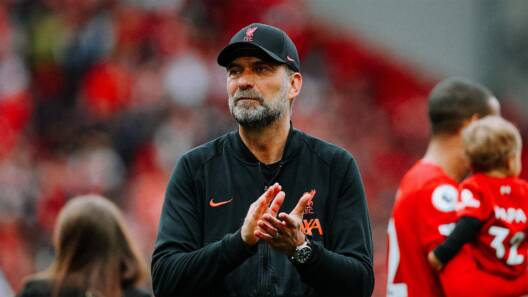 "Each year we come in and we know how difficult it will be with the teams we have," he said.
"Liverpool is a great opponent and every year they push us to the wire and this is why we
"What we achieved, it is so difficult to do it, Sir Alex Ferguson with Manchester United has done it years ago, two or three times, now I realize again the magnitude of doing this."
He even joked about his comeback, "I called Real Madrid and they gave me good advice!" Guardiola joked. "No explanation in Madrid, no explanation today. It's momentum.
"Sometimes it's nice to live these kinds of situations. I had the feeling this will help us to be stronger next season."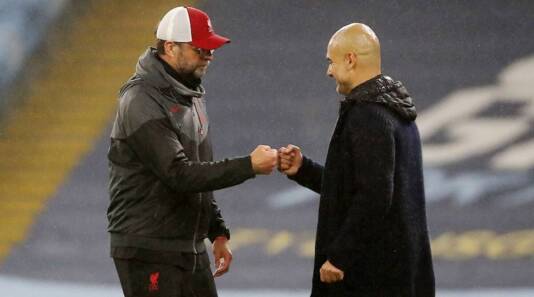 Pep Guardiola also praised Liverpool, "I have never seen a team like Liverpool in my life, the magnitude of the achievement is related to the magnitude of our rival," he continued.
"Congratulations to Liverpool, they have made us better and better each week.
"Now it is time to celebrate, we're champions again."
"You just go for it – you're losing anyway. You want to change the situation and that's what we did," he added.
Proud moment for Ukrainian international Oleksandr Zinchenko
made a great impact when he stepped in the second half and with a brilliant ball to Rodri that changed the game. He celebrated on the pitch afterward with a Ukrainian flag draped across his shoulders, posing for photos, before wrapping it around the trophy.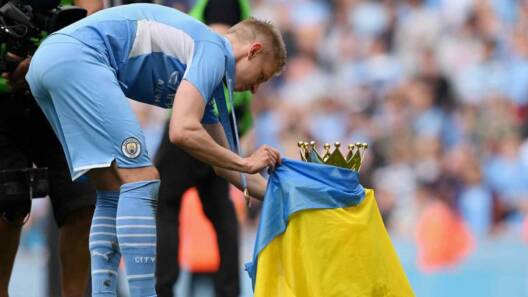 "[These are] unforgettable emotions for me – for all Ukrainians who at the moment are starving, and surviving in my country because of Russian aggression," he said.
"I am so proud to be Ukrainian and to bring this title to Ukraine, for all Ukrainian people, because they deserve it.
"It means everything to me – I would die for these people and their support. What people gave me and what they have done for me during this period – the toughest period of my life – I am so appreciative and I will never forget this, never in my life."
Gundagon praised Liverpool
The star or say hero of the day Gundagon sent a classy message to Liverpool. "I know it's tough to say, but if Liverpool wouldn't be there and play the way they play, very successful, this league wouldn't be that attractive," Gundogan told Sky Sports.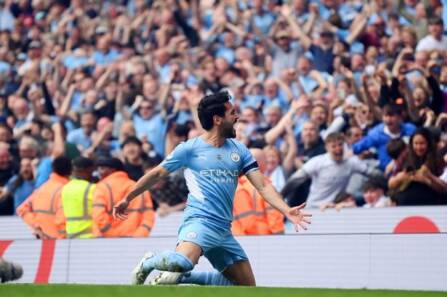 "Even though they finish just one point behind us they play an incredible season. They push us to the limit, it's a sad day for them but we need to appreciate what they've done and especially my former coach.
"We look forward to competing with them next season."
Steven Gerrard's statement on his goalkeeper assault
After the final whistle, Manchester City fans ran towards the players and attacked on the pitch. Aston Villa's goalkeeper was assaulted during the City's fans' chaos. Villa boss Steven Gerrard said: "Our goalkeeper was attacked.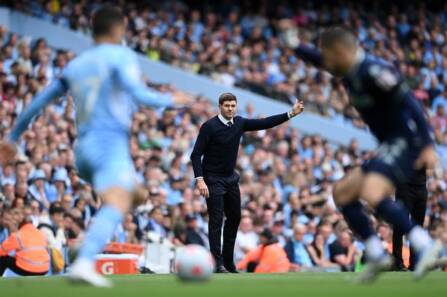 "We're going to see how he is now, but I think you should ask Pep [Guardiola] and Manchester City those questions."
The city said in a statement: "Manchester City would like to sincerely apologize to Aston Villa goalkeeper Robin Olsen, who was assaulted after the final whistle at today's match when fans entered the pitch.
"The club has launched an immediate investigation and once identified, the individual responsible will be issued with an indefinite stadium ban."
Jurgen Klopp also shared his excitement
Liverpool boss Klopp said it was a "joy" to work with his players each week, but they needed "a bit more consistency in the first half of the season" to beat City to the title.
However, he described their achievements this season as "insane" and said they had pushed "the best team in the world" to the final day.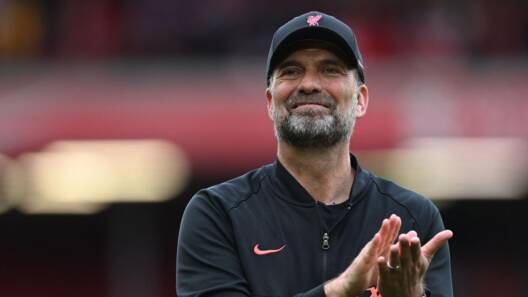 "[Finishing second] is the story of my life," he said. "I'm still record-holder for not getting promoted in Germany with the highest points tally. You need to get more points than every other team, but we didn't do that.
"You can't do more than give your absolute best and that's what the boys did again. We chased the best team in the world to the wire. That's special. We'll build a team again and go again.
"These boys played an insane season. This is not the end, just a result of the season."
You won't get better seasons – Martin Keown
Former Arsenal defender Martin Keown said it would have been a "travesty" if City had missed out on a trophy this season, with Liverpool having picked up the two domestic cups as well as setting up a Champions League final against Real Madrid.
Former England striker Alan Shearer added: "What a team, what a season, and what a standard of football we've witnessed.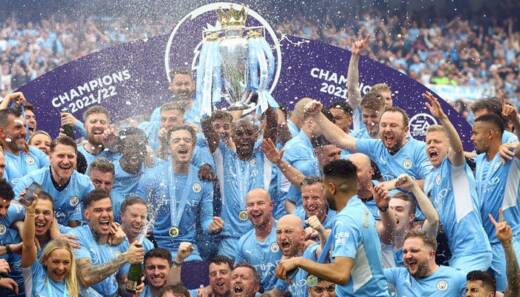 "It's just unbelievable what Pep Guardiola's got at Manchester City and what Jurgen Klopp has at Liverpool. It was a brilliant afternoon for the neutral.
"I was nervous and I don't really care who wins it – so god knows what those supporters were going through, as that was one tense afternoon. Incredible."
No doubt this season was historic, some big star singings, Cristiano Ronaldo came back to Old Trafford and gave some delightful SUII moments.
What do you think of the story? Tell us in the comments section below.