Queen of pop Madonna accidentally made the Pakistani filmmaker and activist, Sharmeen Obaid-Chinoy a victim of honor killing. As Madonna posted on all her social media accounts the story of late Qandeel Baloch in reference to Chinoy's latest film, she made a fatal typo.
Here is how Madonna killed Sharmeen Obaid
"Too bad Sharmeen and so many others had to die first".
Madonna posted this on her Instagram speaking up for Qandeel Baloch and against the honor killings in Pakistan. But what she did not realize was that she had accidentally killed Sharmeen Obaid herself, whose short film she was promoting.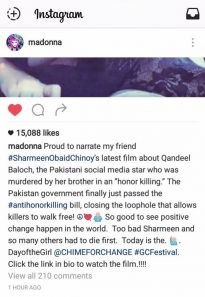 But she realized her mistake soon.
She realized the mistake and changed the caption on her Instagram after several people commented under the picture, that too quite outrageously.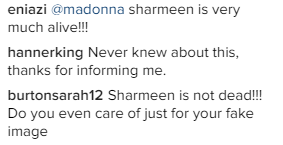 "Do you even care of just for your fake image", don't really know what this means but this person surely is angry. Madonna did not only post this on her Insta, but also her Facebook and Twitter.
The message she wanted to give was necessary.
Ignoring the typo, lets just focus on the message she wanted to give to the world. Showing the positive side of Pakistan addressing a not so positive problem. She told the world about the Anti honor killing bill being passed in Pakistan and that she is glad to see such change in the world. Which means that this by no means is portraying a bad image of Pakistan.
So it's good to see international stars recognizing Qandeel Baloch and most importantly the problem of honor killing. Hoping that Qandeel is served justice, Sharmeen Obaid Chinoy deserves appreciation for always fighting for women rights in Pakistan. Appreciation, not accidental deaths.