Remember the expelled University of Lahore (UoL) couple whose public proposal recently went viral on social media? Well, looks like the UoL couple has just got married!
Last week, a short video clip of a girl going down on her knee with a bouquet in her hands to propose to her beau took the Internet by storm. It spread like a wildfire with the social media users enjoying it. However, it was only a matter of time that the video reached the university administration, resulting in expulsion of the two.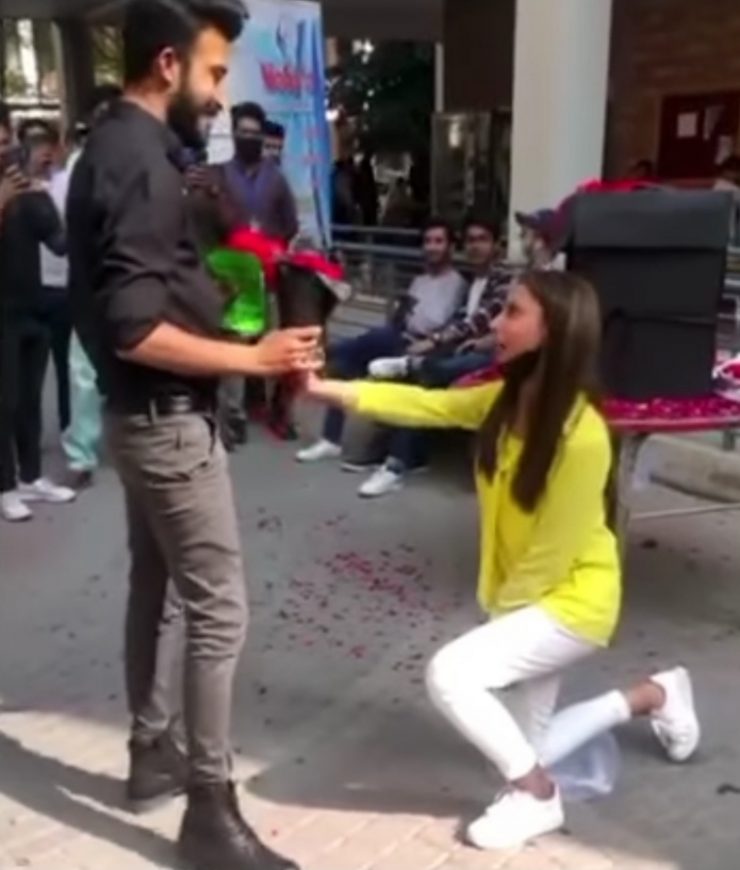 In the video, which was supposed to be cheesy or perhaps 'romantic', the girl while on her knees, says something to her beau, and the next thing we see is the couple in each others' arms and the video ends. The crowd could be heard cheering and gushing over the lovebirds.
As soon as the video reached the UoL administration, it took an abrupt and stern action against the couple. The university on Friday released an official notice, and made the decision to expel both the students from the university. More so, it debarred them from entering the premises of the university.
Did the couple tie the knot?
"The couple, who got engaged in public at Lahore University, got married We demand the university to admit both of them back. Shame on those who were calling the couple's move obscene. (Daily Jang Lahore)," a Twitter user wrote.
Confirming the news, the girl went on to express her gratitude on her alleged Twitter account.
Also…
Earlier, taking to Twitter, the guy went on to defend his fiancé from all the media trials. He apologized for everything and took all the blame. More so, he requested everyone, "Please do not talk about her character. She is a very noble girl. If there is anyone who is characterless then he is me."
"Do not talk about her character because it will hurt her and her family. They are already hurt and they are worried about their daughter," he added.
Meanwhile, the girl asks him to not blameself.
A day after their video consumed the social media trend, another video came to the surface in which the couple could be seen candidly talking about their viral video. Their reaction was certainly not what one would have expected. It seemed as the two were not expecting their proposal video to spread like a wildfire all over the Internet.
In addition to this, the girl took it to her alleged Twitter account to clarify that it was not a 'publicity stunt'. She thanked everyone for their support and kind words. So now we know that the UoL couple has finally got married.
Earlier, the Internet was divided over their opinion of the public display of affection. Many felt bad for the couple and criticized the university. On the other hand, some agreed with the action taken by the institution.
What do you think of this story? Let us know in the comments section below.