Recently a video of a girl from the University of Lahore (UoL) publicly proposing to a boy in front of other students spread like wildfire on social media. In a shocking turn of events, the video landed the two lovebirds in hot water. Pakistanis seem enraged over the university's decision to expel them.
While the concept of a girl proposing to a boy is nothing new, it is still quite out of the ordinary in our society. It did not take long for the video to reach the university administration.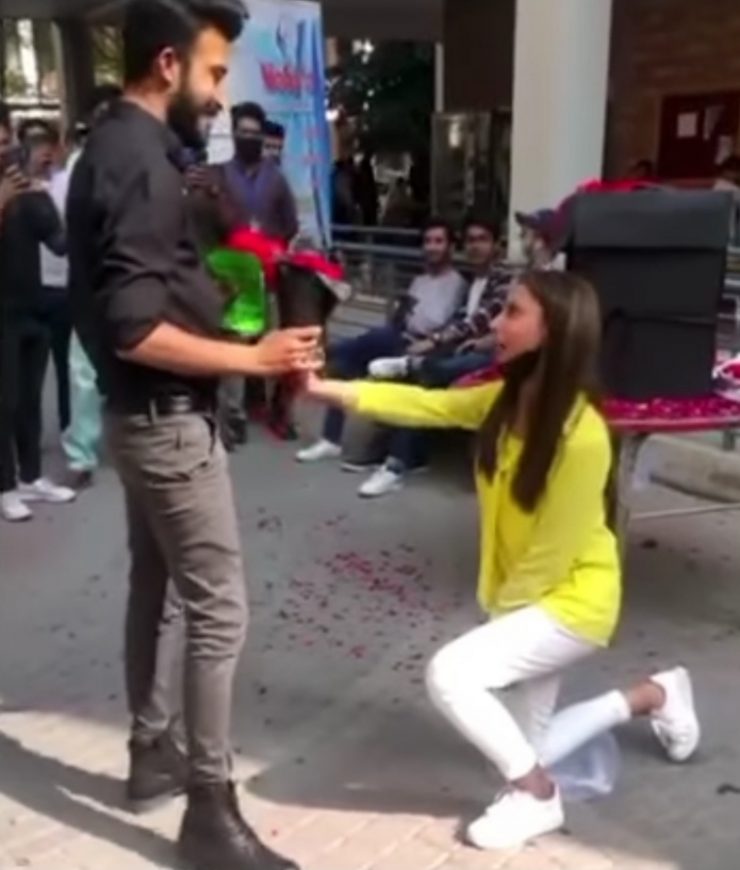 In a short viral clip, we get a glimpse of a young lady who goes down on her knee with a bouquet in her hands to propose to her beau. While the girl says something to him, her voice gets drowned in the cheering crowd gushing over the lovebirds. Moreover, the next thing we see is the couple in each others' arms and the video ends.
Watch the viral video here in case you missed out on it!
While the unconventional proposal is definitely winning hearts, the girl is effortlessly shattering stereotypes that suggest that the only way to find your soulmate is if men make the first move.
Sadly, as soon as the video caught the attention of the university administration, it issued a notice to expel the respective students on disciplinary grounds.
As it appears, the university administration charged the two with gross misconduct and violation of the university rules and regulations. Not only that but also debarred them from entering the premises of the university due to the proposal video.
The order stated that the committee has decided to expel the two students for "serious infraction of the code of conduct".
Take a look at this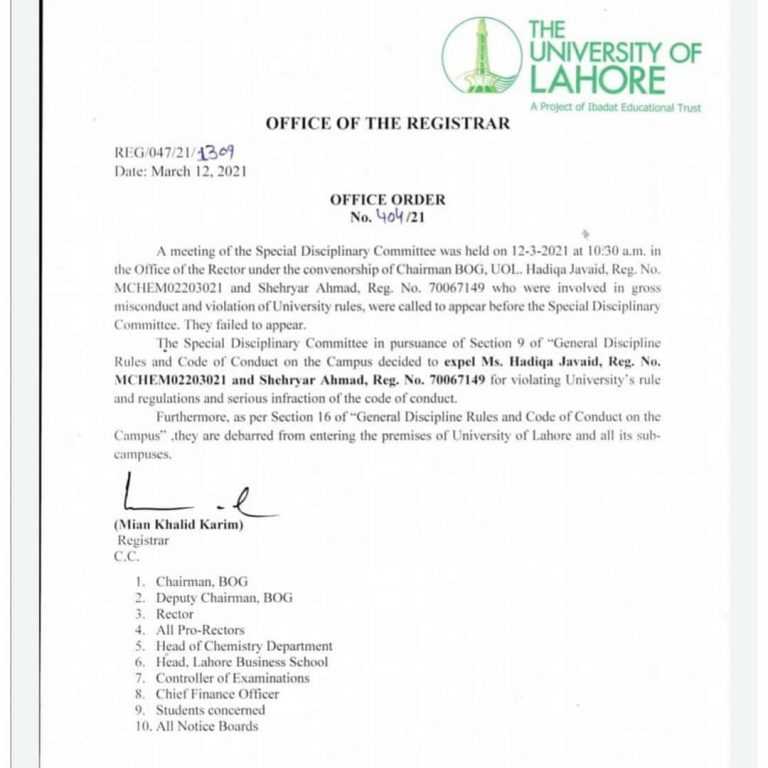 People on social media seem divided over university's action
Many feel bad for the two, and criticize the institution for its abrupt action
Is it really a crime to openly express love?
Of course, the moral police could not resist throwing its two cents
Meanwhile, other proposal videos emerge on social media… LOL!
Well, the Internet appears to be completely divided over their opinion of the public display of affection. Many feel bad for the couple and criticize the university. On the other hand, some believe that this proposal portrays the exploitation of co-education in universities.
It is no news that universities are a hub of dating. Hence, the stern action taken by UoL is simply shocking. Last time, it was a university in Karachi that began catching couples on campus and expelling them. Meanwhile, did you know IBA students have created a dating site for themselves?
What do you think of this story? Let us know in the comments section below.