The infamous Republic TV Editor Arnab Goswami knew about the Balakot strikes in advance. "Bigger than a normal strike." That is what Goswami told Partho Dasgupta in a purported WhatsApp chat on February 23, 2019. The shocking details in the chat are doing rounds on social media.
Dasgupta is the former Chief Executive Officer of the Broadcast Audience Research Council. This body measures television ratings, according to Scroll.
Three days later, on February 26, 2019, the Indian Air Force carried out an alleged strike targeting a Jaish-e-Mohammad training camp in the Pakistani town of Balakot.
Pakistan denied the attack while India refused to share proof of strikes in Pakistan amid doubts of militant deaths. India claimed as many as about 300 militants were killed in Balakot but failed to prove it. Even local villagers in Pakistan asked it, where are bodies of militants?
The so-called attack was a response, India said, to an attack on February 14, 2019, in the Pulwama region of Indian-occupied Kashmir (IOK). At least 40 Indian personnel were killed in Pulwama.
Goswami said 'something big will happen' on WhatsApp chat
The leaked chat is mentioned in a transcript that is part of a charges-sheet filed by the Mumbai Police. It is investigating the alleged Television Ratings Point scam, according to The Hindu.
The chats show how the Modi government conspired to remain in the government.
'Bigger than a normal strike'
According to the transcript, on February 23, 2019, Goswami told Dasgupta, "On another note, something big will happen".
Dasgupta asked, "Dawood?", referring to the notorious gangster who is wanted in several cases.
Arnab Goswami: "No sir Pakistan. Something major will be done this time."
Partho Dasgupta: "Good." … "It's good for big man in this season."… "He will sweep polls then." … "Strike? Or bigger"
Arnab Goswami: "Bigger than a normal strike. And also on the same time something major on Kashmir. On Pakistan the government is confident of striking in a way that people will be elated. Exact words used."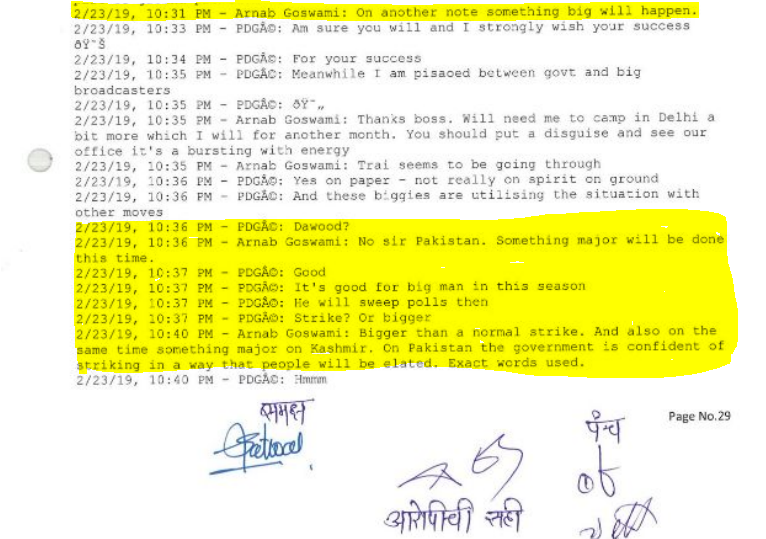 Here's what Fawad Chaudhry has to say on the leak chat!
Meanwhile, Indian media reported Former BARC CEO Dasgupta is hospitalized after his latest WhatsApp scandal.
Indian media has a history of manipulating facts and spreading fake news when it comes to Pakistan and Kashmir.
Goswami leaked WhatsApp chat is a huge blow on the face of the Modi government. Let's see how the world and Pakistan react to it.
Last year, Fawad Chaudhry made a speech over an issue about the release of Indian pilot Abhinandan after the Balakot strikes, and the Indian media found no time to twist his words. Earlier in October, India buzzed with rumors of a 'civil war' in Karachi, and Pakistanis were laughing.
Story Credits: Scroll
What do you think of this story? Let us know in the comments section below.