Violence against women is becoming common in Punjab. In a bizarre incident, a man in Lahore allegedly got his wife abducted for refusing to allow rukhsati. Reportedly, the wife wanted a divorce from him after their nikkah.
Police said Hira Khan, a student of BS Honors, was married to Omar, according to a report by Express Tribune. However, the couple's rukhsati ceremony was still pending.
Hira wanted a divorce from Omar
The girl wanted a divorce from her husband. Meanwhile, the victim had also filed a case for separation in a local court. This made Omar reportedly angry.
He allegedly got her kidnapped with the help of two accomplices. Meanwhile, Punjab police have registered a case under Section-365 of the Pakistan Penal Code (PPC).
Police said they were conducting raids to recover the victim and arrest the suspects.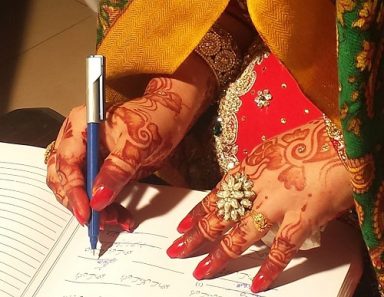 Earlier, an embarrassing incident took place in Gujranwala when a young bride was sold off by her very own husband. Not only is the idea of the situation bizarre and hurtful. But it also brings into mind the horror and distressing aspects of how greed can make one forget all kinds of humanity.
The accused man, Usman was lured by money, with a reward of Rs300,000 in return of his wife to which he agreed. Luckily, though the girl managed to somehow escape from the vicious clutches of her assailants and return home after three weeks.
According to Gujranwala police, Usman deliberately took his wife to Lahore under the pretext of visiting. However, on arrival, he simply handed his bride over to the buyers.
The poor girl remained under the monstrous and vicious clutches of her buyers. Upon reaching her home, she managed to tell the police that her husband sold her for Rs300,000.
Allah is just and merciful. We hope people in our society will also start showing some respect and mercy towards women as humans.
What do you think of this story? Let us know in the comments section
below!