Pakistan Muslim League-Nawaz (PML-N) leader Capt (R) Safdar has put his party in jeopardy. Safdar was slogan-mongering at Mazar-e-Quaid during his visit to Karachi with his wife Maryam Nawaz on Sunday.
He was chanting the PML-N slogan "Vote ko izzat do (respect the vote)". Safdar also urged people to join him. For his act, he is accused of violating the law protecting the sanctity of the mausoleum.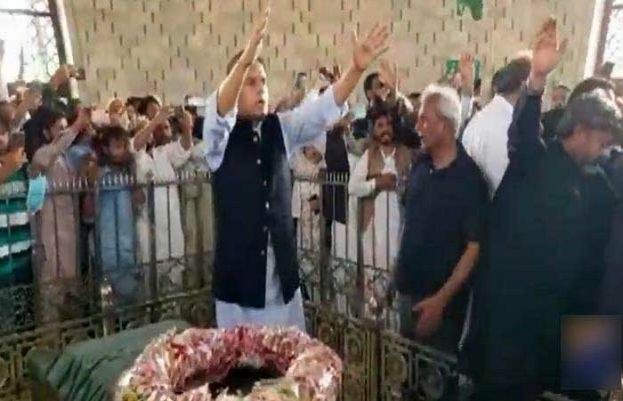 Following the incident, a case was file at Karachi's Brigade Police Station against PML-N leaders, including Safdar and Maryam, for violating the sanctity of the Mazar. Later, Sindh Police arrested Safdar for slogan-mongering at Mazar-e-Quaid.
The Quaid's Mazar in Karachi is maintained and protected under a special law called The Quaid-i-Azam's Mazar (Protection and Maintenance) Ordinance, 1971. Safdar was found to violate Section 6, 7 and 8 of the act.
Actor Khalid Anam Wows To 'Slap' Captain Safdar
The action of Safdar has displeased Pakistanis. Many citizens are now demanding legal action against those involved in the act. Among these voices is senior actor Khalid Anam.
In a viral video, Anam said he was unhappy by the desecration of Mazar-e-Quaid by PML-N. He was very angry at the slogan mongering by Safdar. Anam said political leaders should pray at the mausoleum, rather than chant party slogans.
The actor added that Quaid-e-Azam was the father of our nation. One should not disrespect their father like this. He asked law enforcement authorities to take strict action against the PML-N workers.
Many social media users also agreed with the views of Anam. They also said that law enforcement agencies should take strict action against Safdar.
Actor Shaan Shahid also condemns Safdar's act
Famous Pakistani actor Shaan Shahid also condemned the act of Safdar. He shared the views on his official Twitter account. Shaan strongly condemned the act of PML-N party workers on Mazar-e-Quaid.
He added these people took the help of the father of the nation to fulfill their political agenda. But their leader is in London and not in Karachi.
It is good to see that Safdar did get arrest by the police. However, the incident proves how political leaders can manipulate anyone for their advantage.
Safdar is now at the Aziz Bhatti police station. According to sources, police will present him before court some time today.
What do you think of this story? Let us know in the comments section below!