Do you think Karachi's rains are bad? Wait until you see the condition of Islamabad's brand new airport after heavy rains! Rainwater entered the Islamabad International Airport on Monday, causing its false ceiling to partially collapse after the latest round of downpours in Islamabad and Rawalpindi.
As a result of the rainwater dripping from the ceiling above several counters, including immigration, computers and other equipment malfunctioned. Moreover, the Civil Aviation Authority (CAA) staff stood by helplessly as parts of the ceiling came crashing down due to the weight of water.
According to airport officials, the airport did not suspend operations and scheduled operations continued as normal. In addition, the officials explained that repairs were underway and would be finished soon. The officials also expressed the hope that such incidents would not happen again.
The collapsed ceiling caused Twitter to have a field day, and jokes began pouring in.
OMG! Check these out!
The airport was completed in May 2018 for a cost of Rs105 billion. The airport has two runways, each 12,000 feet long and 150 feet wide, as well as taxiways and aprons for wide-body aircraft. People are obviously annoyed by this – that is an incredible amount to spend on a ceiling that collapses every time it rains.
We can only hope that this situation will get resolved because it is quite embarrassing. Meanwhile, an investigation has been initiated into the incident.
A similar incident occurred last year
However, this is not the first time that the gleaming Islamabad airport has been damaged by rain. There was a substantial collapse of the false ceiling in the international departure hall and concourse of the airport in August 2020 due to heavy rains. An excessive leak of water was observed in the hall after that incident, but no one was injured.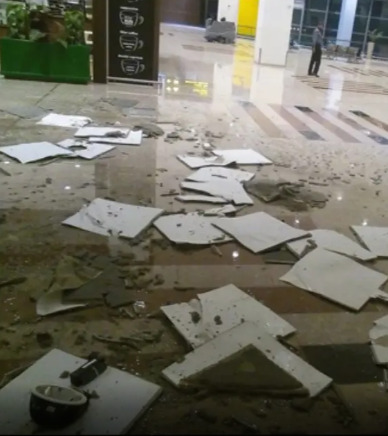 "The design of the outer ceilings is such that it allows for entry and circulation of air in areas where there is no air-conditioning. During high-speed winds, we sometimes encounter with such a situation," Aviation Division spokesman Senior Joint Secretary Abdul Sattar Khokhar said at the time. Later, an investigation into the leakage was ordered.
Given that it happened last year as well, action should have been taken to avoid the same in the future.
During Thursday night's heavy monsoon rain, heavy lightning struck Karachi, making the hot and muggy weather pleasant while inundating low-lying areas and roads with major power breakdowns.
What do you think of this story? Let us know in the comments section below.