Celebrities have come to Azam Khan's defense after the state-owned sports channel PTV Sports posted an insensitive joke on social media criticizing his weight.
Khan was a member of the Pakistan cricket team that defeated England in the inaugural Twenty20 International at Trent Bridge. He plays for Quetta Gladiators and Sindh. Despite many people sharing the team's victory on social media, some individuals have also been making jokes about Khan and body-shaming him.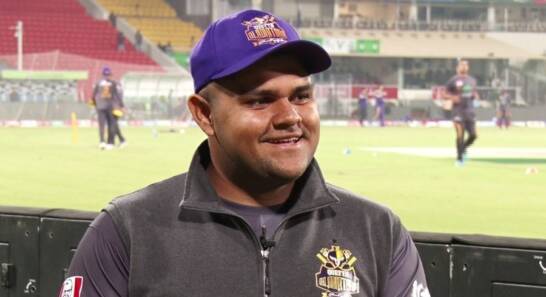 More surprisingly, PTV Sports made derogatory remarks about Khan on its social media accounts. Khan was photographed and captioned "Khata hai lekin lagata nahin [He eats a lot but does not hit much]" on the PTV Sports timeline.
Many individuals, including several celebrities, expressed their anger at the rude and insensitive remarks made about the appearance of the young cricketer. Well, turns out the post has not been removed yet.
This is the post
Pakistani stars including Faysal Quraishi, Haroon Shahid, and Ali Ansari condemned the national TV channel's body-shaming of cricketer Azam Khan. Quraishi turned to Instagram stories and wrote, "Shame on you PTV Sports".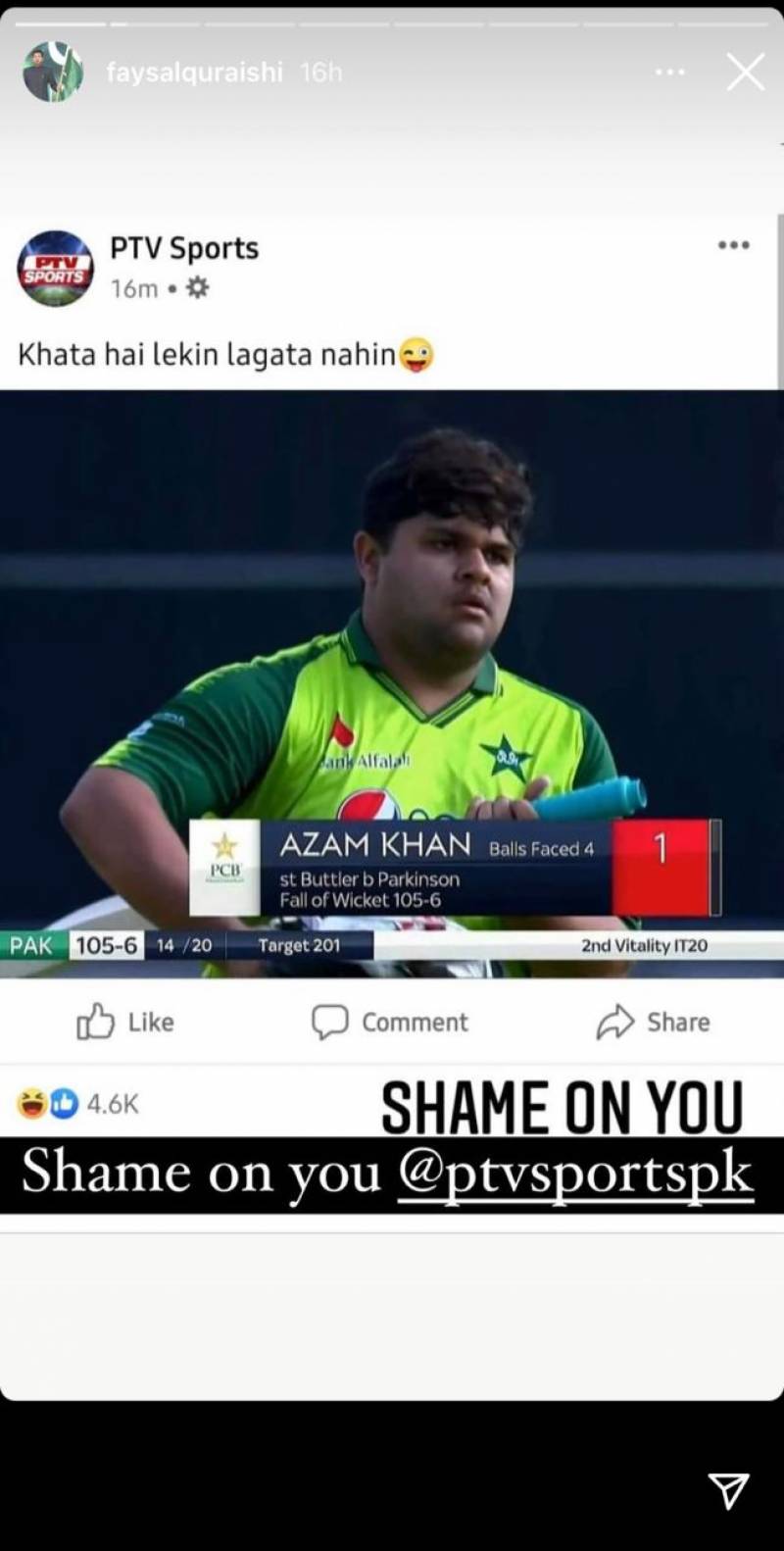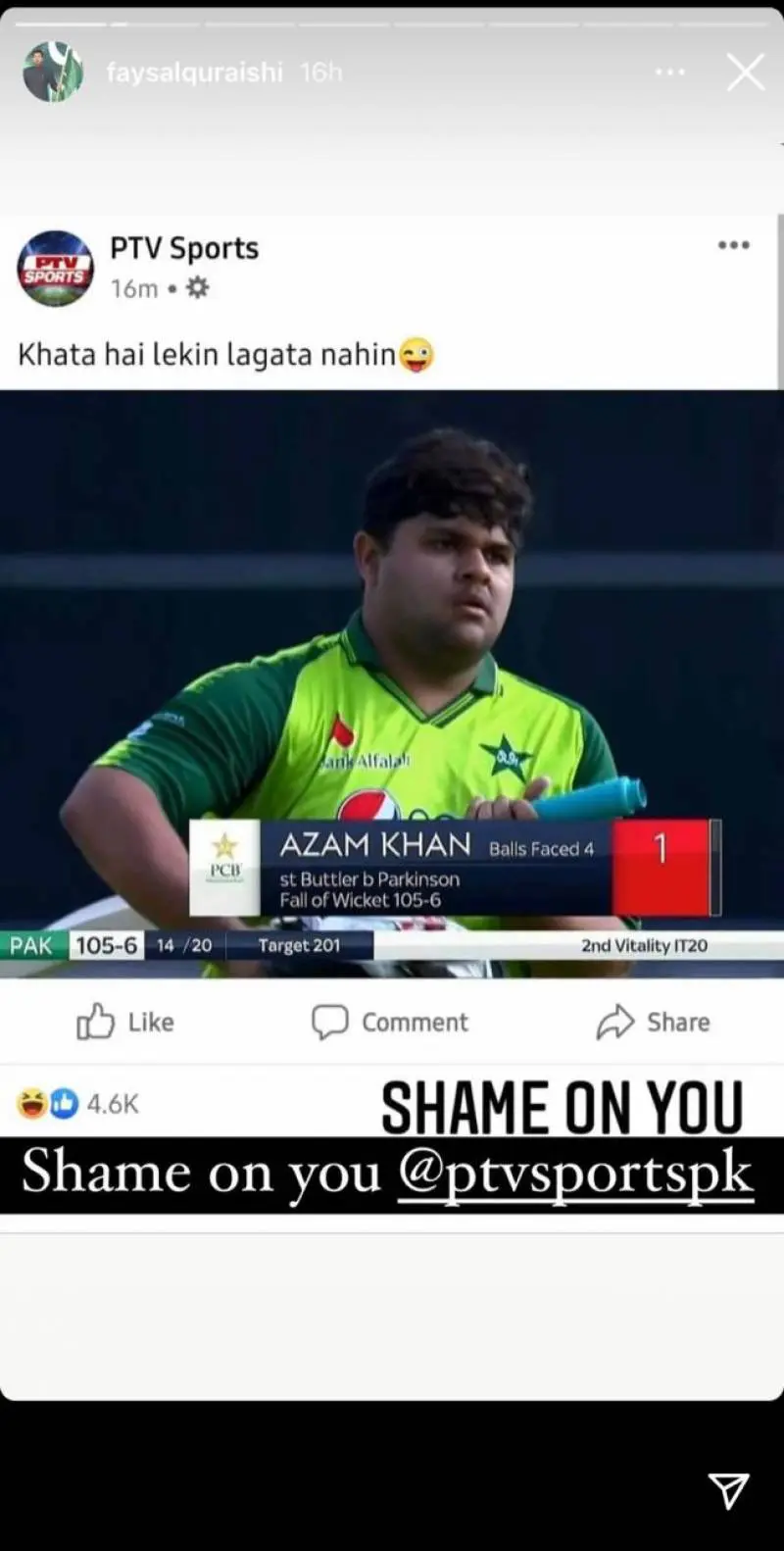 Shahid posted a screenshot of the PTV Sports comment on his Instagram story. "At first I thought this is some fake page running under the name of PTV Sports. To my surprise, it wasn't! Is this how we are going to ridicule our players?" he wrote.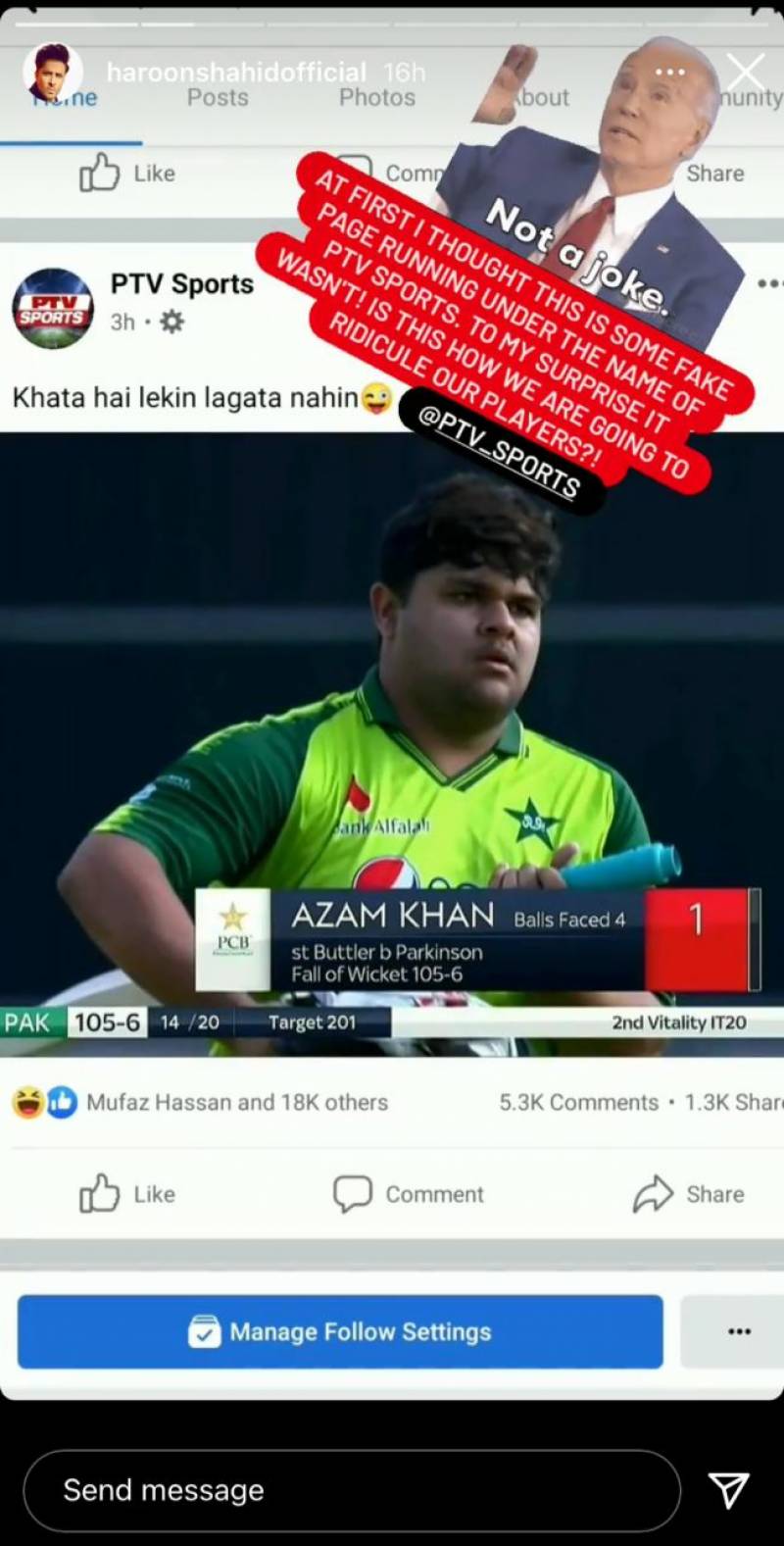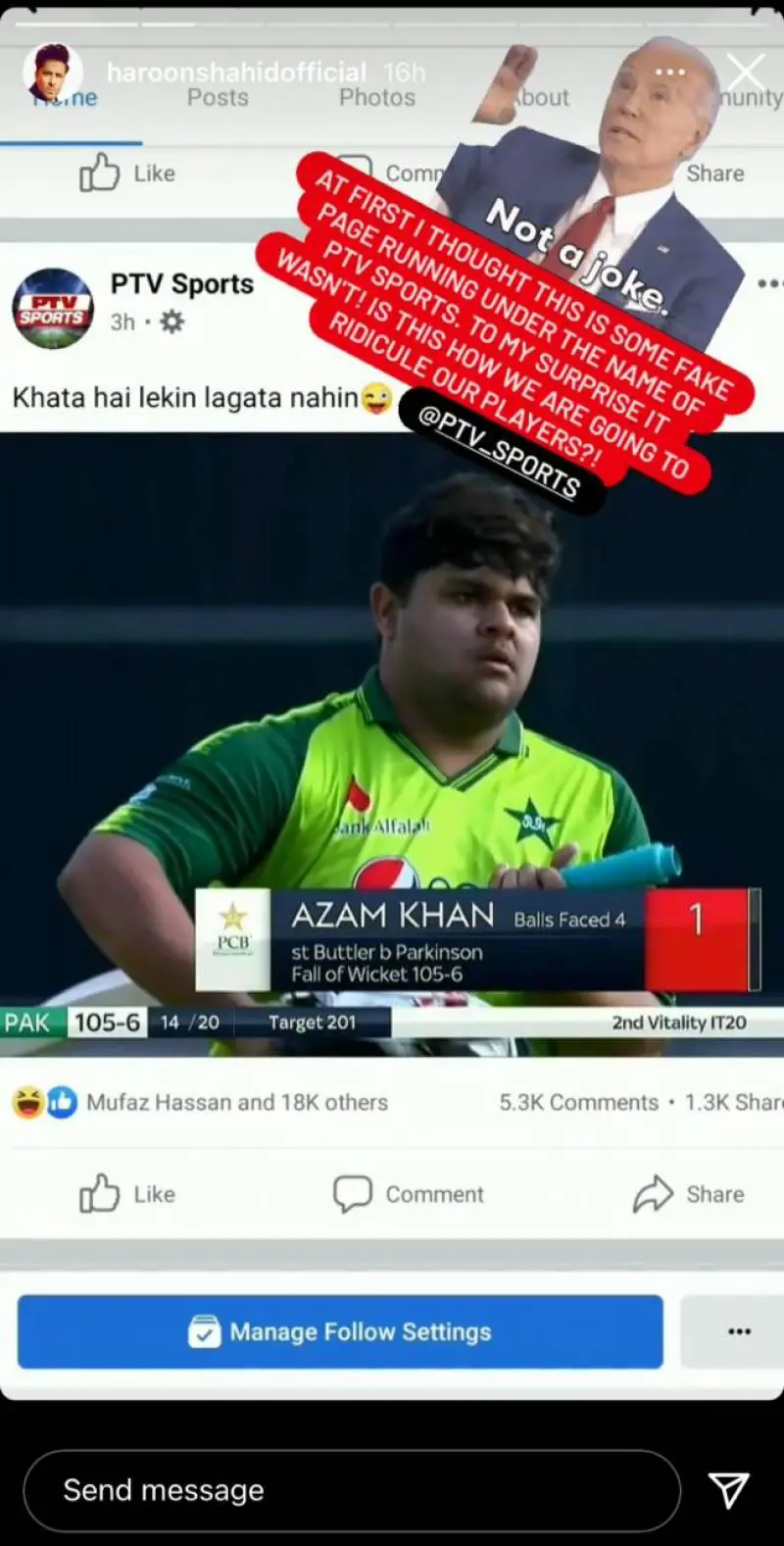 Ansari also pointed out the shameful act on Instagram stories. "PTV Sports are you out of your mind? Disrespect at its peak! You should be ashamed of yourself!" he wrote.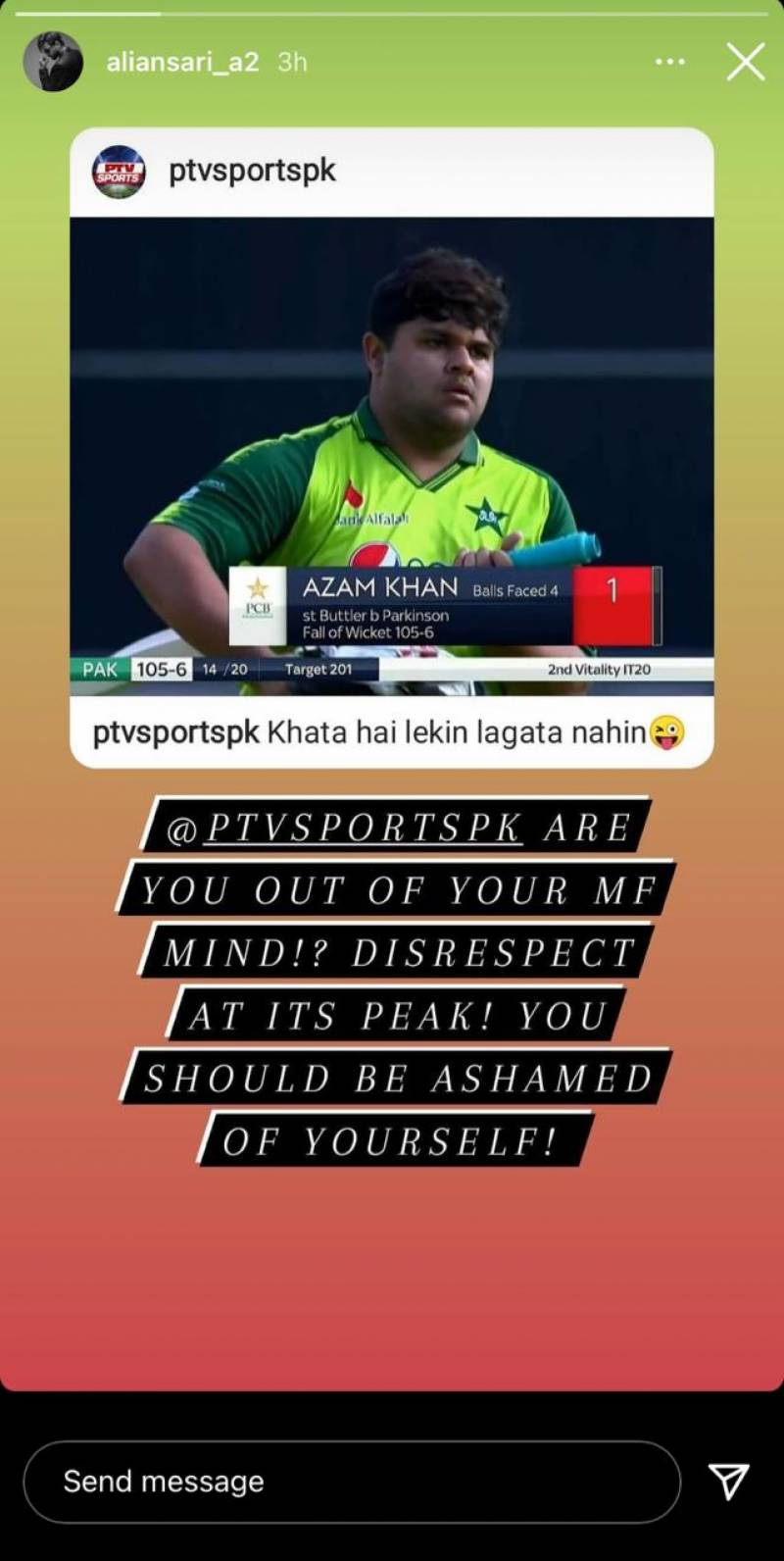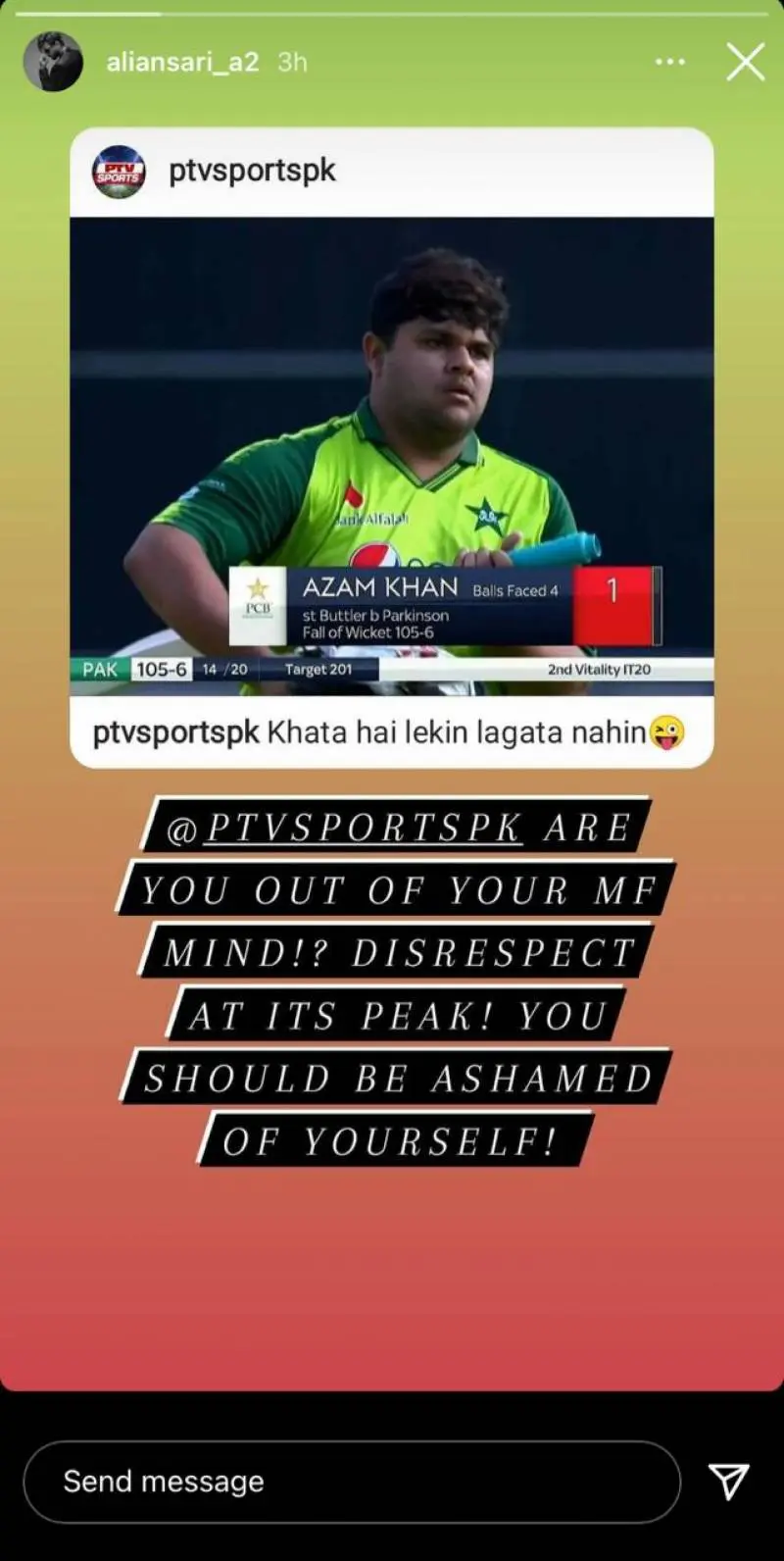 Taking to Twitter, actor Adnan Siddiqui also criticized PTV Sports. "Absolutely disgusting and unacceptable. People at PTV Sports need immediate lessons insensitivity," the actor said.
PTV responds to the criticism
The PTV Sports channel's Twitter account claims that the Facebook account body-shaming Azam Khan is fake. In addition to this, it states that the management will take strict action against the fake account.
"In response to speculation circulating regarding Pakistan Television Corporation's social media handles body shaming a Pakistani cricket player, this is to notify that the handle perpetuating this act is fake…"
"As the National Broadcaster of Pakistan, we are cognizant of our responsibilities, and will always hold true to the aspirations of the people of the country and continue the positive projection of Pakistan to the world," it further added.
Previously, while discussing women in sports, the former international cricketer, Abdul Razzaq casually made sexist comments about Nida Dar and called her 'manly'. In fact, Shahid Afridi also made sexist remarks about female cricketers of our country in the recent past. 
What do you think of this story? Let us know in the comments section below.