At least four policemen were killed, and more than 500 wounded in the violence that erupted last week. It happened after the government detained the TLP leader, Saad Hussain Rizvi, ahead of a planned countrywide anti-France campaign.
The TLP is seeking the expulsion of the French ambassador. Why? As a diplomatic response to cartoons in France depicting Prophet Mohammad (PBUH), which Muslims regard as blasphemous.
The same protests broke out last year as well. At that time, the government signed a deal promising to present a resolution in parliament by April 20. This was to seek approval for the expulsion of the envoy and for a boycott of French products.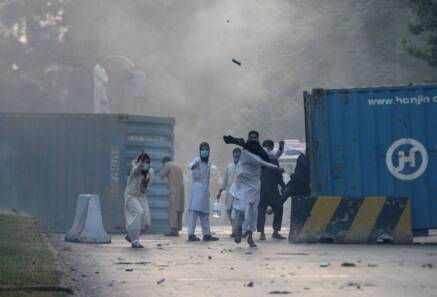 TLP and its associated groups have now issued a strike call in main cities, starting with Karachi. Meanwhile, France has advised its citizens to leave Pakistan temporarily. However, the overall situation in Pakistan is under control. Due to the strike call, the Pakistan Stock Exchange main KSE-100 index opened over 500 points down on Monday.
TLP protest over the weekend
Police said TLP had taken some security personnel hostage at its headquarters in Lahore on Sunday. Meanwhile, TLP spokesman Shafiq Amini told Reuters that police killed four TLP supporters. Pakistani news channels have been barred from providing coverage of the group since it was banned last week.
The group on Monday released 11 police officers that were taken hostage during violent protests over the weekend.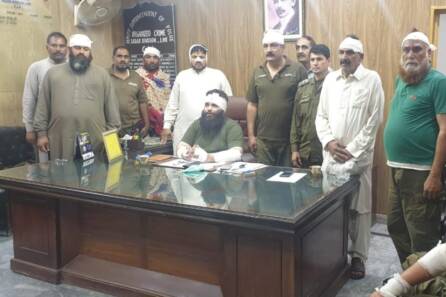 Still, some supporters of TLP are sharing videos on social media of what they said were clashes on Sunday. Reuters could not independently verify. They showed protesters clashing with police. Meanwhile, clouds of tear gas hung in the air and the crackle of gunfire could be heard. Other videos showed injured protesters being carried away.
Meanwhile, some videos of individuals, clad in uniforms closely resembling the Pakistan Army's, were also shared on social media. These videos sent an impression that some army men were also supporting TLP and their narrative. However, it was later revealed that some anti-Pakistan elements were making and sharing those FAKE videos to create chaos in Pakistan.
Check out some of the fake videos
Ex-Indian Major spewing venom Pakistan over 'fake videos'
Indian army's retired major Gaurav Arya is famous for his hatred towards Pakistan and its people. He loves to spew venom on occasions for the country but always falls flat on his face for making senseless claims. This time again too, he has done the same.
Taking to Twitter, Arya claimed that Pakistani Army soldiers deserting their posts as support for TLP. The basis of his daydreaming are the same fake videos.
LOL! We feel sorry for this clown India has who has no other job but to plan against Pakistan. Grow up, Arya! If anything bad or sad happens in Pakistan, this man's only concern remains to ensure that Pakistan is in pain.
Check out this video to see this man's brain works!
Pakistanis respond to Arya's daydreaming!
OMG! We cannot stop laughing at this. Silly Arya. Kuch lete kion nahi?
On several occasions in the past, the ex-Indian major has threatened Pakistan. Last year, Senator Sarfraz Bugti have a befitting reply to him who said that 'Indian will free Balochistan'.
What do you think of this story? Let us know in the comments section below.