Karachi continues to witness an unprecedented spike in the number of street crimes owing to the incompetence and failure of the government, police, and law enforcement agencies. The latest escapade of street justice shows how citizens take law into their own hands when the state turns a blind eye to its people.
The incidences of street robbery have topped the list of street crimes reported in Karachi city since last year. Criminal activities have become an everyday activity in the city of lights. During the first three months of 2021, Karachiites entangled in armed robberies and snatching at gunpoint. No district of the city remains safe from the reach of criminals.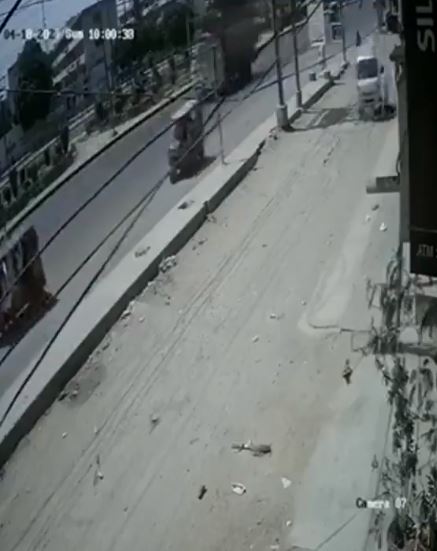 Amidst the unsatisfactory law and order in Karachi, yet another mugging on a street was caught on camera. The muggers could be seen pointing a gun at a man in an attempt to rob him. Fortunately, the scene took an unforeseen turn. In a shocking incident of vigilante justice, a car passing by hit the muggers as they tried to get on their bike and run away.
However, upon seeing them get back on their feet, the driver took a U-turn, and crushed the snatchers at full speed, venting his anger and disgust over the rising crimes. The awful incident reflects the extreme anger of people who had been frustrated over the lack of justice and peace. Nothing seems to draw the attention of the authorities to their problems.
Here is the CCTV footage of the episode
WARNING: Some viewers may find the content of this video disturbing. Viewer discretion is advised.
Inflation, poverty, and lawlessness have made people ferocious. Now the citizens have been compelled to take matters into their own hands. We surely don't approve of it as one should not take the law into their hands.
However, the incident also serves as a warning to all the bandits. Moreover, it makes a fair statement that when they steal from honest hardworking people, they give up their right to live.
Twittersphere is lauding the driver
Earlier, a suspected robber in looting a citizen near Power House Chowrangi of Surjani Town was caught and tortured by local residents, whereas, his accomplice managed to flee from the scene. The Karachiites thrashed the criminal whose attempt to snatch the bike and mobile failed.
Another CCTV footage emerged last month showing a robber mugging a shopkeeper in Karachi. However, it was not the kind of robbery that you get to hear of. In fact, seeing how 'politely' the robber mugged him will leave you rather baffled, and amazed at the same time.
What do you think of this story? Let us know in the comments section below.