Recently Eddie Hall, one of the world's strongest men alive trolled Khan Baba aka Pakistan's Hulk who has shown his strength in various ways and shocked the world.
Among all the strongest men, 30-year-old Arbab Khizer Hayat from Pakistan, Maradan also known by the name of Khan Baba and "The Pakistani Hulk" claims to be 961 lbs (436 kg) and the strongest man on the planet.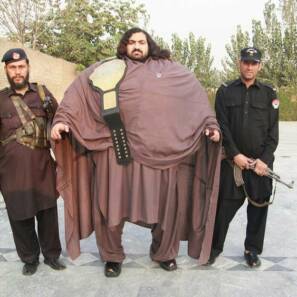 In the past few years, Khan Baba has posted several videos and images of himself showing off incredible strength. Khan Baba thought to have a legit challenge and own the spot of strongest man alive.
He recently claimed to be the strongest man in the world, and recently called out Eddie Hall and said he was going to go for a 600kg deadlift. But in response, Eddie Hall trolled Khan Baba and it went viral over social media.
Eddie Hall Trolls Khan Baba
For those who don't know, Eddie Hall is the first man in history to lift deadlift 500 kg, on the other than Khan Baba promised that he would defeat Eddie by 100 kgs in the deadlift.
But what Khan Baba said, here's to look at: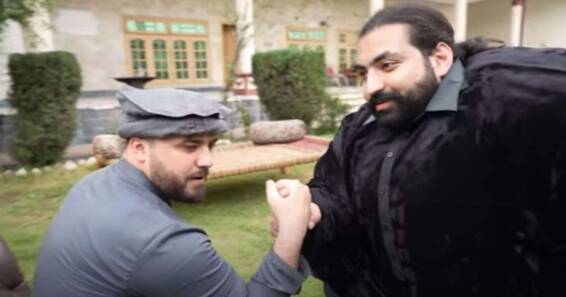 "So this is my world's strongest man Khan Baba and I am here today to react to Eddie Hall. Whenever he posts he says "I am the world's strongest man" and "I am the beast" and this and that. I lift more than all of you guys, I do things that you guys cannot do. This is not just strength when you win a competition and you call yourself "World's Strongest Man" No, no in our country we call that man the strongest who has power, which can fight, can run, and can do anything. Deadlift record, I am coming for that. I am lifting 600 kg as soon as possible. If I didn't pick up 600 kg, I will never call myself the strongest man in the world. You will never see Khan Baba again."
There have been various speculations regarding Pakistani Khan is he a fraud and what's stopping him to wrestle?
Up till now, Khan Baba has never competed in any of the deadlifting competitions and if it takes place then, it would be the first in the history of lifting.
Eddie Intimidated Khan Baba's Video As A Response
In response, Eddie Hall did a mockery video where he recreated Khan Baba's videos and trolled him over social media.
Not only that Eddie Hall also accepted his challenge by replying to his comment.
Now, let's wait for the mega battle where two giants collide and claim the title of the World's Strongest Man on earth.
What do you think of the story? Tell us in the comments section below.