In Pakistan, it seems as though several doctors are on a strange sort of egotistical trip. They act as though they are doing us the grandest favor possible. Merely by doing the job we pay generously to perform. Recently, a picture of a (District Health Officer) DHO Shikarpur emerged on social media, depicting harassment and making the woman uncomfortable.
A certain mentality is deeply ingrained in strictly patriarchal societies like Pakistan. Women must struggle daily for basic rights, recognition, and respect. There is a certain code of ethics that must be followed in the profession of medicine when dealing with a woman.
Sadly a DHO of Shikarpur pays no heed to respect a woman. Some people on social media suggest that the woman was a patient. While others said she herself is a health official. Well, if you see the picture for yourself, you would see how oblivious the doctor was.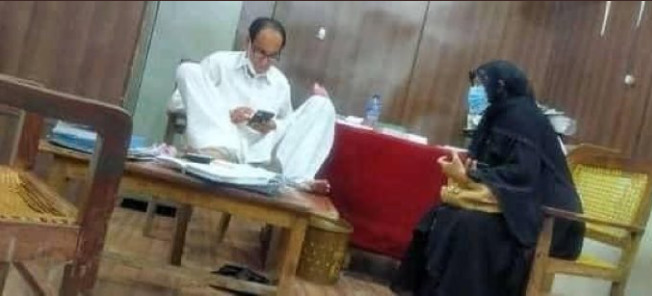 While we shed light on his attitude and disrespectful behavior, it is crucial to mention that no one deserves to be treated with disrespect. Furthermore, the code of conduct should not allow any exemptions. Not even those who generate the most revenue should be excused from responsibility for their actions.
You see the way he is seated? What kind of a person, let alone a doctor sits like that in the presence of a woman? We cannot even begin to imagine how uncomfortable that woman must have felt. Not only is he being disrespectful to his woman but this also counts in harassments.
This is the health minister of Sindh. A heedless doctor who does not even bother to sit in an inappropriate manner in front of his female patient, or health worker. What a shame!
The reaction of the Twittersphere
Subsequent to the picture becoming viral, the social media users took it to Twitter to name and shame the DHO Shikarpur for making a woman uncomfortable in his office. In addition to this, some also demanded the Sindh government for his removal as they believe that he does not deserve to stay in the position of a DHO.
Simply pathetic!
Earlier this year, the DHO team, after taking samples of an ill patient named Asim, wrongly declared him COVID-19 positive. All the funeral preparations were also taken over by the district team, and his family was stopped from performing his last rituals. Seems as though all the district officials are corrupt minded.
Additionally, just last month, a doctor exposed the harassment and mafia culture at Abbasi Shaheed Hospital in Karachi. These institutions must take certain actions to eliminate sexual harassment and create a safe environment for doctors and patients.
What do you think of this story? Let us know in the comments section below.