A family in Lahore was left shocked and disgusted when it found a dead rat inside a shawarma sandwich. A video of the entire incident is doing rounds on the Interner and Pakistanis cannot believe their eyes.
The family members including the kids were enjoying their meal when they pulled out the rat.
A man, Saleh Saleem, posted the video on Facebook and said that his 10-year-old niece was about to eat the very shawarma sandwich at a local eatery.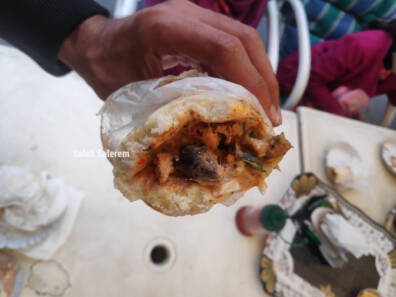 "Dead mouse found in shawarma in Le Cafe Bahria or something like that right next to Eiffel Tower parking. My 10-year-old niece was about to eat this shawarma. Can you imagine how she felt?" said the man in the post.
"These people are playing with the lives of people and also have the audacity to argue about it," Saleh added. His post has been shared over 3,000 times.
Here see the dead rat yourself!
Meanwhile, in another video, Saleh's mother could also be heard taunting the waiters.
"Do you consider us humans? Are you Muslims or not? Who is the manager or owner of this," said the woman after the dead rat in the shawarma.
Meanwhile, Saleh also thanked the Dolphin Squad Lahore for taking swift action and sealing the cafe.
Running a restaurant or an eatery is not an easy business. Owners have to ensure that their food is kept and served in superior and hygienic conditions. One tiny mistake and their entire business can get sealed.
A famous United King bakery in Karachi once went through the same issue when a video went viral showing a rat in their biscuit cabinet.
Unfortunately, most of the rules related to hygiene and food quality are neglect in Pakistan. We can even name some restaurants that serve expired food. You read it right!
What do you think of this story? Let us know in the comments section below.