The Islamabad High Court (IHC) on Thursday takes notice of the animals in captivity at the Marghazar Zoo in Islamabad. They have been kept in conditions that amount to subjecting them to unnecessary pain and suffering. The high court has announced to relocate the animals to their respective animal sanctuaries.
However, one of the major attractions of Islamabad Zoo was the 35-years-old elephant Kaavan. He was gifted by Sri Lanka in 1985 when he was a year old. For more than 30 years, he has been kept chained in a small enclosure. Kaavan is kept in inappropriate conditions required to meet the physiological, social, and behavioral needs of this extraordinary species.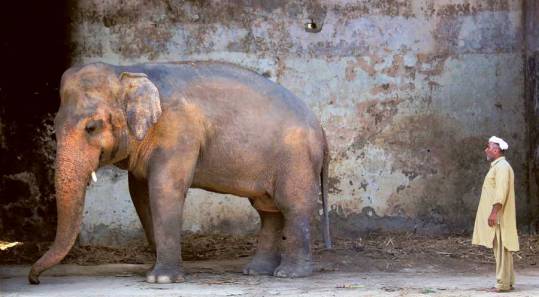 While deciding a petition of the Islamabad Wildlife Management Board against the Metropolitan Corporation Islamabad (MCI), the court regretted that Kaavan has been treated cruelly for the past three decades.
"The pain and suffering of Kaavan must come to an end by relocating him to an appropriate elephant sanctuary [in or outside the country]," the verdict reads. The court also ordered to make arrangements, preferably with the consent of the High Commissioner of Sri Lanka to relocate Kaavan to a suitable sanctuary within 30 days.
Finally, the misery of the poor animal comes to an end.
The move creates social media uproar
As soon as the announcement was made, many people thanked the IHC for making the right decision. International music sensation Cher also praised Pakistan for taking the 'great' decision.
Kaavan was a subject of a high-profile rights campaign backed by the US singer Cher. The 'Goddess of Pop' thanked the Pakistani government after the court's order.
WE HAVE JUST HEARD FROM
PAKISTAN HIGH COURT
KAAVAN IS FREE😭😭😭😭

— Cher (@cher) May 21, 2020
THIS IS ONE OF THE GREATEST MOMENTS OF MY LIFE.
CANT STOP😭,🥰,BEING SICK 2 MY STOMACH.(Ate🎂in The night & Was SOOOO Sick,Still am.Can you O.D from too much🎂)⁉️
BUT🐘KAAVAN IS FREE🙏🏻
😭DOWN MY CHEEKS,BUT HES FREE,& @markcowne 🕊DID IT🙌🏻.GINA,👑JEN👑👏🏻

— Cher (@cher) May 21, 2020
I WISH TO THANK THE
PAKISTANI GOVERNMENT❣️

— Cher (@cher) May 21, 2020
Outrage over the treatment of Kaavan went global several years ago. A petition started to free Kaavan, garnering over 200,000 signatures after it emerged he was being chained at the Islamabad Zoo. The Zoo officials later said this was no longer the case, and that he just needed a new mate after his previous partner died in 2012.
But experts have said previously that without a better habitat his future was bleak.
What do you think about the story? Tell us in the comment section below