Our childhoods were spent singing and watching Indian songs. As much as we loved cartoons, the songs in Bollywood films were literally everything!
A sad, emotional scene is incomplete unless the main actor or actress show their emotions through a song and imaginary scenes of 'the perfect life'. A happy scene where the girl finally says "YES" is also incomplete unless the actor starts dancing in the middle of the street with strangers joining him in full sync and coordination. The importance of songs in Indian movies is extraordinary and we love IT.
However, there were a number of songs that were extremely catchy but made ABSOLUTELY NO sense. For example:
1. Dil Ding Dong Ding Bolay
"Tere ishq ki dewaangi, saar pe charr k bolay.
Tunay kya kia, ye Kya hua,
Dil Ding Dong Ding Bolay"
Staring Tushar Kapoor, Esha Doel and Natassha, the movie which was produced by Starplus drama's famous producer Ekta Kapoor was known just for this song. Not to forget Tushar Kapoor's gray hair in this song's video:
2. Dayya Dayya Dayya Re
Aishwarya has been a phenomenal actress (without a doubt), but I suppose everyone has to go through a phase in their career they regret after some time.
Dayya ho dayya dayya ho re Dayya dayya dayya re
Aasheek mere maine tujhse pyar kiya re
Dayya dayya dayya re 
3. Tujhko Mirchi Lagy Tou Main Kya Karo
Main tou raaste sae jaa raha tha, 
Main tou bhel puri kha raha tha.
Main tou larki ghuma raha tha.
Tujhko mirchi lagi tou main kya karo
The evergreen chemistry between Govinda and Karishma Kapoor, Coolie number 1 was a super-duper hit and so was the song.
4. What Is Mobile Number?
If you didn't use this song to beztiofy your lover, you are so not cool.
What is mobile number?
What is your smile number?
Karni hai private batein
What is your private number?
Another hit starring Govinda and Karishma Kapoor alongside Sanjay Dutt and Poja Batra, Haseena Maan Jayegi was a super hilarious, but when it comes to this song, we all know how addictive it was.
5. Mera Dil Dewana Bole, Ole Ole
Basically, here's what Ole is:
Or
Or The Urdu Translation Of Hailstorm
However, none of this matters in the world of Bollywood where Saif Ali Khan used Ole Ole to express his excitement when he sees a pretty girl.
Jab bhi koi ladki dekhu, mera dil deewana bole
Ole ole ole, ole ole ole
Gaao taraana yaara jhoom-jhoom ke haule haule
Ole ole ole, ole ole ole
6. ABCDEFGHI-JKLMNOPQRSTUVWX-YZ- I Love You
Guys if you ever hard problem saying I love you to someone, try singing them the entire alphabets and then chupke sae add I love you in the end.
The family drama Bollywood hit film Hum Saath Saath Hai produced this song and by the looks and lyrics of this song, it seems the film producers wanted to make sure that even showing love was shown in a "family" way.
A B C D E F G H I J K L M N O P Q R S T U V W X Y Z
I love you!
Chhuttiyon ke yeh din hain suhaane
Saathi tera yoon saath rahe
Bachchon ke sang bachche phir ban jaayein
Mauj mein jhoomein zara masti karein
7. Main Larki, Po Po Po
Expressing gender was never as fun as the way Indian actors Tabu and Suniel Shetty did in one of the best comedy films in Indian industry, Hera Pheri. 
Main larki po po po, Tu larka po po po
Hum dono mile po po po ab agay hoga kya
Kuch nahi hoga, kuch nahi hoga
Hum dono main bus ye hoga
Po po po po po po po po pa po po pa po po pa po po pa po po
8. Ta Tanna Na Na Tandoori Nights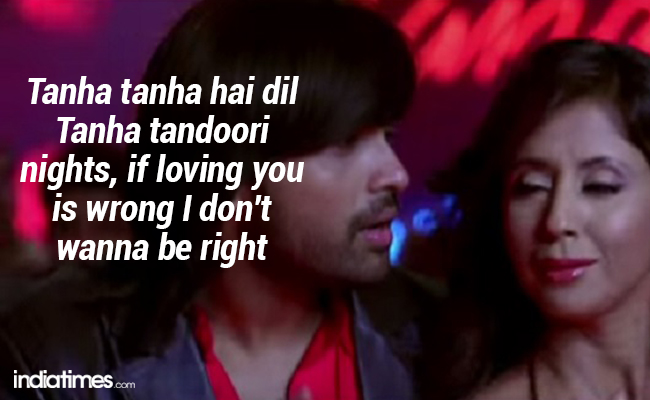 Himesh Rishemiya at the peak of his career produced amazing songs. From Tera Suroor to Teri Yaad, every Pakistani loved him. However, as soon as Himesh stopped wearing his cap and started appearing in films as an actor, everything went down, even his tandoori nights.
Tanha tanha hai dil,
Tanha Tandoori Nights
If lovin you is wrong
I don't wanna be right
9. Sharara Sharara
Now one might say this song makes complete sense (which is right) but with limited knowledge in Urdu, one may think Meri Yaar Ki Shaadi's song Sharara Sharara means this:
Lehraake balkhaake, balkhake balkhake, 
Aag laga k, dilo ko jala k, 
Kaaro mae isharaa,
Sharara sharara, mae hu aik sharara 
10. Hooka Baar
No explanation required in this one………..
Teri akhiyo ka waar jaise sher ka shikar,
Tere husan ka dhuedaar jaisa jaltaa cigar,
Tere pyar ka nasha kabhi aar kabhi paar,
Tera pyar pyar, hookha bar
There are many other songs that could've made it to the list since Bollywood is filled with such examples. Ending this with my favorite Bollywood song gif: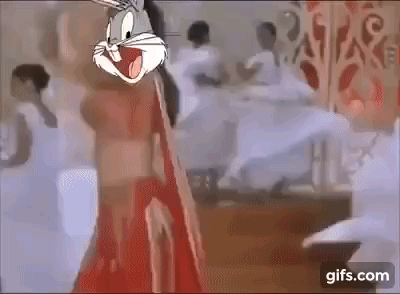 Read Also: 9 Top 90's Pakistani Golden Songs We Need To Listen Again