Disclaimer*: The articles shared under 'Your Voice' section are sent to us by contributors and we neither confirm nor deny the authenticity of any facts stated below. Parhlo will not be liable for any false, inaccurate, inappropriate or incomplete information presented on the website. Read our disclaimer.
Pakistan has a large pool of unimaginable talent and it ranges from artists to illustrators to innovators, entrepreneurs and what not. Then comes those who decide to be bold and contribute in diverse ways.
This story of an engineer is truly inspiring and motivating for those who couldn't achieve what they aimed for in life. Zeeshan Nayyar is an iconic example of diversity and fulfilling one's dreams. He runs his personal blog and has his own art profile on several social media platforms along with his contrasting professional career.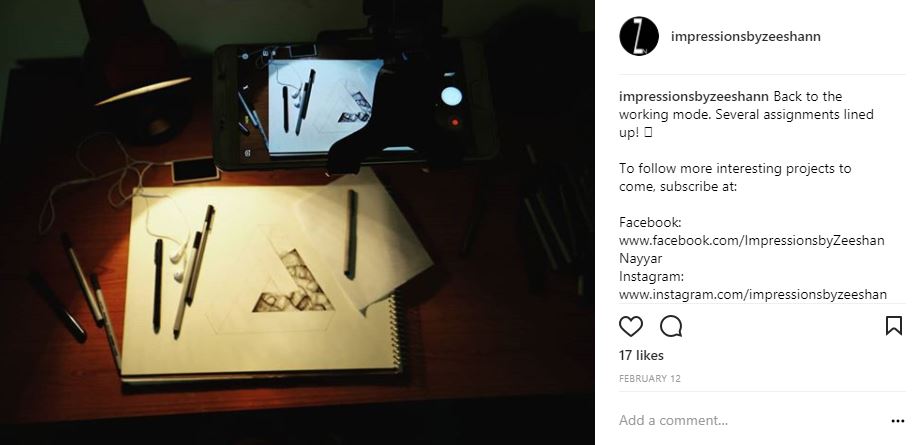 He has a very strong grip on abstract art and has worked in multiple dimensions including Impressionism and Realism painting, printmaking, pen work, collage, and graphic designing. Having done all this along with his tough study and job routine is something remarkable and we got in touch with Zeeshan through his Facebook page to get a deeper insight into his drive and passion.
Like the majority of people in their high schools, Zeeshan was confused lad and not sure about what he wanted to do despite being aware of his potential. This confusion led him to opt for subjects of multiple fields and ended up overburdening him. Like every story, his parents wanted him to opt for a technical degree and being the only son, he listened to them.
But this ordinary story had an extraordinary struggle ahead and his fight with himself continued for years and years to come. Soon he realized that quitting everything he had done wasn't a very sensible option and despite the pressures of his routine and workload, he kept aside some time for what he truly admired and experimented on several forms and methods.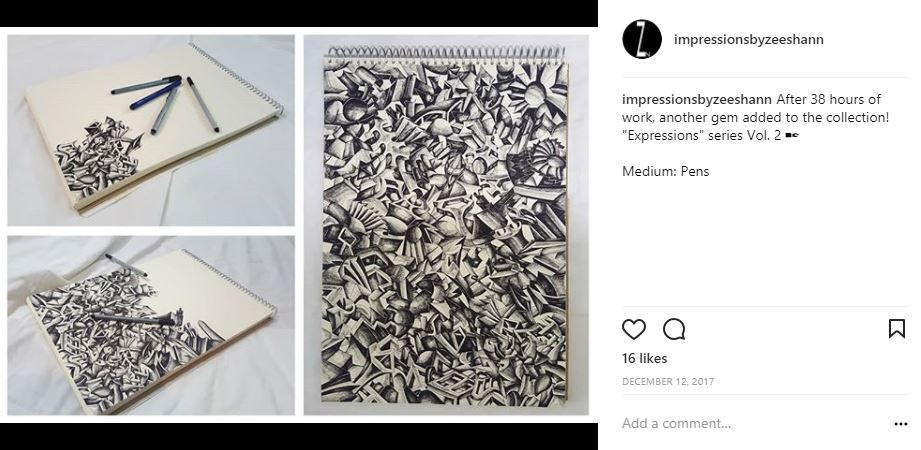 He believes that the process of learning never stops and there is always a room for improvement in a person's life. Today, Zeeshan is a graduate in Mechanical Engineering from the leading Engineering University in Pakistan and now working in a government sector engineering organization of Pakistan. He fulfilled every dream of his parents and now plans to focus on his own and explore new barriers.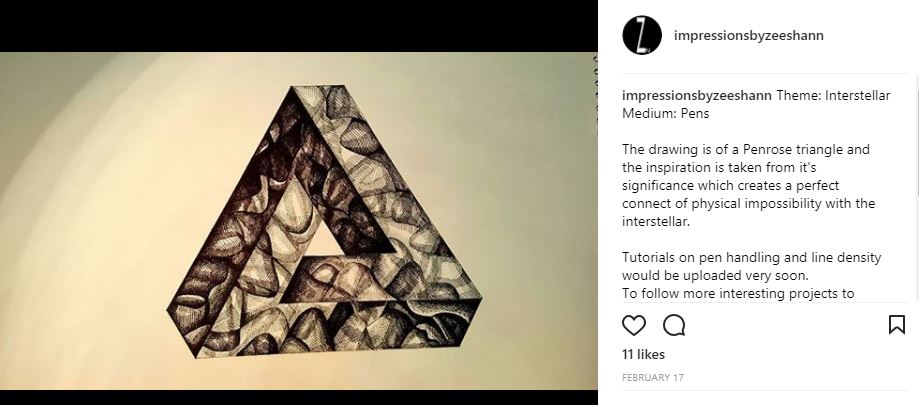 In our inspiring conversation with his talented artist, he expressed that an art piece is a representation of its creator and completely reflects his personality and thought process. He believes that the best thing about an abstract painting is that it is an open canvas which interacts with every viewer in a distinct way and every viewer gets a chance to communicate with the piece according to their capacity.
Zeeshan is greatly inspired by Cubism artists and his work has strong influences of Georges Braque and Juan Gris. He believes that there is beauty in everything and the perspective of the viewer is everything that makes the difference in an art piece. His personality is as diverse as his work and we got to experience a lot of his sides during our brief interaction. His work has been his greatest drive and encourages him to do more and extend his barriers and boundaries.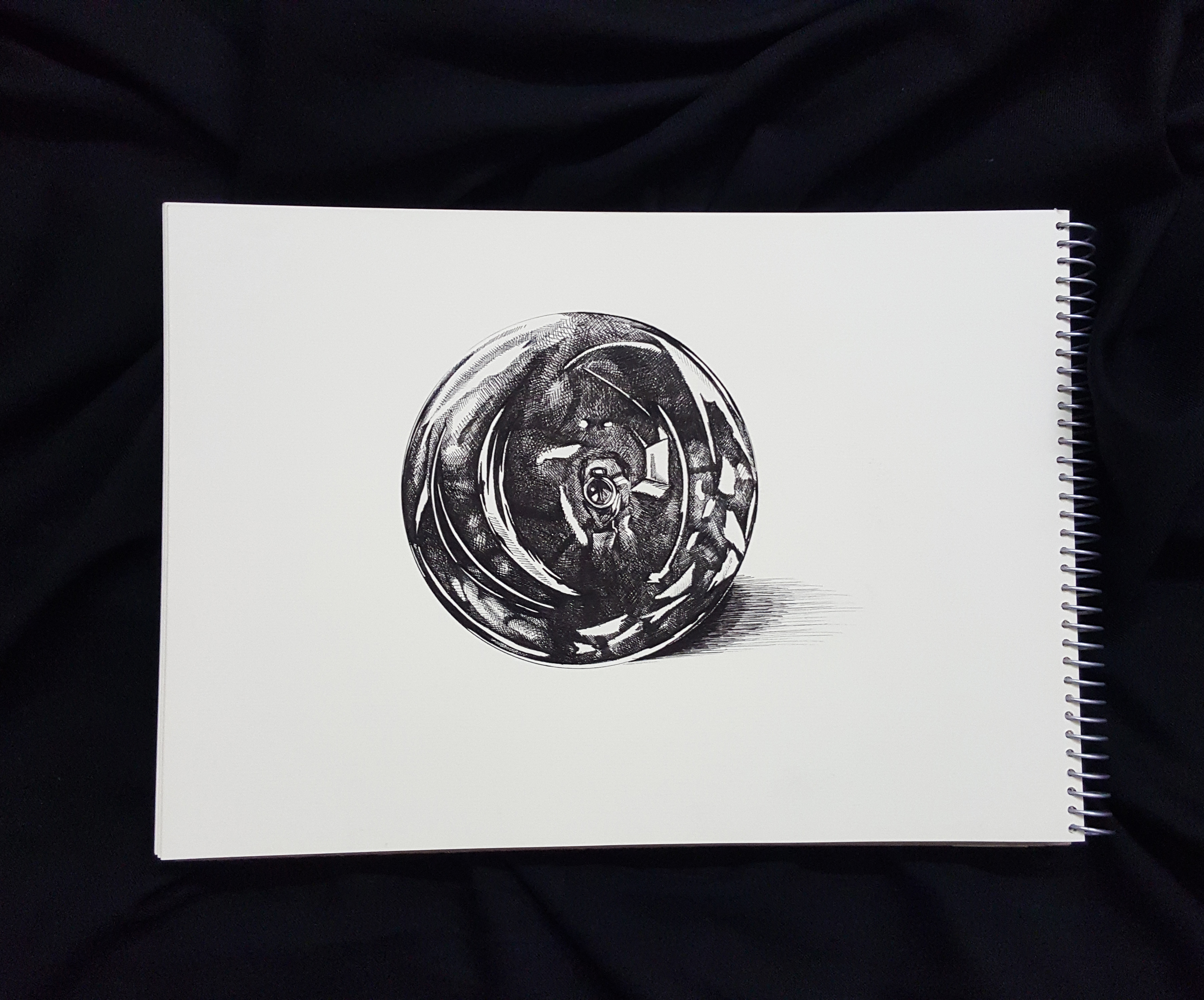 He endorses abstract art very strongly and defends every aspect of it. He believes that it is misjudged by a significant majority. According to him, it is always the emotion and feel of a workpiece that communicates with the viewer regardless the amount of effort done on it. "It is also the historical, social or aesthetic significance of a painting that represents the value of it, not the amount of paint put on the canvas", he expressed.
The emotions should translate through the canvas to the viewer and if it does, money becomes insignificant; just like a song or a piece of poetry. Zeeshan now works as a freelance artist alongside doing a full-time technical job. After experimenting on various working mediums, he is gathering projects with pen and doing wonders with it. He runs his art blog "Impressions by Zeeshan Nayyar" and you'll be surprised to see the quality of work he does. You can subscribe to his portfolio at:
Facebook: www.facebook.com/ImpressionsbyZeeshanNayyar
Instagram: www.instagram.com/impressionsbyzeeshann
YouTube: Impressions by Zeeshan Nayyar (www.youtube.com/channel/UCfkmCWOKpVpTEoU46AyE5KQ)
Twitter: @ZNChughtai
What follows is his recent project by the name of "The Valyrian series" which is inspired by the mythology presented in HBO's "Game of Thrones".
He is creative beyond words and a simple interaction with him is enough to inspire anyone around him.
Zeeshan is a living example of the fact that if you truly have a vision, obstacles become insignificant and eventually, life finds you a way to fulfill your dreams!
Read Also: Here's How Habib University Has Made An Innovation In Teaching Science And Engineering Over The Past Few Years!