Disclaimer*: The articles shared under 'Your Voice' section are sent to us by contributors and we neither confirm nor deny the authenticity of any facts stated below. Parhlo will not be liable for any false, inaccurate, inappropriate or incomplete information presented on the website. Read our disclaimer.
I want to share my experience with you guys that I and my sisters encountered to spread awareness.
3-4 days before my sisters ordered three dresses online from a Facebook page named ShoppingCrush.pk. They said we'll get our order in 1-2 days. The next day my sisters received their parcel but what we saw was totally unexpected. Those suits which my sisters had ordered they didn't send those instead they sent us completely different dresses which we had not ordered. They sent my sisters the dresses with same colors but with different patterns and designs which can make anyone lose temper.
When my sisters opened the parcel they were completely shocked. Then my sister called on to his number and told him that he has sent a different order by mistake. Kindly return our money back or restore the parcel.  My sisters called him, sent him WhatsApp messages but he didn't respond.
Then we also checked on to their page and saw the reviews which were not good and there were many complaints, too. My sisters posted on the page's timeline and asked people not to buy anything from this page because these guys are fraud. But they deleted her review and blocked her.
Then I messaged them and asked them to return our money or else they'll face the consequences but he blocked me too instead. After repeatedly messaging and calling him he finally replied on WhatsApp saying that they will return our money in 3-4 days and after that he asked my sister to meet at a place in order to get our money back.
We became infuriated. But we simply refused and said when you people perform business online then you should also return our money via online means. But he blocked my other two sisters as well.
So I decided to share our story with all you peeps. It is requested to all to please report that page and ask your friends to do so as well because we don't want other people to have a bad shopping experience like we had. And we can't let them betray any more people.
Here's how the conversation went…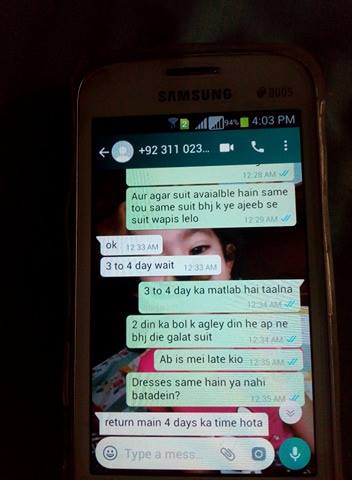 Part 2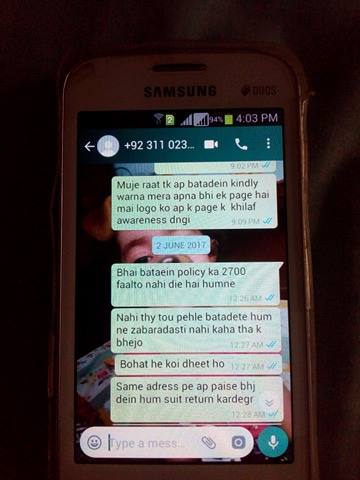 Part 3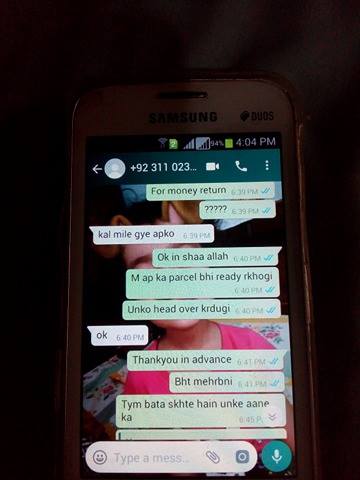 Part 4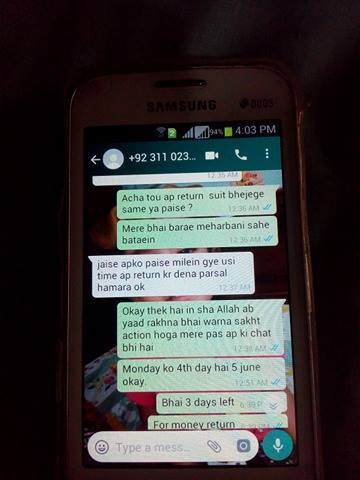 Part 5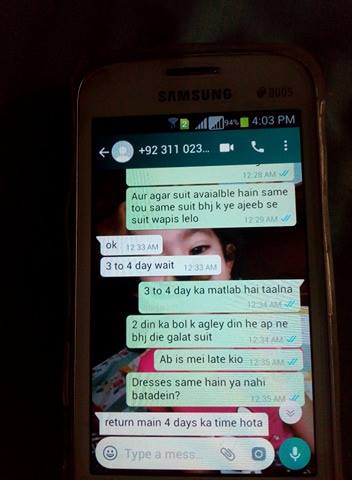 Part 6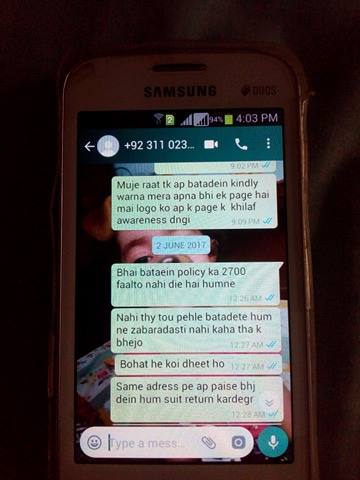 Part 7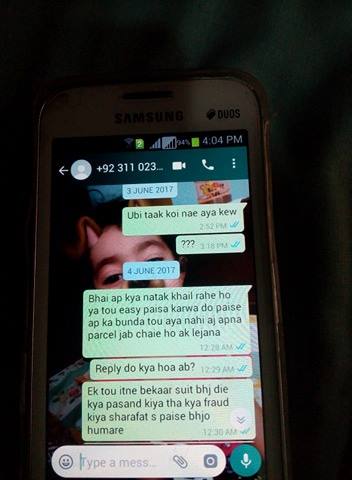 Part 8