Disclaimer*: The articles shared under 'Your Voice' section are sent to us by contributors and we neither confirm nor deny the authenticity of any facts stated below. Parhlo will not be liable for any false, inaccurate, inappropriate or incomplete information presented on the website. Read our disclaimer.
A number of Chinese firms have come together to pen down the deal with the footballing megastar Lionel Messi for a theme park dedicated entirely to him.
According to AS news agency in Madrid, Messi Experience Park will consist of 20 attractions covering an area of 80,000 square meters in Nanjiang, eastern China. The park is set to open in the beginning months of 2019 and people are already excited about an opportunity to experience the Disneyland of football.
Over the years, footballers have had stadiums named after them, Museums too, and Airports in extreme cases. Oh! and they have had statues dedicated to them too, but they have not always been a work of art.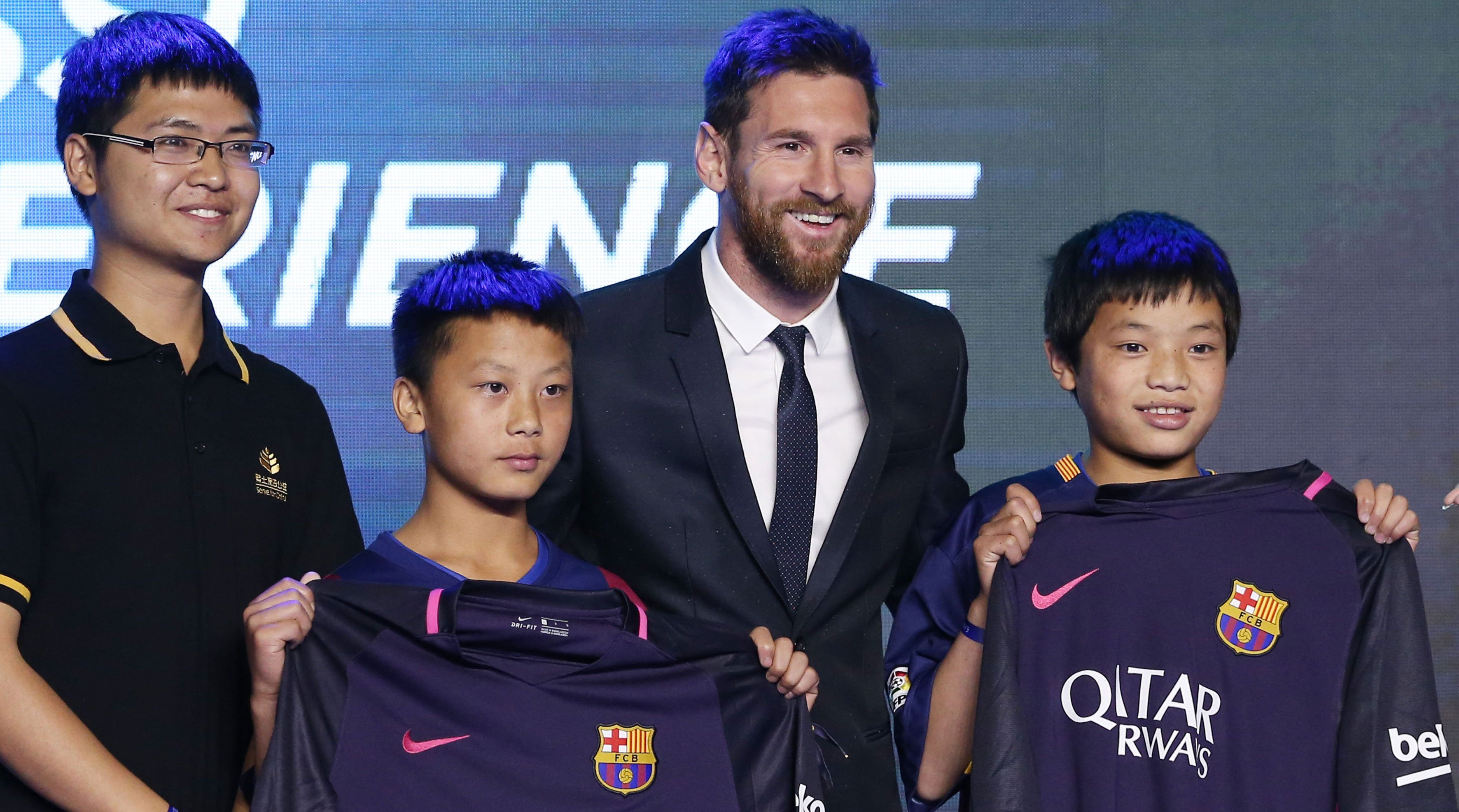 But this is the first time a footballer will have an entire theme park dedicated to him. This Messi themed park would offer a bundle of opportunities to the visitors e.g. the visitors will be able to play various games, experience football training clinics, will enjoy multiple entertainment activities and most importantly, will watch displays of Messi's decorated career highlighted. AWESOME!
Many Messi fans around the World are extremely excited about the prospect of having a theme park dedicated to their favorite player. However, not all fans seem excited about the idea.
For example, this fan is disappointed that the park is located in China, and possibly, not in his country:
Soon, my friend, your country will get a Messi theme park too. Just pray for the Chinese invasion.
You think Disneyland is cool? Wait till you get a taste of the Messiland: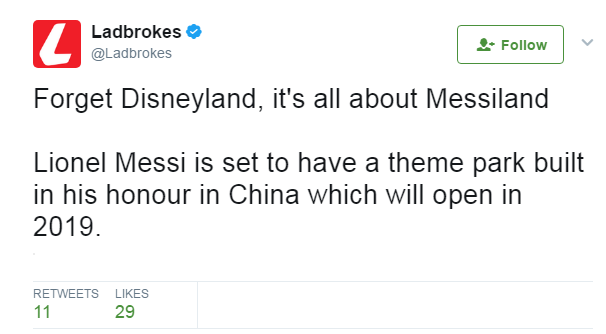 Shots fired. ESPN sure knows a thing or two about rivalries: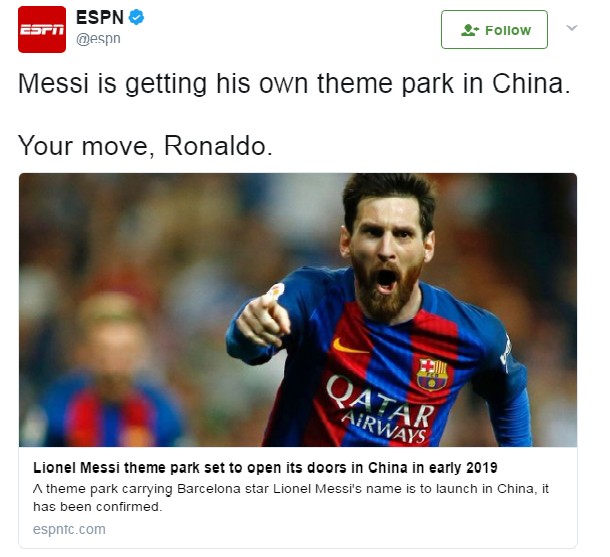 But come on, ESPN.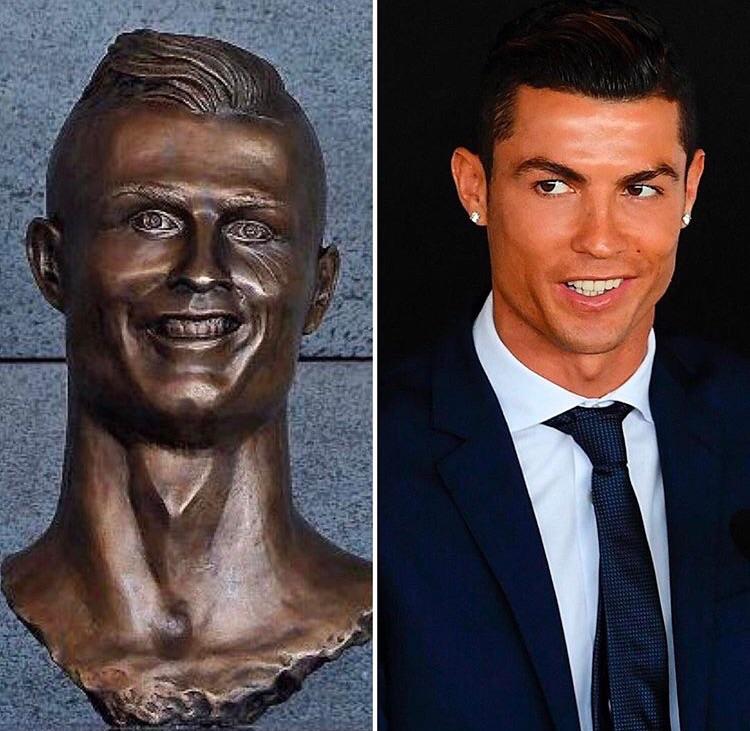 Ronaldo has an airport named after him, and a Museum, oh and he has a statue too, he sure does not want a theme park. Does he?
And then there's this guy who finds the entire thing quite funny:

So funny. HAHAHA! They are going to open a theme park. ROFL!
Talking to the Media, Messi made his intentions clear that he hopes to promote football in China and globally through this Park: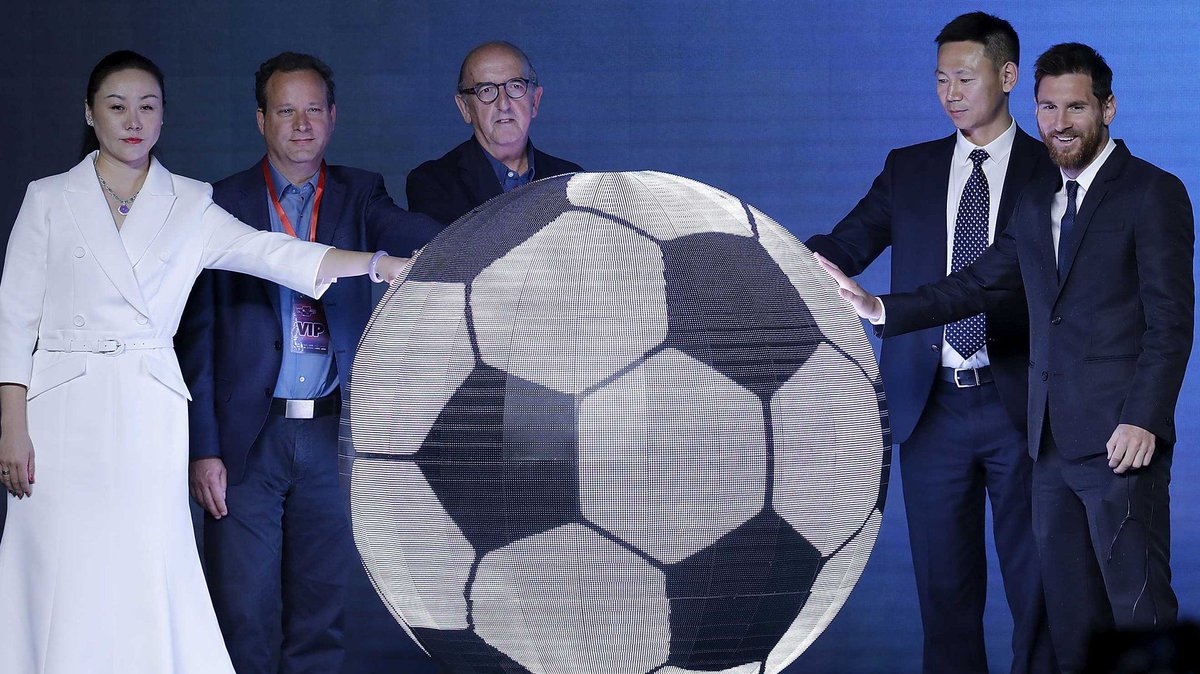 "I hope to provide them the experience they never had before and to inspire them to pick up the sport early on. Hopefully, they will feel that I am around when visiting the park," said Messi.
Football is watched and played in over 150 countries and with a humongous fan base of Lionel Messi in China and rest of the World, there is no doubt that this park is going to be a great success. Disneyland better watches out, because they are going to have a stiff competition.
Anyways, here is Messi inviting you all to come to his Park once it opens.