Did you ever have a piece of bread that was made on 3rd June but you ate it on the 1st June? Makes no sense, right? Exactly what the milk production company, DayFresh did to the production and expiry dates of the milk they produced and sold in the market.
After seeing a number of videos and images on how the "fresh" packed juices have fungus and all the other things in the world it shouldn't be having, milk is that one item we want free from all kinds of exploitation, contamination and issues.
But it is true as it says, "Peshawar ka doodh 3 din pehle nazar aa agaya"
The manufacturing date of the milk says 13th October, while this picture went on social media on 11th October.
Even today it is 12th October. Najamu, is it?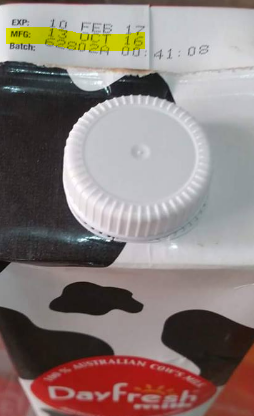 Whether this is just a blunder from the punching unit or they forgot to change the month, it clearly shows that the company is handling the core affairs in an unprofessional manner.
But honestly, people are overreacting. As long as the expiry date is fine, why should the MFG date matter? It's like they're being angry for the sake of being angry.
Then again, it's us Pakistanis. We don't regret anything.