Disclaimer*: The articles shared under 'Your Voice' section are sent to us by contributors and we neither confirm nor deny the authenticity of any facts stated below. Parhlo will not be liable for any false, inaccurate, inappropriate or incomplete information presented on the website. Read our disclaimer.
Team PNEC-NUST is a group of talented and hard-working students from one of the most prestigious universities of Pakistan; National University of Sciences and Technology (NUST). The Team has been representing Pakistan on an international platform since 2009 and is, proudly, the oldest International Team from the country.
We design and fabricate light weight, eco-friendly and fuel-efficient vehicles. Our cars are designed to the highest of specifications with intricate attention to detail to ensure maximum fuel efficiency in a light weight chassis that performs in the toughest of situations. They are some of the most fuel efficient vehicles in the country with mileages of up to 100 Km/l.
Our Team participates in the coveted ShelEco-Marathon Asia (SEMA) organized each year by Shell Motor Oils Ltd along with other International and National Level competitions. Our vehicles have had the honor of being amongst the Top 15 most fuel-efficient vehicles in all of Asia since 2009.
We were the first Team from Pakistan to participate in any International Motor-Vehicle related competition, and are currently the oldest International Student Team in the country. Having won numerous International and Local Awards over the years we currently hold the honor of being the only Student Team from the country to have won any international student award.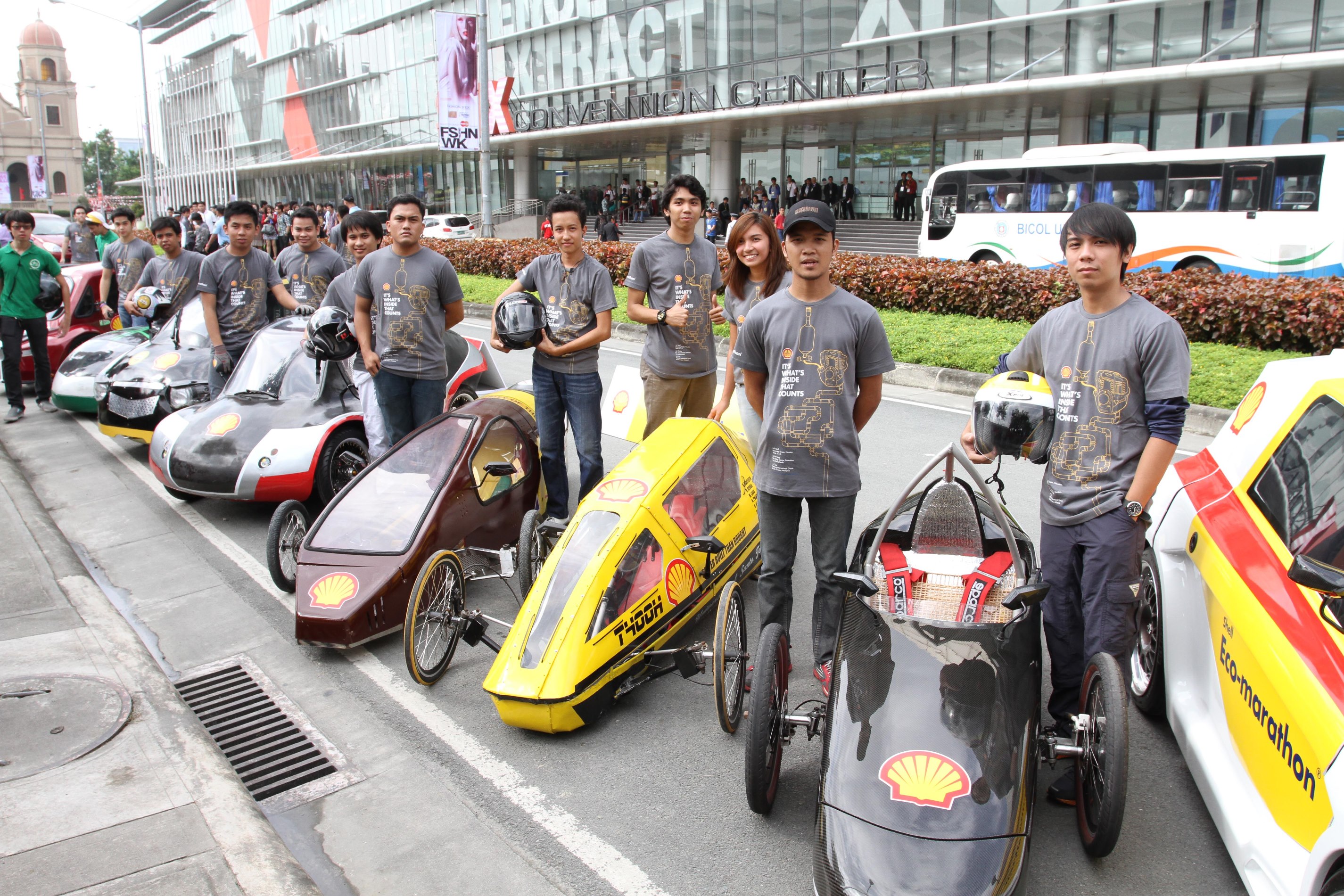 Shell Eco-marathon is a unique competition that challenges students around the world to design, build and drive the most energy-efficient car. The annual competition brings student teams from all over Asia to the track to see who goes further with the least amount of fuel.
The competition is split into two classes or categories. The Prototype class focuses on maximum efficiency, while passenger comfort takes a back seat. The UrbanConcept class encourages more practical designs. Cars are also divided by energy type, with a choice of 3 categories; Natural Gas, Gasoline and Electronic Fuel Cells.
Over several days, teams make as many attempts as possible to travel the furthest on the equivalent of one liter of fuel. Cars drive a fixed number of laps around the circuit at a set speed. Organizers calculate their energy efficiency and name a winner in each class and for each energy source. Off-track awards recognize other achievements including safety, teamwork, and design.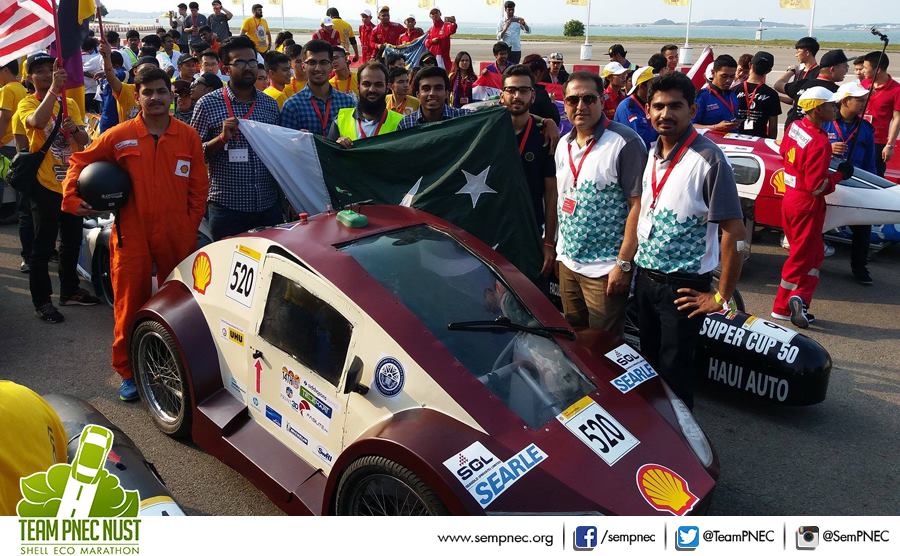 For the year 2016-2017, Team PNEC NUST designed and fabricated, from scratch, two fuel efficient vehicles for participation in the two event categories.
Our Prototype Category Car (Nawah) weighs the only 75Kg and uses CNG as its primary fuel source. Nawah also has the honor of being Pakistan's only CNG Operated Vehicle at Shell Eco-Marathon 2017.
Our UrbanConcept Car (Rebolt 2.0) weighs in at 120Kg and uses gasoline as its primary fuel source.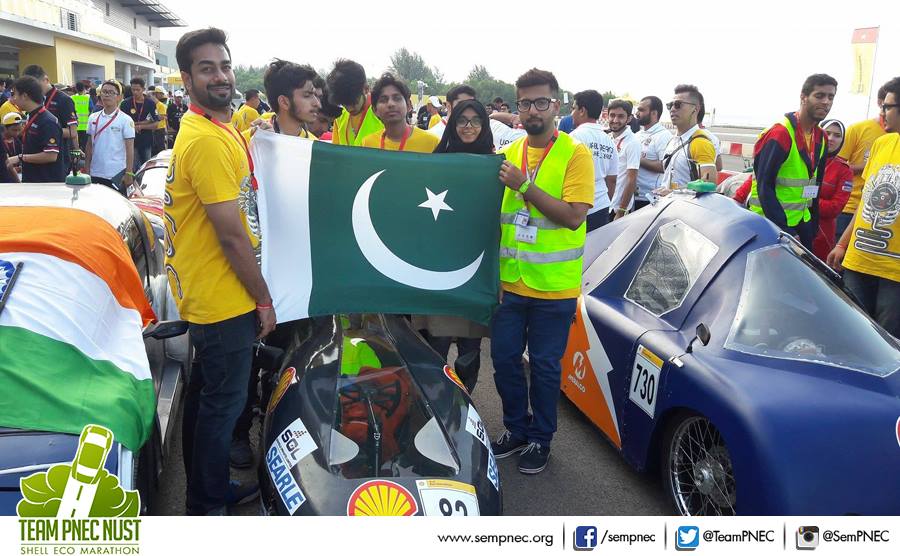 In order to promote our message of the importance of Fuel Efficiency for a Greener Future, Team PNEC NUST organizes campaigns and public appearances throughout Pakistan, taking our cars and our message to educate the public.
In 2016, we organized numerous Roadshows (at public places like Port Grand, Karachi, Ocean Mall, Karachi etc.), partnered with Schools as part of our Eco-School Initiative and were featured on numerous TV channels in recognition of our feats.
For these efforts, Team PNEC NUST was awarded the 1st Prize in the Off-Track Communications Award Category amongst over 120 Teams from 30 countries of the world during the SEM-A Competition held in Singapore from 14th to 19th March 2017.
Team PNEC NUST proudly calls itself #TeamPakistan and is proud to have not only represented the country but also won an award at one of the biggest International Competitions in the World.