Disclaimer*: The articles shared under 'Your Voice' section are sent to us by contributors and we neither confirm nor deny the authenticity of any facts stated below. Parhlo will not be liable for any false, inaccurate, inappropriate or incomplete information presented on the website. Read our disclaimer.
Team PNEC NUST has been one of the pioneer teams of Shell Eco-Marathon Asia, with its vehicles featuring in the competition consistently since 2009. It has won the Communication Award twice while it has been the recipient of the Technical Innovation Award once in its rich history, which consists of many other accolades, acknowledgments and contributions.
Team PNEC NUST's most recent involvement in the event was in SEMA 2018, the competition taking place between the 7th to the 12th of March. The team was motivated after ranking highly in the communication challenges prior to the event and the development and successful integration of its first ever battery electric prototype vehicle, "Gallant", which was equipped with a newly introduced gear shifting mechanism.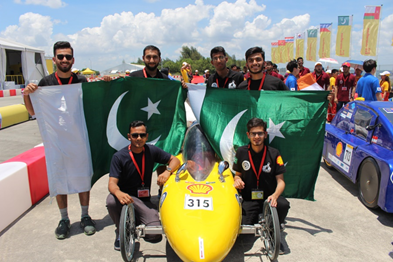 The Urban vehicle, "Rebolt " was a gasoline-powered vehicle designed for the rigors of day to day transport but also to maintain extraordinary mileage figures. It was equipped with a highly innovative mechanism which converted the vibrations of the car into consumable energy, contributing to the idea of a sustainable vehicle.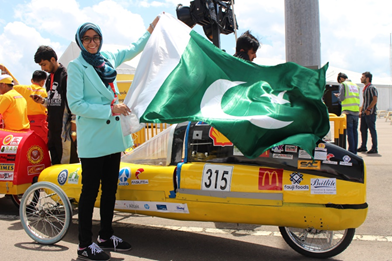 The team traveled to Singapore on the 3rd of March to participate in the competition and experienced a successful first day by becoming the first team from Pakistan to clear the technical inspection in the Prototype category. "Rebolt", was also given the honor of being Pakistan's official flag-bearers for the event.
"Gallant", the Prototype vehicle successfully made it to the tracks where it recorded a personal best 103 km/kWh mileage. It came 12th overall amongst prototypes from a total of 120 teams present at the competition.
The team also finished second in the Technical Innovation Award category with its energy preservation mechanism attracting praise and recognition from the event judges. Furthermore, the team performed admirably in its Communication Campaign and was awarded the first position for the third individual communication challenge, being a mainstay in the top 5 of all three communication challenges.
Read Also: PNEC-NUST Participates At Shell Eco-Marathon Asia (SEMA) And It Is Simply A Proud Moment!