Remember the guy who people claimed looks like a zombie who made parody videos on YouTube years back and we all couldn't stop sharing those videos? Remember the guy who shared one of the most hilarious series of Dubsmash videos on his accounts and we loved them so much, we would try them out ourselves? Well, the guy is none other than the super hilarious (now very serious *sigh*) Osman Khalid Butt.
Osman Khalid Butt's brainchild and an extremely entertaining theater company The Living Picture profoundly composed great theater acts when launched in 2o07. Khalid directed and wrote a number of plays that were initially performed in Islamabad. In addition to this, Khalid started his own YouTube channel with the same name and released a few parody videos, shedding light on a completely humorous side of the actor.
After releasing a few trailers of his plays on the YouTube channel, Khalid started focusing on being a proper YouTuber and released a couple hilarious videos. For example, Khalid reading Meera Jee's tweets in her voice is probably one of the best Meera Jee parodies we have seen.
Read The Following in Meera Jee's Accent, Plis?
Another Video Where He Spoke On Veena Malik's Famous Magazine Shoot In India
See how Khalid explained each and every headline on the cover of the magazine. Beautifully done. So well-researched. Backed with proper evidence. Kya baat hai yaar.
And How He Bashed Maya Khan's Famous Raid At The Ultimate Date Spots – Parks
*Drum rolls*
Here comes my favorite video from the YouTube channel:
Parody of Famous Pakistani Drama Serial Humsafar
Starring Rabya Chaudhry As Well
The Tic-Tok Song Parody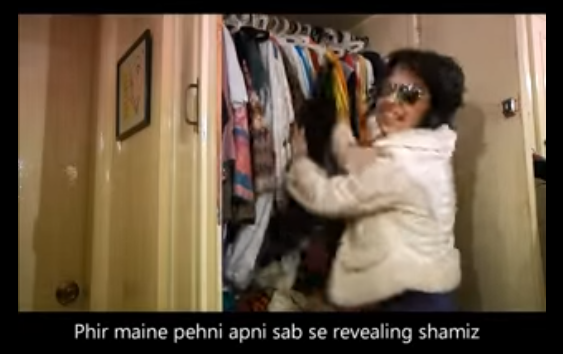 After Khalid entered the silver screen and starting working in dramas, these parodies, unfortunately, never saw the light of another day. However, he kept entertaining us with his amazingly hilarious Dubsmash videos.
So Dramatic, So Amazing
Giving Aamir Khan A Run For His Money
The Famous Lion King Opening
Hurr Hurr Dabang Dabang Dabang Dabang
SRK Who?
That jungli billi though…
If Imtiaz Ali Couldn't Sign Kareena, Obi Would've Been The Perfect Fit
We wish Obi all the best for his upcoming movie Balu Mahi and wish he finds time to do a special Dubsmash for us since we miss it the most!