Just like every year, this time too many of the renowned figures in Pakistan was awarded some prestigious civil awards. In this award ceremony prominent Pakistani and foreign personalities appeared on Wednesday.
Legends were there to receive the precious awards. The late Nazar Muhammad Rashid and Majeed Amjad were honored posthumously, on the other hand, renowned feminist Urdu poet Kishwar Naheed was presented the Hilal-e-Imtiaz.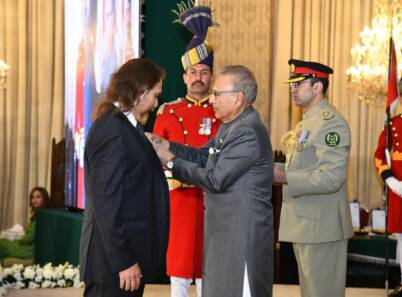 But the day became brighter for the music industry when one of the famous music composers in Pakistan Rohail Hyatt honored with the Hilal-e-Imtiaz award. Everyone in the industry couldn't hold it back to congratulate him for this prestigious moment and he also shared his feelings on Twitter.
Rohail Hyatt received Hilal-e-Imtiaz and he's overwhelmed
Rohail Hyatt is known for his role in Vital Signs and his outstanding composition in Coke Studio. On Wednesday, he received the Hilal-e-Imtiaz award and lived the moment. He shared his feelings through a micro-blogging site. He wrote, "I'm honored by the civil medal awarded to me.
I'd like to acknowledge my partners, Junaid, Shahi, Nusrat, Salman, Rizwan, Asad, Aamir, and Shoaib sb who were part of the VS journey. For CS, my co-workers, all the artists, and the audience deserve the shared credit. Thank you all."
Soon the news came out, every other celebrity fan and his fellow friends congratulated him on this special day.
Actor and host Fakhre-e-Alam also congratulated him, "Congratulations to one of the finest music entities, producer the legendary Rohail Hyatt on receiving Hilal-e-Imtiaz for his outstanding services in giving us some of the finest musicians in our history. Congrats brother. The celebration soon," he tweeted.
Many of the other users also tweeted and showed their happiness. One user wrote, "I congratulate The Maestro Rohail Hyatt for Hilale Imtiaz. Wherever I have traveled people have sung Dil Dil Pakistan to me. And the people who had seen @rohailhyatt young always said Dani the resemblance is uncanny. Maybe it's true maybe not but I am in."
"Rohail Hyatt is beyond awards, medals, and certificates. The man is a steller visionary."
Shan's mother Neelo Begum also received Hilal-e-Imtiaz
Meanwhile, actor late Neelo Begum joined Hyatt on receiving the Hilal-e-Imtiaz award and Shaan expressed his happiness for her beloved mother. He wrote, "Sitara-e-Imtiaz has been awarded to my mother," he announced. "A proud moment for us all. I wish I could see her wearing it. May the Almighty bless her," he added, sadly.
Many others also jumped in to congratulate him. "Congratulations!" wrote senator, Faisal Javed Khan. Host Maira Khan commented, "Many Congratulations to you and your family. Certainly, she is proud of Pakistan. May her soul rest in peace. Ameen." Humayun Saeed shared Shaan's post to congratulate him too. Shaan thanked everyone.
Last year, on Pakistan's day many celebrities received civil awards such as Humayun Saeed, Resham Khan, Ali Zafar, Bushra Ansari, etc.
What do you think of the story? Tell us in the comments section below.