Something peculiar caught the attention of social media users when a video clip of Maryam Nawaz's press conference surfaced on Tuesday. It showed Miftah Ismail, the former Minister of Finance, wiping his face with a female party leader's dupatta.
Miftah Ismail was seen on social media wiping his nose with the dupatta of Sania Ashiq, a Punjabi member of the Punjab Provincial Assembly, a video that soon went viral.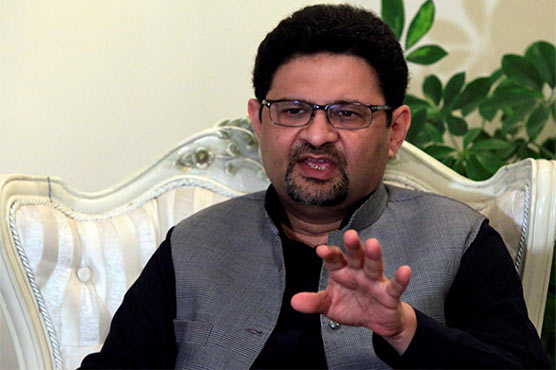 Several netizens criticized the former finance minister for not only his absurd behavior but also for invading the personal space of a woman.
Take a look at the video:
As you can see in the video, Sania Ashiq appeared to be uncomfortable as Miftah Ismail held her dupatta to wipe his nose as he stood behind her. The video has shocked Twitter users, several commented on it.
Twittersphere calls out Miftah Ismail
While it looks like he wiped off his face using her dupatta, many allege that he wiped his nose instead. The social media outrage forced Miftah Ismail to issue a clarification that unfortunately backfired as well.
The former finance minister took to Twitter to issue an apology to his fellow party member. "A video shows me wiping my face with my sister Sania Ashiq's dupatta," he wrote. "As seen, I reached in my pocket, got a tissue, and wiped my face."
"[The] second time I unknowingly picked up her dupatta on the tissue to wipe my face," added Ismail. "Of course, I apologized to her when I saw it."
Apology not accepted
One user accused Ismail of lying about apologizing to Ashiq. "Bad excuse and made it further worse 'when I saw it' like you weren't intended to apologize to her if it wasn't recorded," read the tweet.
We have the same question… Just HOW?
"Dude can't differentiate between tissue and dupatta and wants to run countries economy," mocked one user.
Another user chimed in that if she had been in Ashiq's place and someone had wiped his face off of her dupatta, she would have turned around and given them a "well-deserved slap". We could not agree more.
A discussion has sparked around this video regarding the safety and security of women in the political culture of Pakistan. Twitter users have pointed out how the political culture in the country denigrates and disdains women.
On a separate note, PML-N MNA Ashiq tied the knot last month in Feb. When Maryam Nawaz showed up at the wedding, social media users were convinced that she tried to steal the thunder of the bride.
What do you think of this story? Let us know in the comments section below.