To everyone's surprise, Prime Minister Imran Khan has come under fire for sharing some images of picturesque Gilgit-Baltistan (G-B) on Twitter without crediting the photographer. Ouch!
The fact can't be denied that PM always praises the natural beauty of Pakistan. In particular, he has expressed his admiration for G-B multiple times. The region is a paradise for scenic lovers, explorers, and tourists. It is home to mighty mountain ranges, peaks, creeks, lakes, and plateaus with rich fauna and flora.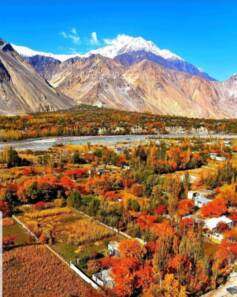 Now, PM Imran Khan once again praised the beauty of the G-B recently in a post on Twitter.
Sharing a combo of pictures from his Twitter account, PM Khan praised the fantastic natural scenic panorama of G-B with the onset of the winter season.
Soon after PM Khan shared the pictures of G-B, the man who originally took those pictures noted the wrong.
Asmar Hussain, a photographer by profession, thanked PM for sharing his pictures on Twitter. But then he did this!
In a rather sarcastic way, the photographer reminded the PM that his pictures had not been credited.
Some Twitter users urge the photographer to report PM's post 
Social media users across Pakistan were unhappy that PM Khan did not acknowledge the photographer for not giving him his due credit. Some even asked him to report the post and sue the PM.
It is essential to note that PM Khan's party, the Pakistan Tehreek-e-Insaf (PTI), which aims to promote tourism in the region and the country, won the majority of the seats during the G-B elections in November.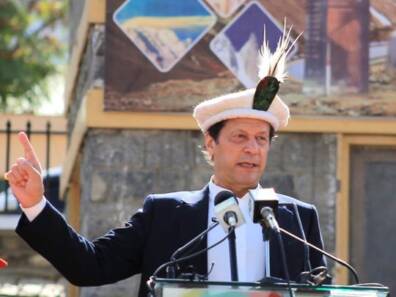 On November 26, the G-B chief election commissioner had announced the official results of the election, along with the allocation of 9 reserved seats for women and technocrats.
According to the notification, the PTI gained two-thirds majority with the joining of six independent lawmakers. PTI had won 22 seats in the 33-strong house.
The Pakistan Peoples Party (PPP) followed with 5 and the Pakistan Muslim League-Nawaz (PML-N) 3. The Majlis Wahdat-e-Muslimeen (MWM), Jamiat Ulema-e-Islam-Fazl (JUI-F) and independent won one seat each.
What do you think of this story? Let us know in the comments section below!