Pakistan TV actress Zainab Jamil, who started her career as a model, host, and anchor followed by acting in various drama serials has announced to discontinue her showbiz career in the name of religion. The actress took the news to her social media and shared it with her fans and followers.
Jamil made her film debut in a Lollywood super hit film Jawani Phir Nahi Aani in 2015 by making a special appearance as Charity, Hamza Ali Abbasi's love interest.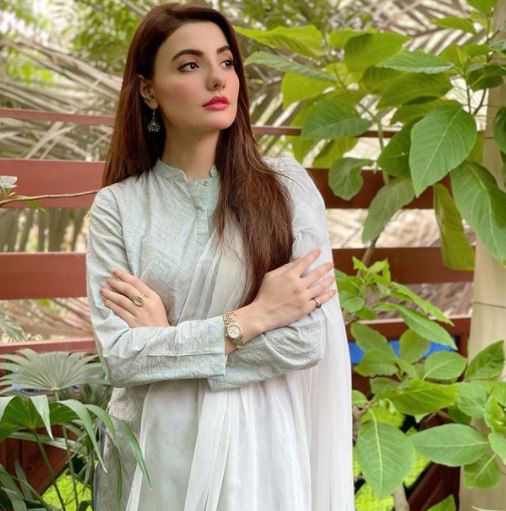 The 31-year-old made an announcement on her Instagram page, saying "I am proud to announce that I have quit acting and modeling." In addition, she also thanked Allah Almighty for giving her "the privilege of studying the Qur'an and Hadith."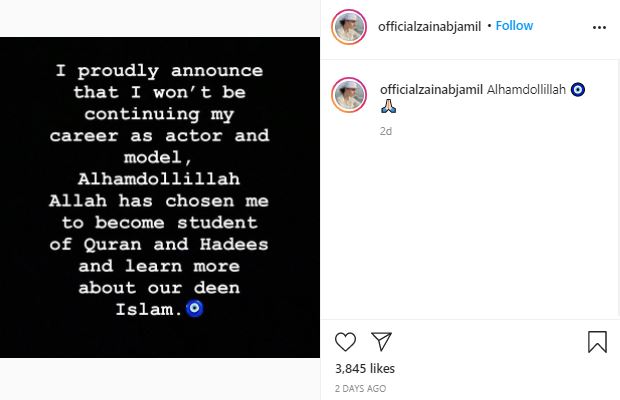 The Susral Meri Bahen Ka actress announced she is bidding farewell to the showbiz industry to spend the rest of her life in line with the teachings of Islam. Later, Jamil shared a detailed explanation regarding her decision and talked about why she decided to step away from showbiz.
On her Instagram story, Jamil wrote, "For those who are really concerned and have been asking me why did I take this decision at once, I really respect your concern that's the reason I am posting one [story]."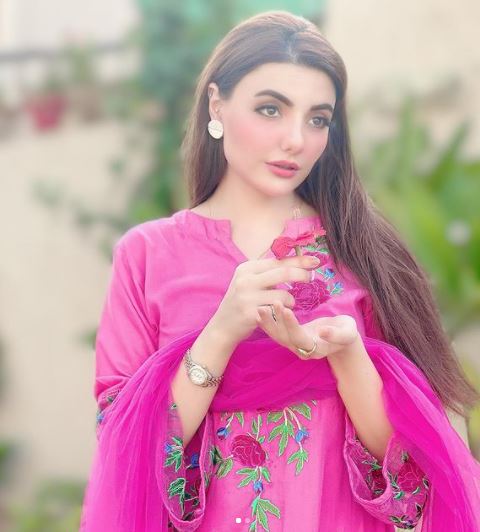 She shared that she was not satisfied with her choice of career. At the end of her lengthy message, Jamil thanked the producers and people with whom she was in contract to work. In addition to this, she also thanked them for understanding her and letting her drop the projects she signed.
Here's the explanation Jamil gave for quitting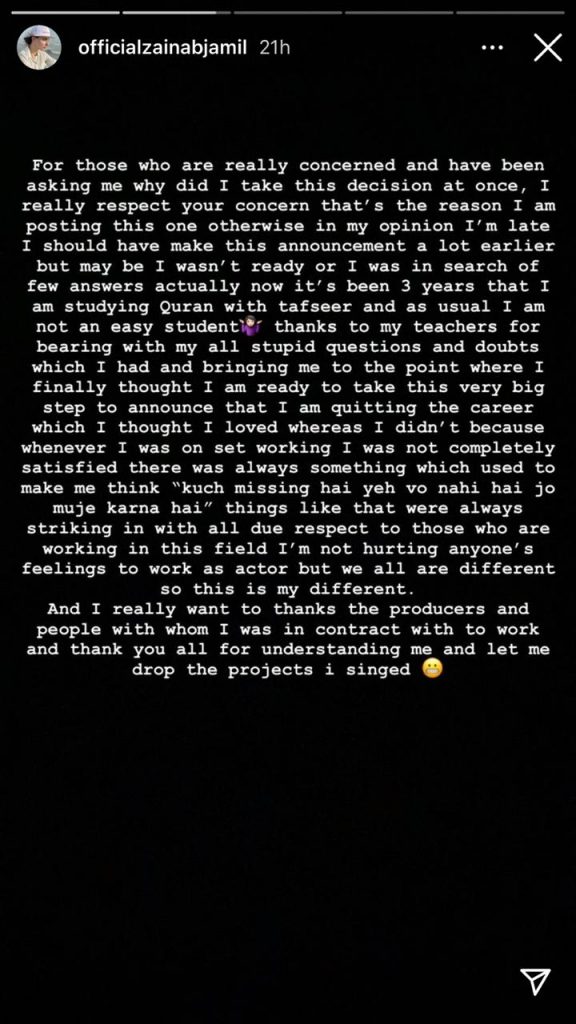 And, in this way, the model turned actress quits the showbiz industry and pursues her journey towards Islam.
Jamil has been a part of many a couple of projects including Hum TV's Khawab Saraye (2016) alongside Muneeb Butt. She also had a role in several dramas of Geo Entertainment, like Sada Sukhi Raho, Susral Meri Bahen Ka, Manchli, Mil Ke Hum Na Milla, and Aapke Kaneez.
Just last month, the former Indian actress and model Sana Khan announced her decision to quit the show business and Bollywood, citing religious reasons to pursue her journey towards Islam.
Many other Pakistani actors also quit the showbiz industry in order to pursue their journey towards Islam. Including Hamza Ali Abbasi and Feroze Khan. Doubtlessly, it is not easy to leave everything at the peak of your career. May Allah help Khan and guide her on this journey.
What do you think of this story? Let us know in the comments section below.