Nasir Khan Jan is a famous social media entertainer. He got the recognition from his YouTube videos. Whether you like him or you don't, his courage of accepting and celebrating himself is totally admirable. In the fake, fake world of ours, he has proudly been himself without caring about "loug kya kahynge."
NKJ belives in "kuch tu loug kahyn ge, Logo ka kam hy kehna ." And he makes sure to give them something to talk about. Even though he has been ridiculed, trolled, called names and was talked down on live TV, he's still not coming slow. And amazingly, the number of people who respect his choice is increasing.
So, here's what happened on Twitter:
Nasir Khan Jan posted a haraaaam picture of himself:
Gym is my life pic.twitter.com/ieQEmqhPkx

— Nasir Khan Jan (@NKJModel) January 28, 2019
And got the reaction he intended for: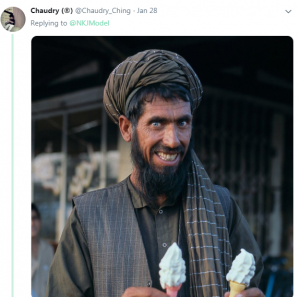 And more…
Hayee! nii sakinaa aae ki kitta??

— Amna (@She_Hulk___) January 29, 2019
As expected, he got the unsolicited advice from an aunty
In a typical aunty style, like, beta kuch to maa baap ki izzat ka khyal karo. The so called philanthropist, feminist and what not aunty told NKJ beta, don't post your nude pictures on social media because haraaam. (Ok, she said that with fancy words).
And NKJ has got the perfect answer to the moral police aunty:
Aunty wanted him to not post nude pictures on social media, because you know, it was hurting her eyes. And NKJ had a savage reply,
Thnks for your advise madam. Kia hi Acha Hota agr Ap ye advise Sar pe duppata le kr deti :p https://t.co/kZbOciJDjH

— Nasir Khan Jan (@NKJModel) June 8, 2019
And Twitter loved him for trolling her back!
NKJ Rocked Irum Aunty Shocked https://t.co/btes83W6KR

— Rehan (@Haraam_bae) June 9, 2019
Because seriously man, who hasn't been a victim to the aunty advice?
The aunties will start off with innocent kitni/ kitney dubli/moti hogai hu, and go on to question everything from your choice of clothing to friends to studies. They want to know it all as to why aren't you married? Why are you married? They will tell you how awfully wrong choices you have made for your career unlike her pappu.
So naturally, we loved NKJ for the big six!
To is main Rone wali Konsi bat hai ? https://t.co/BgIG1GHIzn

— Nasir Khan Jan (@NKJModel) June 9, 2019
Khushi k ansu hain, bhai !!!
Now, the trolls were quick to point out Aunty's not so halal outfit :
سر تو دور کی بات ہے nude shoulders بھی ہیں ۔ ہاں جی اس بارے کیا خیال ہے آپ کا محترمہ ؟؟ @Irumf ?

شرم آنی چاہئیے آپ کو کسی پہ بلاوجہ اٹیک کرنے کی پہلے خود تو ان باتوں پہ عمل کر لو۔ pic.twitter.com/3cTZmGxOHt

— Usman Younas عثمان یونس (@usmanyounas0011) June 8, 2019
She tried again and failed again:
Lo bhi Twitter par Aik Pakistani legend aya hai ,?
Blue tick mil jaye ga bachay

— Irum Azeem Farooque (@Irumf) June 8, 2019
BEST!!
Mam usko blue tick nahi chaye. Wo apne way main social media use kar raha hai let him do what makes him happy, ap ne blue tick le kr konsa teer marlia hai? Phle khudko theek krlein phir dusron ko advise kren. Thanks.

— Sir Saith Abdullah (@SaithAbdullah99) June 8, 2019
Finally,
I'm really sorry madam if I hurt you
Please come back ?? pic.twitter.com/IM62RRddlf

— Nasir Khan Jan (@NKJModel) June 9, 2019
NKJ 1: Aunty 0
It is funny how we are quick to judge people, giving out uncalled for advice is our national hobby. And most of the time, it doesn't come with good intention. It's mostly like how I am so pure and sophisticated, religious, educated, fashionable anything and everything better than you, and therefore, I am appointed by God himself to teach you how you should live your life (with a disapproving nod and a sympathetic tone of voice).
Let's just live and let live, and thrive like Nasir Khan Jan 😉