Animal lovers and owners are crazy people. We treat these animals like humans. We talk to them, believing they are understanding all the ranting we are making in front of them. We even talk to them when we are alone and sad and surprisingly, it is very comforting. We play with them because their happiness makes us happy (literally) and we make them do human things. For example, cat and dog owners have always made their pets stand on their feet. Like this:
Because our pets are so dear to us, we treat them no less than how why we treat humans. And if you are lucky enough, you may find a pet who loves you the same way you love them. With the passage of time, pet animals get trained enough to react the way you teach them to react.
Meet Sabir Shah A.K.A Moochar And His Cat Vito
So Sabir made his cat Vito groove on Salman Khan's song Jalwa. Vito was seen following the same movements as Sabir's and it is absolutely adorable!
As Sabir said it himself, by the end of this post, you will be humming the song routine these two depicted here.
Gettin' There
*Kya Kya Kya?*
Seems like Vito isn't enjoying all of it…eh?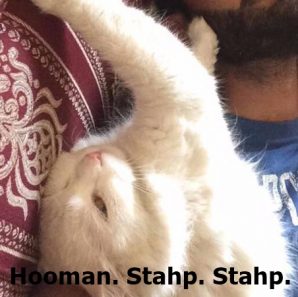 Yep, It Is Stuck In The Head Now
On a lighter note, treat your animals nicely. Just recently we came across how KMC brutally killed and threw away dogs in Karachi. Not only was the act inhumane, it also shows how we have stopped caring about animals.
Do you have a similar pet archive? Send them in for a chance to be featured on Parhlo!