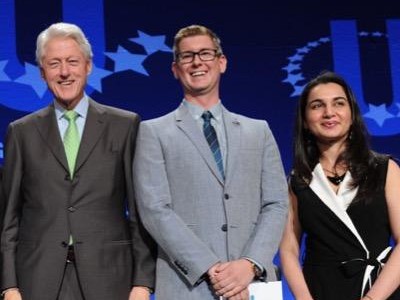 Source: Twitter
Mariam Adil was selected out of 1000 students and 700 teams at an international technology competition.
Not just that, this Pakistani girl won the Clinton Global Initiative where she presented the world with the creative idea of using video games for generating awareness in developing countries.
Mariam Adil works as an Economist Consultant at World Bank. She explored that there was a communication gap between the World Bank projects and its beneficiaries, so she decided to bridge in the gap with the help of video games.
For instance, in India, there's a village where mosquito nets were distributed for protection against Malaria, however, the people ended up using them as fishing nets.
Mariam Adil came up with an innovative idea to alter the behavior of people by the use of digital video gaming.
The very first game designed was Randomania. Its sole purpose was to be used as a training tool for the development of workers of the World Bank. It was not introduced commercially.
The second game was Stereowiped, launched for the purpose of making people aware of the stereotypes and breaking them. The game asks people to answer the common stereotypes. An interesting finding was that usually pink colour is associated with girls, but in reality most of the girls prefer blue colour.
Mariam Adil plans to introduce a version of Stereowiped especially designed for African-American and Pakistani-American people.
An overwhelming response was received by GRID as Mariam Adil was targeting low cost Android devices to host the games on.
A team in Islamabad is working on her project, while she herself is growing her network in US.
Mariam Adil advocates and encourages all the young Pakistani entrepreneurs living outside Pakistan to try and create opportunities for young people in Pakistan.