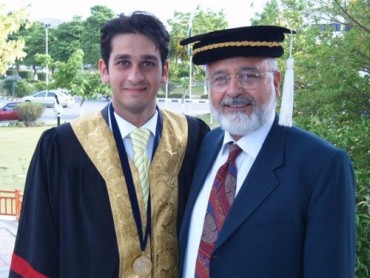 Source: Nashadelic
It was after Bilal Riaz's funeral prayer. We were in line taking turns to console his father; retired Major General Nasim Riaz, a well known senior anesthesiologist. Bilal had been killed the day before along with 36 others in one of the most brutal attacks we had seen in Pakistan. He had gone to Friday prayers along with his father and his five year old nephew at the Parade Lane Mosque, Rawalpindi on 4th December 2009. During the prayers, four armed gunmen attacked with suicide jackets, hand grenades and automatic weapons. They indiscriminately killed unarmed worshipers and children. Bilal laid his nephew behind him and covered him with himself to shield him from incoming fire. Predictability, he received a burst of machine gun fire on his back and died on the spot, saving his nephew. Two of the attackers blew themselves and the other two were taken down by the military's Rapid Response Unit. By the time ambulances came, Bilal's father was busy tending to the victims despite being well aware that his son had passed away.
Bilal had arrived a few weeks earlier after completing his MS in Communication and Signals from Imperial College London. Which is no surprise considering he was the most talented student in his batch in GIKI where he was my junior. His performance had been awarded with the Quaid-e-Azam medal, reserved for the very best. The night before his death he drove around Rawalpindi distributing his wedding invitations. He was due to be married in two weeks with his fiancé.
While standing in line, I could tell Bilal's father's eyes were red from crying. However, despite the tragedy, he was well composed. You could tell he was a religious man, his age showing from his white beard. People came one by one and hugged him. Most of the time the person hugging and consoling him would start crying and Bilal's father would end up consoling him instead. I have not seen a braver and stronger man.
Standing before me was a young boy wearing an armband. From what I knew it was the nephew who Bilal had saved. It was when this young boy's turn came, Bilal's father held his face in both his hands, looked into his eyes and said: "Ab tum hi meray Bilal ho" (now you're my Bilal) and started sobbing.
Bilal and his father at GIKI graduation in 2006. His father passed away 29 June 2011, 18 months after his death.
Please pray for both – Bilal Shaheed and his father.