An armed man was arrested in Makkah's Grand Mosque on Thursday after shouting slogans in support of terrorist outfits. According to the Saudi Press Agency, on-site law enforcement arrested the man for brandishing a knife. He was shouting slogans after the Asr prayer.
Meanwhile, a spokesperson for Makkah police said it started legal proceedings against the suspect.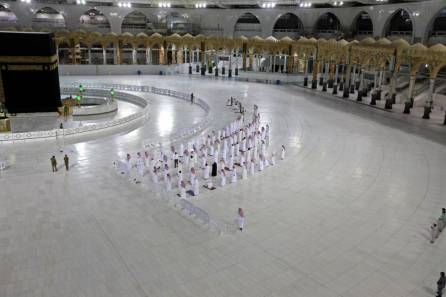 Sheikh Abdul Rahman Al Sudais, head of the Presidency for the Two Holy Mosques confirmed the news. Moreover, he affirmed that the use of racist and extremist expressions was against Islamic doctrines.
The man "did not respect the sanctity of the place. God has made the Grand Mosque a place of worship, including prayer, tawaf (circumambulation) and Hajj", said Al Sudais.
Last year, a driver rammed his car into the outer-perimeter gate of the Grand Mosque in Makkah in an incident that did not cause any casualties. The spokesman for the Makkah region governorate said the crash happened at night time and saw the man's car rammed through a barrier.
Moreover, the man kept driving until the car hit the gate on the Grand Mosque's southern side, the security authorities in Makkah responded to an accident where a car hit one of the entrance gates of the Masjid al-Haram.
Video on social media corresponded to the Saudi Press Agency (SPA)'s account. The security forces were later seen pushing the damaged sedan away. The video shows the car plowing through the barricades in the courtyard. Then driving straight into one of the large doors of the Grand Mosque. The Grand Mosque houses the Kaaba that observant Muslims pray toward five times a day.
What do you think of this story? Let us know in the comments section below.