Malala Yousafzai Oscar arrival and her Pakistani accent grabbed everyone's attention in every aspect. Her appearance at the Oscars undoubtedly made several Pakistanis proud as she presented Pakistan on the grandest stage of all.
But she is Malala, there's no chance that she can walk out without giving everyone a topic to debate on the internet.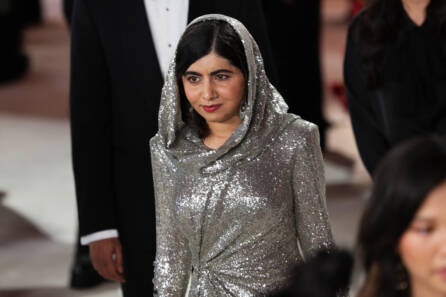 On March 13th, Malala Yousafzai expressed her love for popular singer Rihanna and that video from Variety went viral.
Why? Because Pakistani cyber citizens have picked up her Pakistani accent while speaking English and commented on it.
Malala Yousafzai Oscar's Accent
Malala Yousafzai's Pakistani accent captured everyone's attention on the internet, and Twitter users have wished that the activist had better "training to speak properly".
Here's the original tweet read, "Even after living in America and marrying an elite British citizen if your spoken English is pathetic then shame on your "training"!
When Twitter circulated all over the internet, various people even those who hate her supported her accent and normalized it.
Actress Nadia Jamil also stepped in, "Shame on you for mocking our heroes," she wrote while re-sharing the tweet with her followers. "You take a bullet in the face, which paralyzes half your face to stand for educating girls and win the Nobel Prize for Pakistan."
Before concluding, Jamil expressed her disdain towards people who were "jealous" of the Oxford graduate and still suffered from an inferiority complex. "I just blocked this profile for having an English accent complex and being a nobody who is jealous of a very brave and fine young woman!" she said.
Malala Yousafzai joined as an executive producer of Joyland as there were high chances that it would Oscar's nominated for but unfortunately, it couldn't.
What do you think of the story? Tell us in the comments section below.